Description
THEME: LONGEVITY — The Human Experience
Wilsey Center Atrium Theater
Inside Herbst Theatre,
401 Van Ness Ave, San Francisco, 4th Floor
Saturday, July 22, 2017
2:00 pm - 6:00pm
TEDxSanFrancisco Salon event is a smaller TEDx event with a smaller audience than our standard TEDx event in October. Our TEDxSanFrancisco Salons focus on only one subject with smaller audience. It brings attendees together in a more intimate atmosphere.


SPEAKERS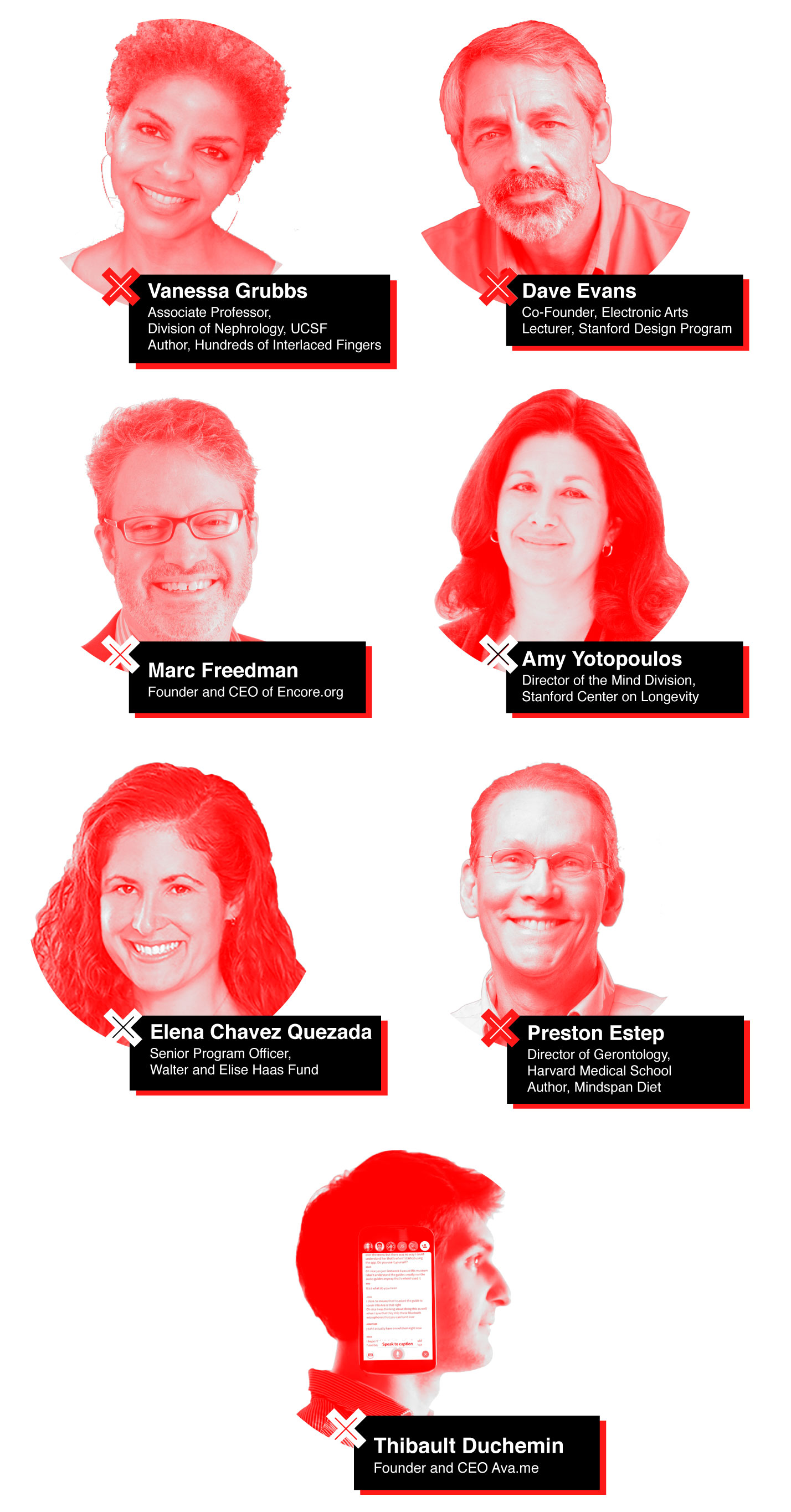 Program
2:15 PM Registrations
2.25PM Welcome from the curator Sam De Brouwer
2.32-2.50PM Amy Yotopoulos , Social Connection: The unsung longevity Factor
2.52- 3.10PM Marc Freedman, How to Live Forever
3.12-3.30PM Dave Evans, Designing the Rest of your Life
3.32-3.50PM Elena Chavez Quezada, In Search of the Golden Years
3.50-4.10PM BREAK
4.12-4.30PM Preston Estep, Key Longevity Factors in the Real World and in the Genome
4.32-4.50PM Vanessa Grubbs, To Know Better is to Do Better
4.52-5.10PM Thibault Duchemin, Breaking the Silence Barrier
5.10-5.30PM Q&A with all speakers
5.30-6.00PM CLOSING RECEPTION
EXTENDED SPEAKERS BIOS
VANESSA GRUBBS is an associate professor of medicine in the division of nephrology at the University of California, San Francisco. She has maintained a clinical practice and research program at Zuckerberg San Francisco General Hospital since 2009. For the last decade, she cared for patients with advanced chronic kidney disease and those on dialysis. She has a special clinical and research interest in renal palliative care and has written and spoken in national forums on this topic. She received her undergraduate and medical degrees from Duke University. After her internal medicine residency at Highland Hospital of Alameda County Medical Center in Oakland, California, she completed the general medicine research fellowship and nephrology fellowship at UCSF. Though much of her time is dedicated to scientific writing, her passion is narrative nonfiction writing. She's taught "Writing For Change," narrative writing from a health policy perspective to medical students and practicing clinicians since 2011. HUNDREDS OF INTERLACED FINGERS is her first book. She lives with her husband, teenaged son, and two of the cutest pit/lab mix rescue dogs in Oakland, California.
DAVE EVANS is adjunct Lecturer, product design program director at Stanford and co-founder of Electronic Arts. From saving the seals to solving the energy crisis, from imagining the first computer mice to redefining software — Dave's been on a mission, including helping others to find theirs. Starting at Stanford with dreams of following Jacques Cousteau as a marine biologist, Dave realized (a bit late) that he was lousy at it and shifted to mechanical engineering with an eye on the energy problem. After four years in alternative energy, it was clear that this idea's time hadn't come yet. So while en route to biomedical engineering, Dave accepted an invitation to work for Apple, where he led product marketing for the mouse team and introduced laser printing to the masses. When Dave's boss at Apple left to start Electronic Arts, Dave joined as the company's first VP of Talent, dedicated to making "software worthy of the minds that use it." Having participated in forming the corporate cultures at Apple and EA, Dave decided his best work was in helping organizations build creative environments where people could do great work and love doing it. So he went out on his own; working with start-up teams, corporate executives, non-profit leaders, and countless young adults. They were all asking the same question. "What should I do with my life?" Helping people get traction on that question finally took Dave to Cal and Stanford and continues to be his life's work. Dave holds a BS and MS in Mechanical Engineering from Stanford and a graduate diploma in Contemplative Spirituality from San Francisco Theological Seminary.
MARC FREEDMAN is founder and CEO of Encore.org. Originator of the encore career idea linking second acts to the greater good, Freedman co-founded Experience Corps to mobilize people over 50 to improve the school performance and prospects of low-income elementary school students in 22 U.S. cities. He also spearheaded the creation of the Encore Fellowships program, a one-year fellowship helping individuals translate their midlife skills into second acts focused on social impact, and the Purpose Prize, an annual $100,000 prize for social entrepreneurs in the second half of life. (AARP now runs both Experience Corps and the Purpose Prize.) Freedman was named Social Entrepreneur of the Year by the World Economic Forum, was recognized as one of the nation's leading social entrepreneurs by Fast Company magazine three years in a row, and has been honored with the Skoll Award for Social Entrepreneurship. He has been a visiting scholar at Stanford University, the David and Lucile Packard Foundation, and King's College, University of London. Freedman serves on the boards and advisory councils of numerous groups, including The George Warren Brown School of Social Work at Washington University in St. Louis, the Stanford University Distinguished Careers Institute, the Milken Institute's Center for the Future of Aging, and the EnCorps STEM Teachers Program. A high honors graduate of Swarthmore College, Freedman holds an M.B.A. from the Yale School of Management.
AMY YOTOPOULOS serves as the Director of the Mind Division at the Stanford Center on Longevity. She has over a decade of experience in researching the aging mind and body, developing innovative new businesses focused on the senior market, and in leading direct service organizations and providing hands-on caregiving to mature elders. In addition to her previous roles at Stanford, at AgeWave and as the Director of the Avenidas Senior Day Health Center in Palo Alto, she has served on the Advisory Council for the Silicon Valley Council on Aging in Santa Clara County and the Association for Senior Day Health. She is currently a member of the Eskaton Board of Directors. Amy holds a BA in Psychology from Stanford University, and received both a MS in Gerontology and a Masters in Health Administration from the University of Southern California.
ELENA CHAVEZ QUEZADA is the senior program officer at the Walter and Elise Haas Fund, where she manages the economic security portfolio. Her work supports a range of organizations across San Francisco and Alameda Counties focused on workforce development and asset-building. Elena is also a founding partner for the Closing the Women's Wealth Gap Initiative; a Mayoral appointee to the San Francisco Citizen's Committee on Community Development; and a member of several other advisory and steering committees related to economic security. Elena came to the Fund from Tipping Point Community, where she worked as a Senior Program Officer in supporting 12 nonprofits fighting poverty in the Bay Area. Prior to her roles in philanthropy, she managed the California expansion of Single Stop USA and worked on research and policy at the Aspen Institute's Financial Security Program. Elena received a bachelor's degree from Harvard University and a master's degree in public policy from the Harvard Kennedy School, and lives in San Francisco with her husband and two sons.
PRESTON ESTEP Dr. Preston W. Estep is Director of Gerontology and is part of the senior management team of the Personal Genome Project (PGP) at Harvard Medical School. He is also Chief Scientific Officer of Veritas Genetics, a genetic testing and genome sequencing and interpretation company in the Boston area. Dr. Estep received his from B.S. degree from Cornell University and his Ph.D. in Genetics from Harvard for his graduate work in the lab of Professor George Church, founder of the PGP. Dr. Estep is the author of The Mindspan Diet, a book for lay audiences explaining the genetic and interacting dietary factors that most influence physical and mental longevity. He is a co-founder and adviser to multiple startup companies and non-profit organizations, with a special focus on human longevity and life extension. He is a frequent speaker to professional and public audiences, and he is often interviewed by journalists on topics in genetics and longevity.
THIBAULT DUCHEMIN grew up in Paris, France as the only hearing person in a deaf family. Sign language was his first language, and he experienced from a very early age the multiple challenges that deaf and hard-of-hearing people face in understanding and communicating with the rest of society. Helping his family navigate between the hearing and the deaf worlds led Thibault to found Ava, a mobile-based artificial intelligence that empowers people with hearing disabilities by allowing them converse in real-time with family, friends and coworkers. Thibault holds a double Master of Engineering from UC Berkeley and Ecole des Ponts ParisTech. In 2017, he was named a Forbes 30 Under 30 in Consumer Technology and is member of the Hearing Loss Association of America Board of Trustees.
---
FAQs
Are there ID or minimum age requirements to enter the event?
No
What are my transportation/parking options for getting to and from the event?
Details will follow a few days before event.
How can I contact the organizer with any questions?
info@tedxsanfrancisco.com for general questions
tickets@tedxsanfrancisco.com for tickets-related questions
What's the refund policy?
No refund, but tickets are transferable.
Organizer of TEDx San Francisco Salon: LONGEVITY
TEDxSanFrancisco is made possible by the hard work and collective effort of our volunteer team. Together, we make ideas worth spreading.
TEDxSanFrancisco is a full day of live TED talks in the heart of San Francisco with inspirational speakers in the field of tech, science, philosophy, design, and entertainment. Since 2016, TEDxSanFrancisco has been an annual event with the recurrent theme Dare To Know to push the frontiers of our knowledge and make lifelong connections. 
In the spirit of ideas worth spreading, TEDx is a program of local, self- organized events that bring people together to share a TED-like experience. At a TEDx event, TEDTalks video and live speakers combine to spark in-depth discussion and connection in a small group. These local, self-organized events are branded TEDx, where x=independently organized TED event. The TED Conference provides general guidance for the TEDx program, but individual TEDx events are self-organized.