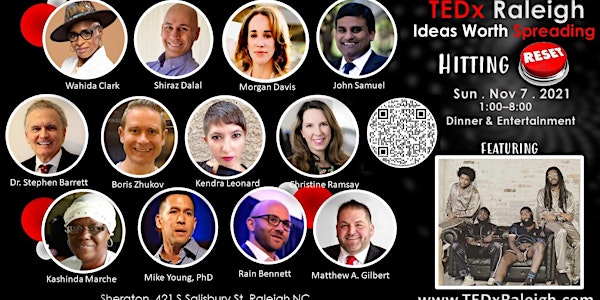 TEDx Raleigh 2021
TEDx Raleigh 2021 - Ignite, Inspire, Empower! Hit Reset !
When and where
Location
Sheraton Raleigh Hotel 421 South Salisbury Street Raleigh, NC 27601
Refund Policy
Contact the organizer to request a refund.
Eventbrite's fee is nonrefundable.
About this event
TEDx Raleigh 2021
12 Speakers, 12 Minutes, 12 Ideas that will ignite the power in you!
This event will be rich content and amazing speakers – a broad mix of academics, entrepreneurs, city employees, creatives, and students from diverse backgrounds, neighborhoods, and walks of life. Leaders from disparate industries will come together into one space to collaborate on crucial questions facing the city and the globe.
You'll feel smarter, ignited and empowered with ideas that you can use in your own life.
ALL COVID PROTOCOLS WILL BE IMPLEMENTED - Following Governor's Orders and the CDC guidelines.
The Theme for TEDx Raleigh 2021 is "HITTING RESET!"
12 Dynamic speakers, reception, meet the speakers, make new friends, dinner and show to follow - please see ticket details.
VIP tickets include: Speakers, Cocktail Hour, Meet the Speakers Reception, Dinner and Show $120/ticket - 3 sessions - Steak Medallion, salmon, sides, salads, dessert.
Speakers, Cocktail Hour, Meet the Speakers ONLY (No dinner or show) $55/ticket - 3 sessions
Virtual - $20 - 3 sessions
Cash Bar available - cash or credit cards accepted.
ENTERTAINMENT BY NiiTO!
Based out of Raleigh-Durham, NC, NiiTO has spent the last two and half years crafting their own original sound and honing their skill set. With heavy influences from a variety of genres, they've stumbled upon a unique sound. Their music blurs the lines between R&B, Rock, Pop, Soul, Funk, Jazz, Blues and more. It's only a matter of time before NiiTO becomes a well-recognized name.
Hear about their journey and enjoy their music!
www.TEDxRaleigh.com
HOTEL DISCOUNT
Guest can call hotel property 919-834-9900 or central reservations center at 1-800-325-3535 and use Mini hotel: Code =TT3
Schedule
12:00 Guests arrive - cash bar open
12:55 Guests seated - video 1
1:00 Welcome and TEDx TEAM
1:10 Intro to Wahida Clark
1:25 Intro to Shiraz Dalal
1:40 Intro to Christine Ramsay
1:55 Intro to John Samuel
2:10 BREAK - MEET THE SPEAKERS
2:40 Intro to Stephen Barrett
2:55 Intro to Kendra Leonard
3:10 Intro to Boris Zhukov
3:25 Intro to Morgan Davis
3:40 BREAK - MEET THE SPEAKERS
4:10 Intro to Kashinda Marche
4:25 Intro to Mike Young
4:40 Intro to Rain Bennett
4:55 Intro to Mathew A Gilbert
5:10 BREAK - MEET THE SPEAKERS
5:30 Go to reception area - Jimmy Vs in the lobby of Sheraton
Intro to Niito Band/Reception and Dinner for VIP
ABOUT THE SPEAKERS
Rain Bennett
No One Hires You For Your Expertise
Separate yourself from any and all competition with your unique perspectives and experiences. I see many TED talks discussing how to become proficient or expert in certain fields, but none showing people how to build a business around who they already are. Many people may possess your skills and expertise, but only one person has your unique story. Learn to leverage it, and open a world of opportunity.
Rain Bennett is a two time Emmy-nominated filmmaker, writer, keynote speaker, and storytelling coach with over 15 years of experience producing documentary films. His mission is simple: to teach people how to leverage storytelling to grow their communities, deepen their connections, and maximize their impact in minimal time.
____________________________________________________________________________________________
Wahida Clark
The Dangers of Settling for a Mediocre Life
Accepting mediocrity can be seen as a selfish choice of settling for less than optimal in your personal life and professional life. Wahida's story and idea are proof that no matter where you start from, even if it's at rock bottom, you can rise to the very top with courageous dedication and true grit.
From inmate to best-selling author, Wahida Clark wrote her first novel by hand on a yellow legal pad while serving a ten-year prison sentence. She has gone on to launch her own publishing company and author a total of eleven novels, four as a NY Times Bestselling Author. Wahida gives back through motivational speaking at juvenile facilities, junior high schools, halfway houses, and prisons, encouraging her audiences to dream big, develop skills, and to not "waste time."
________________________________________________________________________________________
Shiraz Dalal
The View From 30,000 Feet-3 rules pilots use to survive & how you will too
Sometimes taking a step back or up, and seeing the world from 30,000 is the best way to adapt to a changing world! Lessons from the cockpit as a military and commercial pilot have taught Shiraz to adapt and overcome the challenges life presents, including this past year. With almost 20 years experience flying throughout the world and over 400 combat flights, there are many lessons pilots learn that can be applied outside the cockpit.
Shiraz Dalal loves aviation in all its forms and has has flown ten-plus airframes from parachutes and hang gliders to C-130s and Boeing 767s. His experiences as a commercial pilot and adventurer who has traveled the world inspired some powerful ideas that everyone can apply to their lives.
____________________________________________________________________________________
Morgan Davis
Redefining Wellness for a Person-Centered World
We live in a world that believes you are and encourages you to be a machine. Our focus when it comes to being "well" is how long and hard we can work and how much we can take on without needing rest. A movement has begun to redefine wellness in a more human way. Cannabis legalization is part of that movement and the beginning of a much larger conversation about personalized wellness. But cannabis legalization is not just common-sense or topical, it is a moral imperative. The past two years has clearly show us that we can no longer allow antiquated laws and perspectives to exist – especially when they result in the harm of others.
Morgan Davis is an experienced attorney whose practice primarily focuses on matters of corporate law and cannabis. Davis is well-versed in the multi-faceted issues facing the CBD industry, and routinely hosts seminars to educate businesses at every level of the CBD market.
__________________________________________________________________________________________
Stephen Barrett, MD
Some Nerve for Saving Diabetic Lives!
Diabetes affects millions of Americans with often debilitating consequences. While surgery is available for Diabetic Peripheral Neuropathy patients, many suffer with severe symptoms, unaware something could be done for them. If providers would hit their reset buttons and make this resource known, a lot of patient's lives would be improved and many saved.
Dr. Barrett is a highly regarded expert in heel pain, pain management, peripheral nerve surgery, and diabetic peripheral neuropathy. He holds five patents for developing innovative endoscopic procedures and has trained over 6,000 surgeons around the world. His publications include medical textbooks and over 50 peer-reviewed medical journals. Dr. Barrett is a contributing editor for the Journal of the American Podiatric Medical Association and serves on the editorial board for Podiatry Today and Practical Pain Management.
_____________________________________________________________________________________________
Matthew A. Gilbert
Inspiring Innovation Mindsets in Underrepresented Adolescents
"Inspiring Innovation Mindsets in Underrepresented Adolescents" is a talk that shares a solution to reaching underrepresented adolescents and redirecting their lives towards a path of potential with early-intervention entrepreneurship education.
Matthew A. Gilbert is a lecturer of marketing and the director of the Each 1 Teach 1 Entrepreneurship Institute at Coastal Carolina University. A teacher, researcher, and trainer with more than 25 years of experience writing, speaking, and consulting, Matthew is guided by the motto "learn continuously, live generatively".
____________________________________________________________________________________
Boris A. Zhukov
Innovating and pushing frontiers at the intersection of e-commerce, tech and automotive industries
Static inventory, lack of consumer price controls to set their own prices with instant results within a rapidly digitalized economy are stale industry doctrines that are being challenged by Boris and his colleagues. Boris and his team invented mathematical models to solve these complex supply and demand mapping problems and change the optics of the automotive industry to focus on buyers rather than chasing leads. As a result buyers call the shots by submitting their own prices with instant results; while, dealers engage in profit maximizing strategies by anonymously discounting their inventory.
Boris is an applied economist, the CEO of LetYouKnow and a former Assistant Professor at Ball State University. In his dissertation and research work he specialized in regression-based models and price imputation methods. Boris is credited as one of the inventors of the LetYouKnow patent (System and Method of Matching Reverse Auction Buyer Bids to Seller Offers) and uses parametric and non-parametric estimation techniques in designing next generation buyer-to-seller matching models.
______________________________________________________________________________________________
Kendra Leonard
Pause. Breathe. Reset.
We are all connected but we must start the journey within, then share our gifts with the world. Helping people find themselves and chase their dreams through sharing my adversity, vulnerability and confidence. We all have the opportunity to hit the reset button but we can shine brighter together only once we've found our light.
Kendra Leonard is an International Master Certified Life Coach, author, dreamer, entrepreneur, and storyteller. Otherwise known as Lady Kendra, she is the author of two books now being recorded into audiobooks and translated into Italian since she now lives in Italy half the time.
_____________________________________________________________________________________________
Kashinda Marche
The Empowerment of Creativity
We all have had experiences in life, also known as curveballs, that caused us to realign our steps. These experiences may differ in their details; however, the one constant is the point of reset.
I decided to lean into my gift of creativity, first by recognizing I had such a gift and then sharing it with the world. This mindset is a new for me. I speak freely from my wheelchair about the challenges I faced while living with HIV and how the stigma surrounding the diagnosis keeps many people living with it from becoming better versions of themselves. This talk will allow you to reflect on your challenges and activate your desire, ambition, and willingness to become your own champion.
Kashinda Marche, a New Jersey native, is the founder of Kreative On Purpose, a nonprofit organization that provides mental wellness tools to women and girls. This mother of one uses her life experiences with HIV, multiple brain surgeries, losing her ability to walk, and battling mental health challenges as stepping stones which has shaped her path of community service. Kashinda is an NC State-Certified Peer Specialist, the Raleigh-Apex NAACP Community Outreach Committee Chair, and Published Author who uses creativity to lean into her resets in life and spreads hope and love to others.
________________________________________________________________________________________
Christine Ramsay
The Extraordinary Power of Neurodiversity
In this talk, we discover the myth behind the normal brain as an assumption that masks many of the hidden superpowers of neurodivergent humans and reimagines long-stigmatized neurological conditions as wondrous and beautiful human variations. Without an intentional focus and empowerment of neurodivergent humans, we risk diminishing the incredible value this rapidly growing population can bring to our future and losing out on extraordinary innovation that only neurodivergent humans can offer.
Christine is the Founder and CEO of Ignite Inclusion, LLC whose mission is to unlock the inner genius and superpowers of neurodivergent humans for the benefit of us all. She is a connector, storyteller, and cross-cultural inclusive global leader whose superpower is empathy. She holds a BS in International Marketing and is pursuing an MA in Human Resource Development while being a Certified Executive and Life Coach, Certified Coach in Neuroscience of Inclusion and Social, Emotional Intelligence, and a Certified Consultant for Diversity, Equity, Inclusion, and Belonging.
_____________________________________________________________________________________________
John Samuel
The IDEA of Belonging in a Diverse World
In today's world, you hear a lot of buzzwords around diversity and inclusion. More recently, the spotlight is shining on inclusion, suggesting that companies shouldn't just focus on numbers of women or people of color. Rather, they should focus on whether people feel like they're part of a community. That they belong.
As a blind person, for a long time, I felt I didn't belong in many parts of my life. With that in mind, I want to introduce a new acronym to your vocabulary. Instead of just D and I…I'd like you to learn IDEA: "I" stands for inclusion, "D" stands for diversity, "E" stands for equity, and "A" stands for accessibility.
John Samuel impacts businesses and people with innovative strategies on digital accessibility. His experience includes stints in domestic and international industries over the last 15 years. While launching and serving as the CEO for Aster Cameroon, a global telecom infrastructure Joint Venture, he built a $45 million business bringing internet access across Africa. Afterward, he became an early member of Homestrings, a USAID backed crowdfunding platform, where he helped raise capital for startups in emerging markets. John holds his MBA from George Washington University, BS in Accounting from North Carolina State University and Certified Professional in Accessible Core Competencies (CPACC).
________________________________________________________________________________________
Michael Young
The Health of a Nation IS the Best Indicator of the Health of a Nation
COVID-19 ravaged the United States perhaps more than any other country. While some of this was due to politics and government policies, it didn't have have to be as bad as it was. Research has shown that mortality from COVID-19 (and a host of other diseases) is directly related to the fitness and activity level of a nation's population. Some research shows this link to be a stronger predictor than the age of the population, the quality of a nation's health care system or any government policy. Other countries with similar demographics and socio-economic standings faired far better simply because they had a more healthy, robust and resilient population.
A sports scientist and coach who is passionate about fitness and performance, Michael helps everyday people learn about the benefits of fitness and coaches some of the top athletes in the world to chase their dreams.
____________________________________________________________________________
NO REFUND POLICY