TEDxMYBLUEPLANET is an interactive virtual climate event, part of the Countdown initiative in Switzerland.
About this Event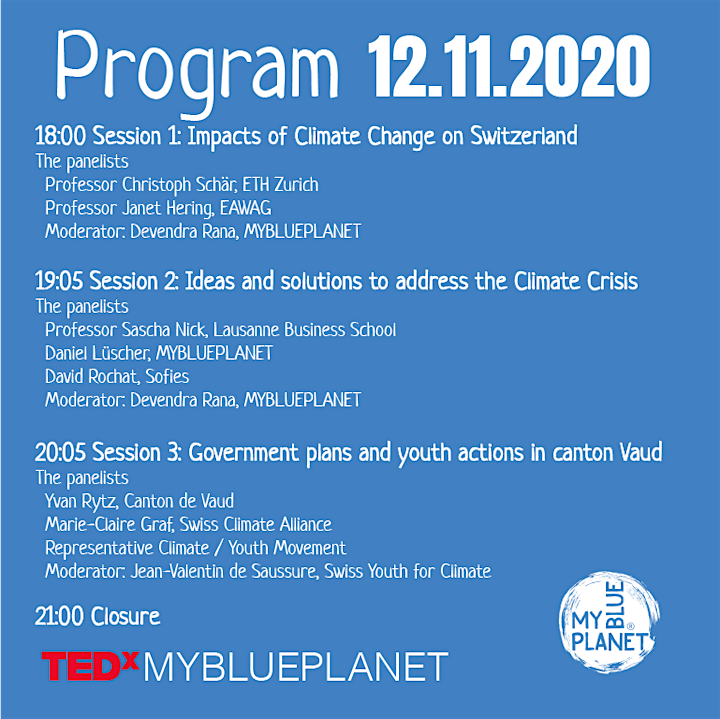 Climate actions – the time is now!
Join us to hear from leading Swiss experts such as Christoph Schär, Janet Hering, Sascha Nick, David Rochat, Daniel L¨üscher and others on what the climate crisis means for Switzerland. You will learn about climate impacts, ideas & solutions, government climate plans, and youth engagement. It's an interactive event so you will have the opportunity to share your thoughts and and ask your questions.
This event is bi-lingual - French and English.
Join us and engage! The time to act for the climate is now.
Actions climatiques – il est temps!
TEDxMYBLUEPLANET est un évènement virtuel et interactif qui s'inscrit dans l'initiative plus large de TEDxCountdown, une action globale visant à soutenir et accélérer les solutions à la crise climatique. Rejoins-nous afin d'écouter des expert-e-s et intervenant-e-s nationaux-ales et locaux-ales, notamment Christoph Schär, Janet Hering, Sascha Nick, David Rochat, Daniel L¨üscher, Yvan Rytz, Marie-Claire Graf. Ils présenteront ce que la crise climatique signifie pour la Suisse et plus précisément la Suisse romande. Les participant-e-s auront l'occasion d'en apprendre plus sur les solutions et plans climatiques locaux ainsi que sur l'engagement des jeunes dans cette cause. Ils-elles pourront également poser des questions et interagir avec les différent-e-s intervenant-e-s à la fin de la vidéoconférence.
Cet évènement est bilingue français-anglais.
Rejoins l'évènement et engage-toi ! Le moment d'agir pour le climat, c'est maintenant.