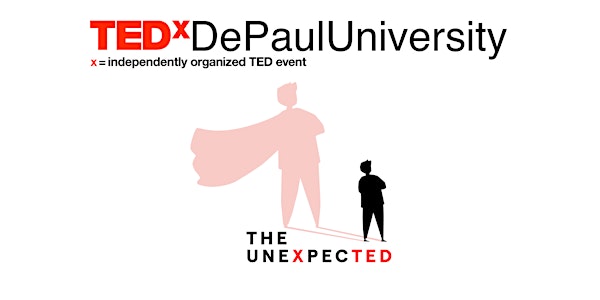 TEDx DePaul University 2021
Join us as we explore the theme, "The Unexpected".
About this event
Sometimes the most important lessons are ones that were unforeseen. Research can lead to astonishing outcomes. Life as usual can take a surprising turn. Or maybe following your curiosity taught you something new. As we reflect on an unexpected year, DePaul University invites you to a free virtual event as we explore these ideas and experiences together.
Registration closes on May 20, 2021 at 5 p.m. A link to view the event will be shared directly after registration closes.
Six DePaul community members were selected to take the stage's signature circular red carpet, including:
• Jacqueline Kelly-McHale, faculty member in the School of Music
• Jamal McPherson, graduate student in the School of Public Service
• Coya Paz, interim dean of The Theatre School
• Priyanka Podjale, 2020 graduate of the College of Communication
• Ceni de la Torre, ministry coordinator for the Catholic Campus Ministry and 2014 graduate of the College of Communication
• David Wellman, director of the Grace School of Applied Diplomacy
TEDxDePaulUniversity
TEDxDePaulUniversity is an independently run, self-organized event operated under license from TED.
Attending the event gives audience members exposure to thought-provoking ideas and an exclusive, in-person look at the talks. YouTube videos of past DePaul TEDx talks have been viewed more than 1.5 million times due to their timely content and important messages. 
Visit www.tedxdepauluniversity.com to learn more about the event and the speakers.
About TEDx, x = independently organized event
In the spirit of ideas worth spreading, TEDx is a program of local, self-organized events that bring people together to share a TED-like experience. At a TEDx event, TED Talks video and live speakers combine to spark deep discussion and connection. These local, self-organized events are branded TEDx, where x = independently organized TED event. The TED Conference provides general guidance for the TEDx program, but individual TEDx events are self-organized. (Subject to certain rules and regulations.)