Description
Join us at this INNOVATIVE event! This event is FREE!
Keynote Speaker and Featured Innovators Announced!
A Free Lunch is provided through a generous donation from Kaiser Permanente.
cha-os /ka,as/ Noun: Complete disorder and confusion
clar-i-ty /kleride Noun: The quality of being clear, in particular
Advances in technology, Big Data, community-driven apps like Next Door and wearable health monitoring systems are disrupting public health systems, community engagement, healthcare and social services creating chaos, fear, privacy concerns and uncertainty. Today, improving the health and quality of life in our communities requires community leaders and residents to develop a clear vision on how technology can bring clarity to a healthier future.
Join us on December 17th as Clackamas County Public Health and regional partners convene a local TEDMED 2018 Chaos + Clarity forum on how technology and innovation contribute towards improved health equity and outcomes.
Be part of the exciting and productive dialogue that works towards establishing data and human connections and a framework for action and results.
Hear from local thought-leaders and innovators about their inspiration to make change through health and technology. Discuss and share ideas of how innovation and technology can improve the health of our community. Be the first to see the unveiling of Clackamas County Public Health's innovative health and quality of life indicator digital platform.
Our Keynote Speaker will be Stephen Green: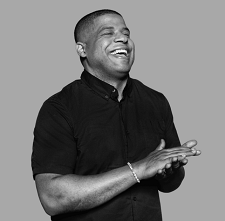 A recovering banker and venture capitalist. Stephen has worked tirelessly to support, connect & grow under-represented founders on the west coast for almost two decades. By day he is a Director at WeWork and spends his "down" time supporting area startup founders through events like "PitchBlack" and "PDX Startup Week" while also serving on a number of boards including the Oregon Growth Board, Self Enhancement Inc (SEI) and the Oregon Small Business Advisory Cabinet. He is the father of 3 and more than likely has more shoes than you do.
Featured Innovators:
Melissa Haendel: Co-founder of the Monarch Initiative, an international open science consortium dedicated to deep phenotyping and disease classification; and she also leads the new National Center for Data to Health (CD2H), which aims to advance informatics in translational science.
Hugh Harker: Hugh Harker is the Founder and Chief Executive of Code for PDX. Hugh has a background in Data Analytics, Software Development, and Urban Planning. For several years, Hugh has worked on projects to improve local communities by utilizing data and technology. Projects include, economic development, natural disaster planning and preparation, transportation, and public health.
Denise M Hynes: Informatics, Oregon State University School of Social and Behavioral Health Sciences. Innovative approaches to improve health care quality, access, and costs.
Perry Hystad: Environmental epidemiologist focused on understanding the health impacts related to place. Place does matter!
Anna Menon: Anna has been working with Clackamas County as a population epidemiologist since October 2017. Before coming to Clackamas she worked as a data analyst for the Linn, Benton, Lincoln Early Learning Hub. She graduated with her Master's in Public Health from Oregon State University and has a Bachelor's degree in Political Science from Haverford College.
Elliott Moon: Elliott Moon is the Informatics Coordinator for the Center for Public Health Advancement within the Clackamas County Public Health Division. Before coming to Clackamas County, Elliott worked as a research analyst for a youth behavioral clinic in Oakland, CA and as a biostatistician at a clinical data management organization that specialized in international clinical trials. Elliott likes using data to promote equity by empowering individuals to answer complicated questions spanning multiple systems.
Harriet Nembhard: Her own research employs methods of statistics and operations research to improve complex systems and has led to numerous advances including the development of visualization methods for communicating healthcare data, a patented manufacturing process for small-scale medical devices, simulation models for assessing emergency department performance, modeling patient adherence to treatment, and tools for quantifying research translation.
Nick Nguyen: Co-founder and Managing Director of PersonaMed. Currently a third-year Pharm.D/MBA student with over 800 hours combined of pharmacy internship/rotation experience in community, hospital, medication reconciliation, and ambulatory care practice.
Taylor Ricci & Nathan Braaten: OSU Student Athletes who have joined forces to start the "DAM Worth It" Mental Health Campaign.
Siew Sun Wong: Her research areas are obesity prevention and youth calcium and bone health. Her interests include innovative nutrition education, especially among low-income families, where she develops and evaluates education games.
Limited Seating. Register today.