About this Event
Join us May 26th for our third installment of "Teddy's Twilight Serenade", a special evening where we feature the talents of local musicians in concert with the sounds of the Music Box Village. These one-of-a-kind performances, led by Tif "Teddy" Lamson (GIVERS), highlight the special sonic qualities of our installation. A frequent Airlift collaborator since her work as Musical Director of our very memorable Peaches retrospective in October 2017, Tif brings to the Music Box Village a playful percussive ear and knack for orchestration.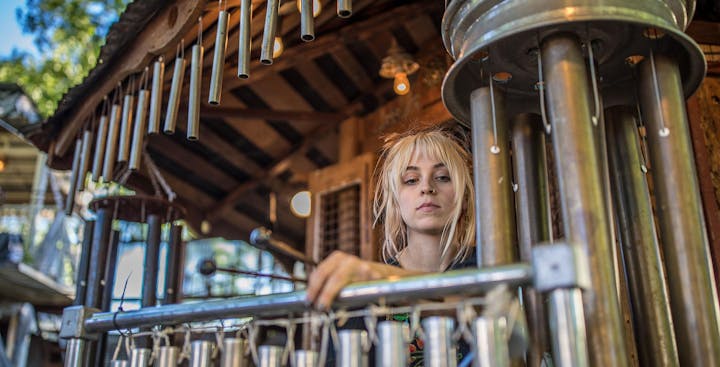 This month's cast features special guest Leyla McCalla and Julie Odell. McCalla is an acclaimed cellist and singer-songwriter whose work often explores her Haitian Creole identity. Her new record, Capitalist Blues was released earlier this year. Odell is taking the New Orleans scene by storm, regularly performing with her band, as a solo artist, and with her organ/keyboard project Mosquito Eater.
The ensemble is rounded out by "house band" members Ben Polcer (King James & the Special Men, Doro Wat), and Jon Arceneaux (Julie Odell). These hour long performances include original songs, improvisation, and compositions written especially for the Music Box Village.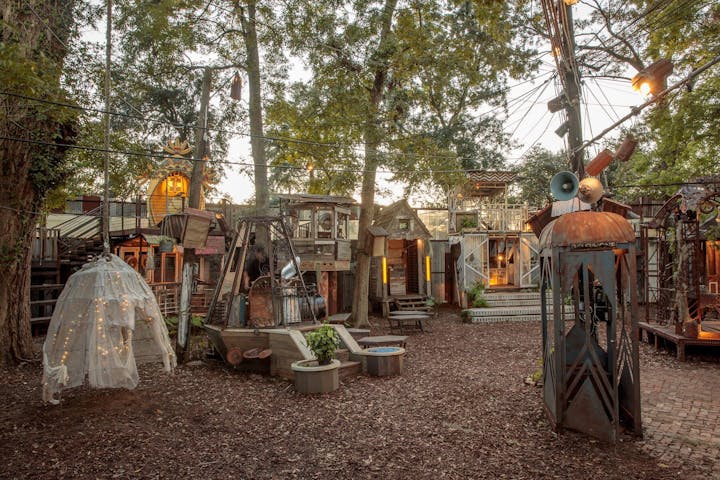 "Teddy's Twilight Serenade" is a special opportunity to enjoy dinner and a show at the Music Box Village. Designed as a supper club experience, we offer package tickets that include a spread fit for two and a bottle of wine. Individual packages include dinner only. This month we are featuring farm to table flatbreads put together by the folks at Simone's Market!
It is recommended that if you would like to dine with us, you purchase your dinner in advance. Vegetarian options will be avaiable. A la carte dinner options will be limited on the night of the show. Individual dinner packages do not include drinks - our full bar will be available for purchase! BYOB is not allowed at the Music Box Village.
Limited seating is available at shared tables, but we encourage guests to bring blankets and festival seating to dine al fresco.
Doors at 7:00PM
Show at 8:00PM
Performers
Date and Time
Location