Description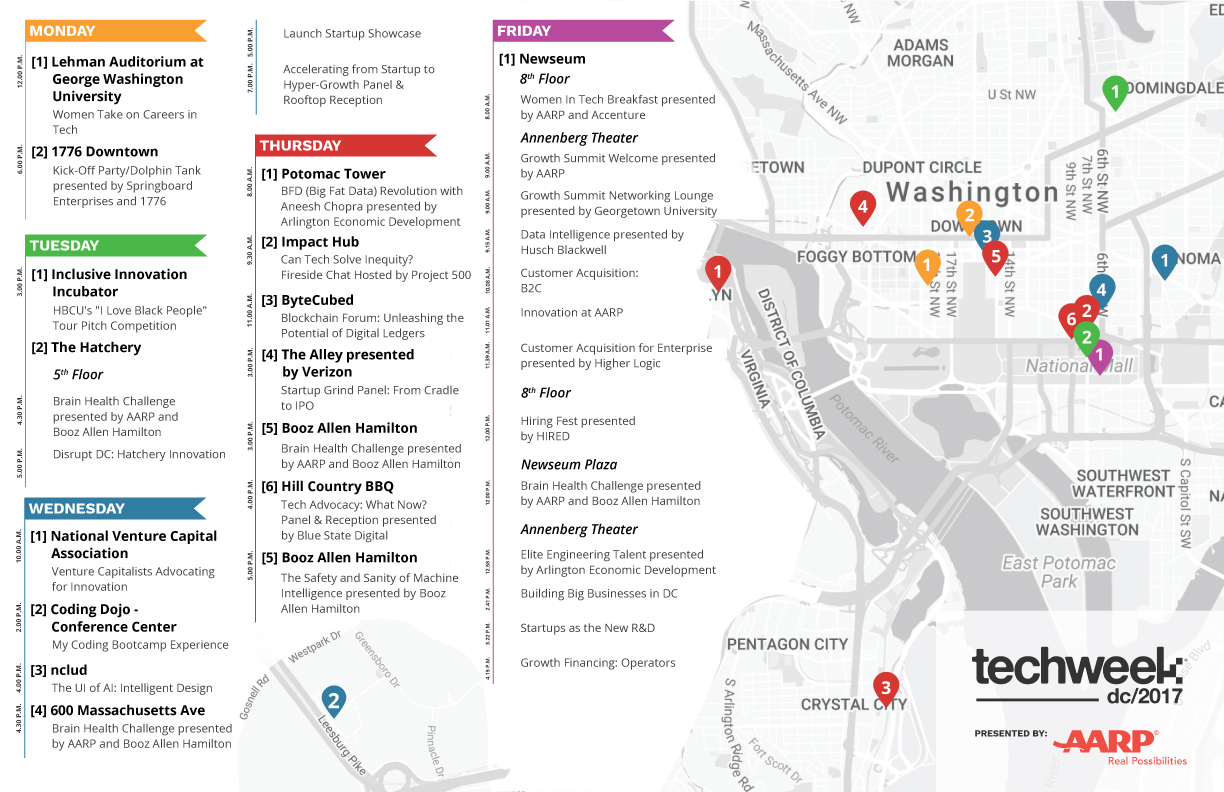 ---
Techweek, the nation's leading technology conference and festival, is coming to Washington, D.C. | Oct. 2-6
Committed to the Hero Company Theory of economic development, Techweek's mission is to spread the creation of innovation hubs to diverse places. We help entrepreneurs solve their fundamental problems of raising capital, recruiting talent, selecting advisors, and gaining recognition with our Growth Summit, Fest, Founders House, and Awards events respectively.

Events not to miss during Techweek D.C. from Monday, October 2nd to Friday, October 6th
Monday: Kickoff Party/Dolphin Tank presented by Springboard Enterprises @ 1776 5:30pm
Tuesday: Disrupt DC: Hatchery Innovation @ AARP 5:00pm
Wednesday: New Launch Startup Showcase @ 5:30pm
Thursday: Startup Grind Panel: From Cradle to IPO @ The Alley presented by Verizon 3:00pm
Friday: Growth Summit @ Newseum 8:30am
Check out the full schedule.
---
Techweek Washington, D.C. 2017 features 3 ticket types:
1. EXPLORER
The free Explorer ticket gets you access to the Hiring Fair, select tech knowledge events, and community workshops during the day. Suitable for students, tech enthusiasts, and aspiring entrepreneurs looking to explore career opportunities and the best of the tech community.
---
2. ENTREPRENEUR
The Entrepreneur ticket gets you all Explorer ticket benefits PLUS additional access to exclusive networking and social events, all Fest knowledge events, and the LAUNCH startup showcase. Entrepreneur is best suited for tech entrepreneurs, investors, and tech executives looking to network and make critical connections, and discover the best startups and other great local companies.
---
3. EXECUTIVE
The premium Executive invitation gets you FULL access to all Explorer and Entrepreneur benefits PLUS exclusive invitation-only access to Growth Summit, an elite speaker conference and speaker reception. Growth Summit features the top 20-30 CEOs of the best high-growth companies discussing detailed topics in-depth. Executive access is intended for elite investors, CEOs and senior executives of top growth tech companies - and a select group founders and industry experts.
---
Ticket Pricing and Availability
In the run up to each Techweek, tickets become available for limited sales periods and in limited quantities: First Mover, Early Bird, Regular and Last Minute. We recommend reserving your ticket early: tickets are often available at the door, but many Techweek events are RSVP only and popular events get booked out early.
PHOTO RELEASE:
BY REGISTERING FOR THIS TICKET YOU ACKNOWLEDGE THAT PHOTOS AND VIDEO ARE CAPTURED AT ALL TECHWEEK EVENTS AND MAY BE USED FOR MARKETING PURPOSES BY TECHWEEK AND ANY OF ITS SPONSORS OR PARTNERS.