Description
Every year, technology movers and shakers gather at the TechWadi Annual Forum to discuss recent developments and future opportunities for innovation in the region. The forum brings together both new and established entrepreneurs, innovators, investors and other ecosystem stakeholders from MENA, Silicon Valley, and beyond.
This year, the TechWadi Anual Forum focuses on partnerships between Silicon Valley and the Middle East. It's a chance to talk about how investments can move both directions, learn about FinTech in emerging markets, and hear stories from Silicon Valley and MENA-based founders.
This year's agenda includes:
A fireside chat with Mamoon Hamid (Kleiner Perkins) moderated by Anas Osman (Google)
A keynote from David Parker (Bahrain Economic Development Board)
A keynote from Dr. Sahar Nasr (Egyptian Minister of Innovation and International Cooperation)
A fireside chat about the entrepreneur/investor relationship with Sam Hodges (

Vouch Insurance

) and Noor Sweid (Global Ventures)
A panel moderated by Deena Shakir of Google Ventures about investment trends in Silicon Valley featuring

Alaa Halawa (Mubadala Ventures), Andy Tsao (Silicon Valley Bank), and Ramzi Ramsey (SoftBank)



A panel moderated by Sharif El-Badawi of 500 Startups about investment trends in MENA featuring Nada AlSaeed (Bahrain Economic Development Board), Noor Sweid (Global Ventures), and Dr. Shehab Marzban (Egypt Ventures), and Tarik Fahim (Endure Capital)

A panel moderated by Yasmin Turayhi entitled "

When Will the Autonomous Future Arrive?" featuring Bert Kaufman (Zoox), Louay Eldada (Quanergy), and Matthew Colford (Applied Intuition)
A panel titled "Going Global: How Companies Navigate a Diverse and International Marketplace" moderated by Mehdi Alhassani (Palantir) featuring Andre Haddad (Turo), Haider Sabri (Uber), May Habib (Qordoba)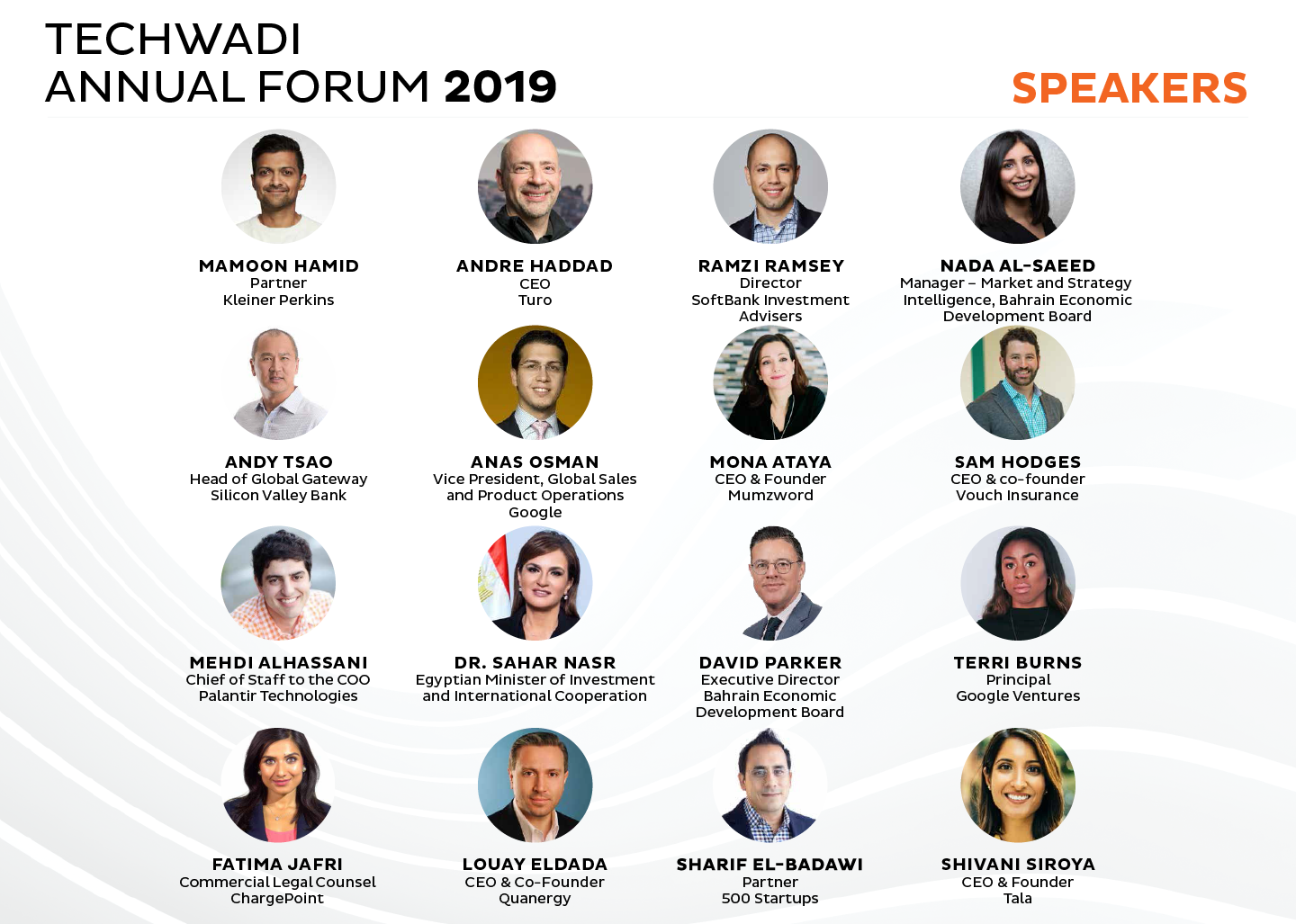 TechWadi is the leading non-profit organization building bridges between Silicon Valley and the MENA region since 2006, in an effort to promote tech entrepreneurship through connectivity. TechWadi stands today as a strong global platform to build a thriving ecosystem in the Middle East and North Africa.
Come connect and celebrate entrepreneurial courage, economic growth and community!
---
In addition to the Annual Forum on January 26th, we will also be hosting our Second Annual Benefit Dinner. We'd love to see you there!