Description
+_+_+_+_+_+_+_+_+_+_+_+_+_+_+_+_+_++_+_
Milonga is a term for a place or an event where tango is danced. People who frequently go to milongas are sometimes called milongueros. The term "milonga" can also refer to a musical genre or a style of dance related to tango. Beekman33 is a "dance" between styles, industries, and ideas. Come join us from for an event that combines Argentine cuisine, award-winning jazz, and industry leaders. Limited seating.
+_+_+_+_+_+_+_+_+_+_+_+_+_+_+_+_+_+_+_+
The Details:
Beekman33 Presents: #TechTunesTango #SxSwunofficial 2018
Where: 1201 E 6th St, Austin, TX 78702 | https://goo.gl/maps/6zQ5FFkBHBP2
When: Saturday, March 10th, 2018, 9pm -2am
RSVP: Get on the guestlist http://b33.eventbrite.com
- Early Bird Tickets- No Cost
- The B33 Ticket - $45
- Door Ticket - $65
Includes: Unlimited select drinks (9pm-12am), delicious bites, and goodie bag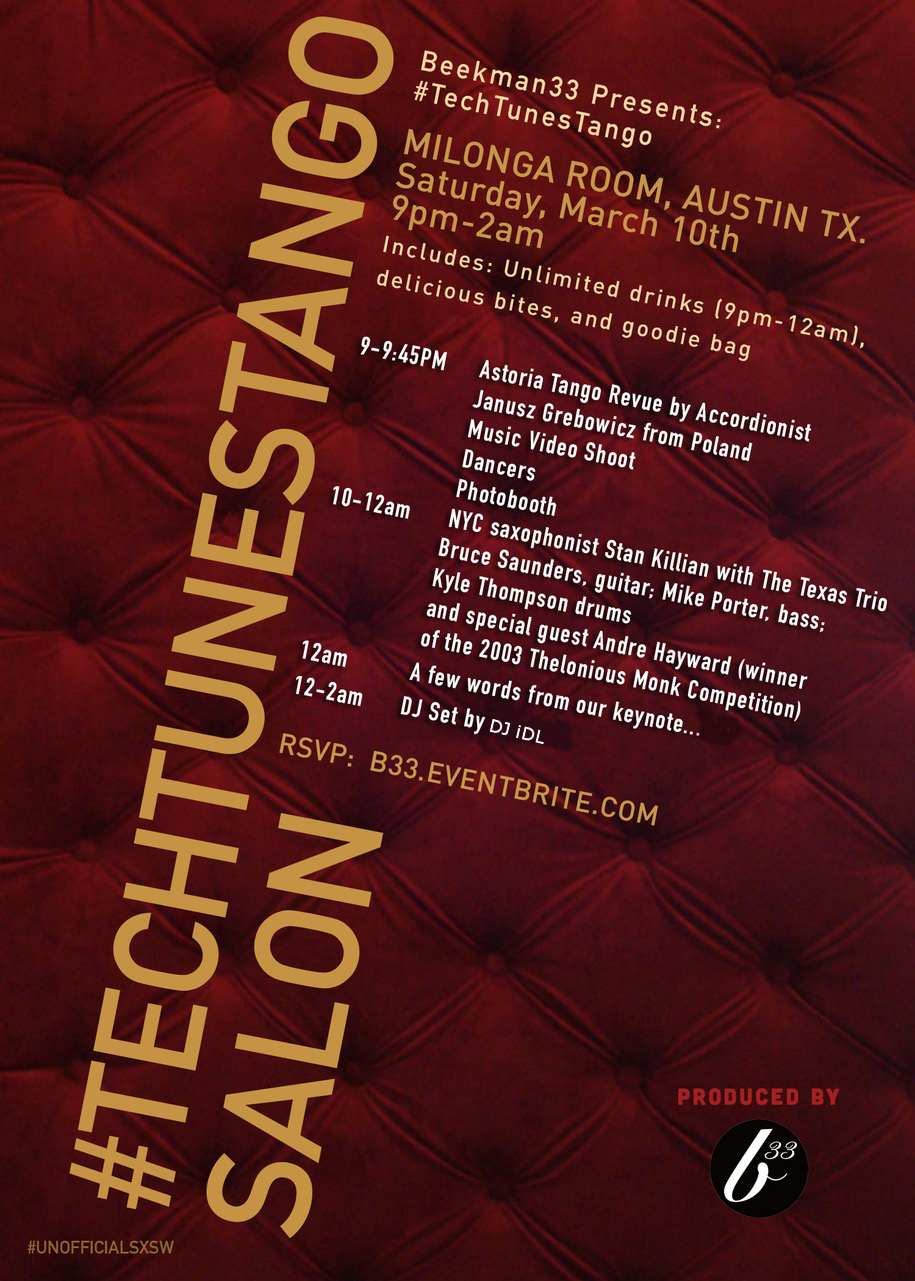 Menu includes:
Mini Empanadas - ground beef, green onions, green olives, and fesh herbs
Pork Skewers, chimichurri
Veggie Skewer w/ local vegetables
De Miga - Ham & Cheese / Red Pepper & Egg DeMiga
Dessert Mini Lemon Pie, Chef Reina's special recipe
Mini Raspberry Tart, Dark Chocolate ganache topped with fresh raspberries
The Evening:
9-9:45pm
Astoria Tango Revue by Accordionist Janusz Grebowicz from Poland
Music Video Shoot
Dancers
Photobooth
10-Midnight
NYCsaxophonist Stan Killian with The Texas Trio
Bruce Saunders, guitar; Mike Porter, bass; Kyle Thompson drums and special guest Andre Hayward, winner of The 2003 Thelonious Monk Competition and trombonist with Jazz At Lincoln Center under Wynton Marsalis.
Midnight
A few words from our Keynote...TBD
12-2am
DJ iDL (New Routes, ATX) DJ set