#TechTunesTable - The Beekman33 Music Salon
When and where
Location
Complete Music Studios 227 Saint Marks Avenue New York, NY 11238
Description
Saturday, September 7th, 6-11pm
#TechTunesTable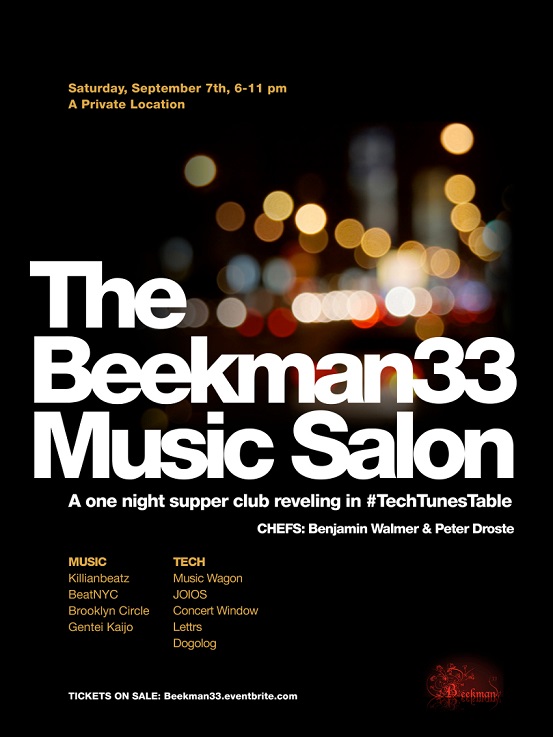 Introducing #TechTunesTable
The Beekman33 Music salon invites you to our one night supper club, concert, and startup showcase.
TABLE
Six Interactive Courses, haute-quality produce & meats, farm-sourced in renegade pop-up kitchen with chefs Benjamin Walmer and Peter Droste of HDC. Tasting competition with local Brooklyn spirits selected by Matt Bruck of JOIOS
Look at this menu:

1. (amuse) salmon belly, gruyere, soubise, balsamic, bean shoots
2. (summer beef stew) blackened short rib, collards, fried leeks
3. (skate "gettysburg") seared skate wing, cornbread porridge, kale, black garlic, chili oil powder
4. (capon roulade) capon roulade, russet chips, fennel, shallot, mustard greens
5. (peaches n dry ice cream) vadouvan custard, fresh peaches
6. (cookies) basil chocolate cookie, chartreuse whipped cream
TUNES
KillianBeatz DJ & Sax
BeatNYC Freestyle Beatbox Presentation
Brooklyn Circle Jazz, Groove, & Funk
Gentei Kaijo Post Hip-Hop
TECH Start-up Showcase
Music Wagon
Concert Window
Dogolog
Bios:
Killianbeatz
Texas born and bred pianist turned Hip Hop producer Dennis Killian has produced for Lil' Flip, KJ Hinze, Lil' Keke, AJ Hernz, Dirty Swag Entertainment, and scores of other Southern US rappers and MCs. His father, Joe Killian, a jazz pianist and Hammond organist who worked in bands led by sax legends Sonny Stitt, Jimmy Ford, and Don Wilkerson began teaching Dennis piano at the age of six. He has a B.A in Journalism from The University of Texas and plans to move his production house to New York City in 2014 to develop new musical concepts and collaborations.
Stan Killian
Co-founder of Beekman33, saxophonist and brother of Killianbeatz, Stan Killian has lived in NYC for the past 5 years, released three albums on Sunnyside Records: "Evoke", "Unified", and "Com Voce". Aside from working with the legendary pop acts the Temptations and the Supremes, Stan has recorded and performed live with contemporary jazz greats Roy Hargrove, David Binney, and Jeremy Pelt, Antonio Sanchez, Ben Monder, Scott Colley, Mike Moreno, Benito Gonzalez, Luis Perdomo, Eric Revis, Gene Jackson and a host of other leading jazz artists. He has toured extensively in the United States, Asia and Europe. In addition to free lancing in a host of bands across multiple genres, he's an active educator, writer and technologist in New York City and performs monthly at the 55 Bar with his band, every second Tuesday 7-9pm.
B.E.A.T. NYC.
Bridging Education and Art Together (B.E.A.T.)'s mission is to transform the lives of youth in under-served areas through engaging, exciting and culturally relevant music, dance and writing programs which include beat boxing, B-boying/B-girling (breakdance), music production/composition, and creative writing.
Their roster of instructors serve as inspiration to the students as the strength of our programs lies in our teaching artists who include some of the most notable cultural icons, visionary pioneers and experts in their respective fields. By engaging, retaining, challenging and teaching life-skills to students, B.E.A.T. aims to help mold a new generation of leaders and creative thinkers who themselves will inspire and impact the generations to follow.
Brooklyn Circle
Some people say Brooklyn Circle is badass. Some say Brooklyn Circle is pure sex. Others say BkC is the world's new power trio. It has even been said they "are at the forefront of eclipsing the sun." Choice of words aside, BkC is a stand-out musical trio of three psychically connected and improvising musicians living in New York City. With over a decade of sound unification, the co-led group has an inner core of Stacy Dillard on saxes, Diallo House on bass, and Ismail Lawal on drums.
These musical, spiritual and philosophical brothers have honed their unique talents to bring the world a new spectrum of lyrical, rhythmic, and original compositions that are consistently timeless - but what makes them great is their connection that lies beneath the notes: a musical unity and symbiotic assembly that fits each instrument's song together without sacrificing any individuality. This near telepathic rapport keeps their music supple and agile without sacrificing any of its strength or power. Slightly mischievous and intensely fun, BkC conjures a musical experience that is high-spirited and deeply felt.
Gentei Kaijo
A free flowing jazz/hip-hop expression. A rotating cast of instrumentalists, vocalists and emcees jam on deep grooves providing an unforgettable experience. Tightly improvised riffs coupled with intense NYC rapping provides a breath of fresh air that is high-spirited and deeply felt. Don't miss this authentic underground urban music powerhouse.