Description
TechStreet Houston
An open and collaborative platform for the community to learn, share, showcase and promote their creative and innovative ideas, expertise and technologies for better living.
On November 20, 2013 at the George R. Brown convention center in Houston, TX, all are invited to experience:
HATCH pitch

–

HATCH, a revolutionary pitch competition, is coming to TechStreet Houston! Start-ups from around the world will pitch; entrepreneurs, venture capital investors, angel investors and corporate executives will judge; and attendees will watch the unveiling of Hatch Houston at TechStreet.
Date: November 20, 2013
Time: 2:00 PM - 6:00 PM
Awards: 6:00 PM - 7:00 PM
Room: To Be Announced
CODE Street

-

Code Street is the platform for technology strategists to present tools that make life sustainable, manageable, and efficient. At the TechStreet Houston Closing Party, we will showcase applications developed during the Hackathon events including the Code For America/TechStreet Hackathon on November to be held on November 16, 2013.
Code Street (Code For America) Hackathon
(A TechStreet Houston Pre-Event)
Date: November 16, 2013
Time: 5:00 PM - 7:00 PM
Room: To Be Announced
Code Street (Hackathon) Showcase
Date: November 20, 2013
Time: 5:00 PM - 7:00 PM
Room: To Be Announced
TechStreet University/Developer Workshops

-

Hands-on programming workshops on the popular and emerging platforms for experienced and wanna-be programmers. We will have beginner level workshops for non-experienced developers, as well as intermediate and advanced level for more those more experienced.

Developer workshops range from iOs, Android, and Windows 8 app development
Date: November 20, 2013
Time: Developer Workshop schedule coming soon
Room: To Be Announced
Once you have registered to attend Developer Workshops, we will follow up with an email that provides the workshop title, overview, time, and facilitator information.
TechStreet Houston Agenda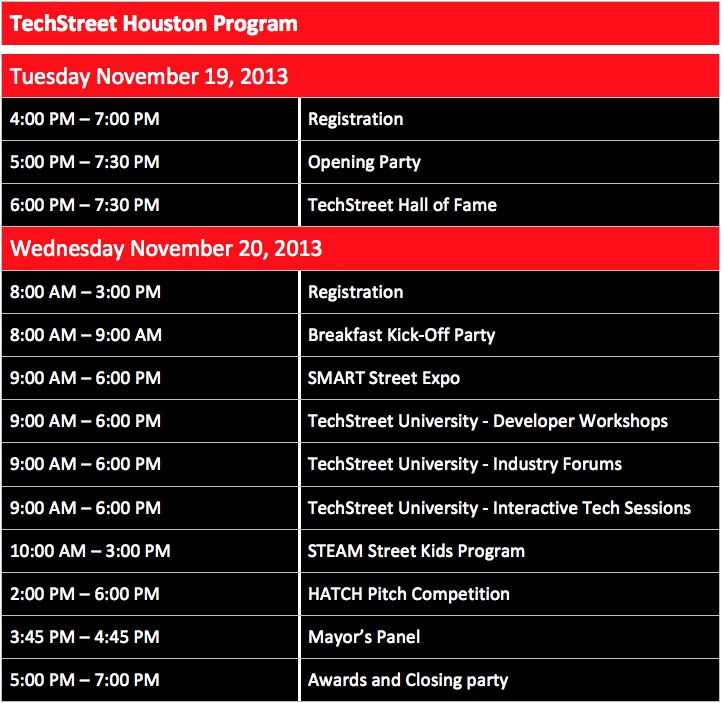 Data Disclaimer
TechStreet Houston is committed to protecting our users' privacy. This Privacy Policy is designed to inform users of TechStreet Houston's free registration on this site about how TechStreet Houston gathers and uses information provided to, or collected by, TechStreet Houston and under what circumstances TechStreet Houston will disclose such information.
TechStreet Houston will make non-confidential data available to Sponsors at the Gold level or Platinum level. This means that when you register on this event management site for passess to the TechStreet Houston event on November 20th, only key sponosors will have access to the registration list if they have purchased Gold, Platinum, or Founding Sponsor levels.
You may opt out by emailing the TechStreet Houston organizer, who will not add your email information to the Sponsor provided content.
What Information Do We Collect?
Registration Information: TechStreet Houston collects registration information for the following content: First Name, Last Name, Company, Address, Email, Phone Number, and demographic information.