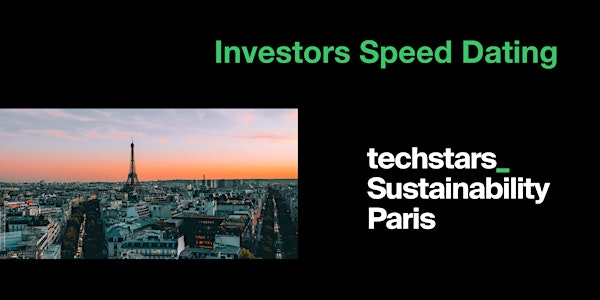 Techstars Sustainability Paris | Investors Speed Dating
Register to meet with the world- class companies graduating from our Techstars Sustainability Paris April 2023 Class
By Techstars Sustainability Paris
Date and time
Thursday, June 29 · 2 - 6pm CEST
About this event
The event will be held both online and physically in Paris. Once registered, you will be able to choose which company/ies you want to meet.
Here is a glimpse:
Allegiant H2O (US) - Globally connecting investors to water projects
Avrio (Netherlands) - Decarbonization platform for small buildings
Beaware (Italy) - A new way to track waste
CircularPlace (France) - Management of non-food unsold items
Enreport (Finland) - Energy management system based on AI gamification
Movopack (Italy) - Circular packaging for e-commerce
Nix Air Solutions (France) - Technology for wildlife conservation
Pelikan Mobility (France) - Commercial fleet electrification
Savvy (France) - Platform to learn and invest sustainably
S.Lab (Spain) - Sustainable packaging produced at industrial scale
Toasty (France) - Eco-friendly discovery-shopping app
Windcredible (Portugal) - Micro wind generators
We look forward to meet you!
Techstars Sustainability Paris team