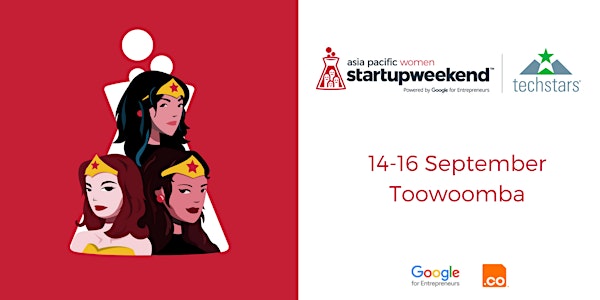 Techstars Startup Weekend Women Toowoomba (APAC)
When and where
Location
Canvas Coworking Inc 625 Ruthven Street Suite 1 Toowoomba City, QLD 4350 Australia
Refund Policy
Contact the organizer to request a refund.
Description
Are you ready to StartUp?
It doesn't matter what you do or where you are from, Startup Weekend Women is a 3 day event that brings together:
▪️ aspiring & experienced entrepreneurs,
▪️ developers and other tech-related professionals,
▪️ designers across all mediums,
▪️ anyone with talents/skills/experience in business, sales, finance, legal, health, wellness, mindfulness
▪️ students from universities and even high schools,
▪️ professionals looking to a careers switch,
▪️ lifelong learners
or maybe someone that doesn't tick any of those and just wants a weekend giving back to the community!
Meet people from all walks of life and join forces with smart, passionate individuals. Validate your idea with the very best mentors, investors and get equipped with the right tools and resources to help you bring your startup idea to life. You'll take giant leaps towards creating a business, becoming a founder, connecting with the right people and resources to actually start a business in a weekend!
Startup Weekend, powered by Google For Entrepreneurs,​ is a global grassroots movement of active and empowered entrepreneurs who are developing the basics of founding startups and launching successful ventures. This 54-hour event is specifically designed to provide superior experiential education for technical and non-technical entrepreneurs.
Let's start with Friday and a night of networking, pitches and team building. Then the energy really ramps up on Saturday as we continue the brainstorming, business plan development, and basic prototype creation. To enhance your team we have also curated a rockstar team of mentors to coach and support you on the adventure. Sunday brings the culmination of all your hard work and energy as the projects come to life and are presented to the live judging panel, then we'll finish off with a celebration party.
Each participant will get:
▪️ Handpicked gourmet buffet spreads specially crafted for you across all 3 days
▪️ All-day coffee, snacks and finger food to fuel your brain juices!
▪️ Official Certificates
▪️ SWAG bag
▪️ An exclusive .co domain (incl hosting) for a year- FREE
Startup Weekend is centered around action, innovation, and education.Whether you are looking for feedback on an idea, a co-founder, specific skill sets, or a team to help you execute, Startup Weekends are the perfect environment in which to test your idea and take the first steps towards launching your own startup.
Our goal is to encourage and inspire more female leaders in in the world and to connect more women to the vast number of resources and mentors available in our startup community. That's why we want you to be part of this weekend and join some of the most passionate, talented and entrepreneurial-minded women across our community!
Are males allowed to attend? YES! Males are certainly invited, however there are a limited number of tickets and official positions available and will be snapped up quickly.
We also have complimentary babysitting available for all sessions across the weekend, so be sure to take advantage. Email us at swwtwba@gmail.com to let us know how many kids you will be bringing along, their ages and when you expect them to be here (ie. all weekend, Sat/Sun, etc)
Book your tickets now!
Find out more : http://communities.techstars.com/australia/startup-weekend/13464
Stay in touch by following us on Facebook: @StartupWeekendTwba
Any questions, please email the awesome organising team at toowoomba@startupweekend.org
----------------------------------------------------------------------
Terms of Participation Agreement
By participating at the event, you grant Startup Weekend permission to capture photo/video of the event. You can find the exact legal terms on our FAQ Page but to summarise, we want to share your success with the world.
----------------------------------------------------------------------
Refund Policy
Unfortunately, Startup Weekend Toowoomba organising team is unable to issue any refunds. For refunds up to 30 days before the event, please contact help-finance@startupweekend.org
If you are no longer able to attend, you may transfer your ticket to a friend or colleague. Email us at swwtwba@gmail.com to let us know who will come in your place.