Techstars Startup Weekend Women - Detroit

Friday, February 9, 2018 at 6:00 PM

-

Sunday, February 11, 2018 at 6:00 PM (EST)
Event Details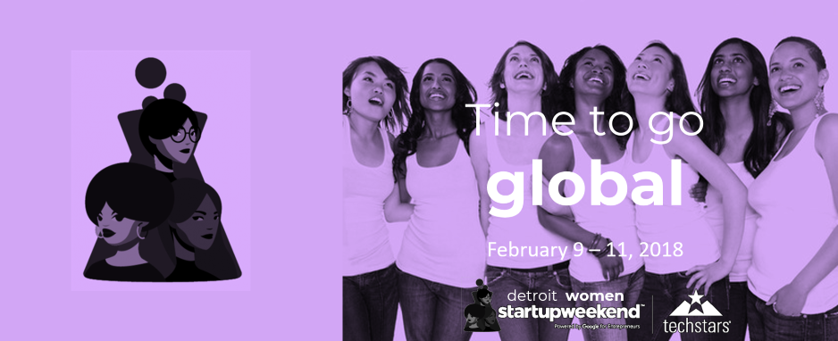 For more event details, coming soon at: http://communities.techstars.com/events/12305
Men & Women invited to compete on teams or serve as a mentor.  For mentorship info, please contact us at detroit@startupweekend.org
A weekend of empowering women entrepreneurs around the globe!
Detroit Startup Weekend Women is proud to earn a bid to participate as one of dozens of cities around the world hosting similar events as part of of Global Startup Women's Weekend. Good girls go to Paris!  Winners from this Startup Weekend Women's edition will move on to complete globally in Paris, France!
Men are invited!
Men may participate, join a competing team and/or are invited to serve as valuable mentors --- but each competing team must include a female lead. Startup Weekend Women's Edition is a welcoming and supportive environment to:
Develop new ideas into reality

Increase the participation of women in the entrepreneurial and innovation ecosystem

Strengthen valuable leadership and networking skills

Receive beneficial coaching from local startup and tech experts

Winners have an opportunity to be featured as one of Techstar's Global Startup Weekend highlight

Winners will complete globally against winning teams from other cities in Paris, France!
What is a Startup Weekend?
Startup Weekends are all about learning through the act of creating. This global grassroots movement of active and empowered community leaders and entrepreneurs from a variety of backgrounds are learning the basics of founding startups and launching successful ventures. Participants with varying specialties come together to share ideas, form teams and launch startups from the bottom up.

What's different about this event?
This Startup Weekend is designed to engage more female entrepreneurs and provide them the necessary resources for long term success. The weekend will be a focused on empowering women within our community to lend their voice to innovation teams.

While we understand it takes a community of creative thinkers to help build an idea from concept through to execution, this event will be supporting women pitches only. In doing so, we ensure women are able to hone their creative and entrepreneurial talent in a safe environment that inspires risk taking and innovation with the help of the broader community of men and women ready to share their expertise to champion change and fuel new ideas. 

How does it work?
Techstars Startup Weekends are 54-hour events designed to provide superior experiential education for technical and non-technical entrepreneurs.  The concept is simple. Beginning with Friday night pitches and continuing through brainstorming, business plan development, and basic prototype creation, Techstars Startup Weekends culminate in Sunday night demos and presentations. No experience necessary - we teach you all you need to know!
Participants create working startups and base products during the event and are able to collaborate with like-minded individuals outside of their daily networks. All teams hear talks by industry leaders and receive valuable feedback from local entrepreneurs. The weekend is centered around action, innovation, and education.  Whether you are looking for feedback on a startup idea, to find a co-founder, find specific skill sets, or a team to help you execute, Techstars Startup Weekends are the perfect environment in which to test your idea and take the first steps towards launching your own startup.

Why should I participate?
Whether entrepreneurs find co-founders, meet someone new, or learn a skill far outside their usual 9-to-5 job, everyone is guaranteed to leave the event better prepared to navigate the chaotic but fun world of startups. 

Don't wait another minute, buy your ticket today!
Terms of Participation Agreement: It is our job to provide you with an incredible networking and learning opportunity. Our intention is that you meet some amazing people that you might actually start a company with, build relationships with coaches, and learn from your peers. The event is intended to be a collaborative forum for sharing, learning, building, and having fun. As such, by registering as a participant, you acknowledge that any ideas shared by you or anyone else over the course of the event are contributions to the overall experience and community. One of the first lessons you learn as a practicing entrepreneur that without sharing your idea you will never see it tested or fully developed. It is part of the process. If you as a participant are worried about someone stealing your ideas, please reconsider your participation in the event itself or simply refrain from sharing specifics about your idea.
As a member of your startup community, you agree to be inclusive of any and all people and their ideas. You agree to act professionally, treat everyone with respect, and treat the event facilities with proper care. You agree that you are responsible for any accidents or damages that you cause. You also agree to not hold Techstars Startup Weekend, your local volunteer team, or any of the event supporters liable for any loss, damage, injury, or any other unforeseeable incident.
By Participating at the event, you grant Techstars Startup Weekend permission to capture photo/video of the event. You can find the exact legal terms on our FAQ Page but to summarize, we want to share your success with the world.
By submitting your information above you agree to the Techstars website's Privacy Policy, and you consent to receive email communication from Techstars and its programs about events and updates that may interest you.
Refund Policy:  No refunds will be granted within 7 days of the event if food and drink have already been ordered. Apologies for any inconvenience this may cause.
Save This Event
When & Where

Grand Circus Detroit
1570 Woodward Avenue
4th Floor
Detroit, MI 48226


Friday, February 9, 2018 at 6:00 PM

-

Sunday, February 11, 2018 at 6:00 PM (EST)
Add to my calendar
Organizer
Techstars Startup Programs
Techstars is a global ecosystem that empowers entrepreneurs to bring new technologies to market wherever they choose to live. With dozens of mentorship-driven accelerator programs and thousands of community programs worldwide, Techstars exists to support the world's most promising entrepreneurs throughout their lifelong journey, from inspiration to IPO.


Techstars provides access to tens of thousands of community leaders, founders, mentors, investors, and corporate partners, allowing entrepreneurs to accelerate the pace of innovation and do more faster. Techstars supports every stage of the entrepreneurial journey – from early stage grassroots community development to more formal opportunities that provide education, experience, acceleration, funding, and beyond.


Techstars Startup Programs include Startup Weekend, Startup Digest, Startup Next, and Startup Week. 
Techstars Startup Weekend Women - Detroit