Description

Startup Weekend South Central was inspired by Los Angeles natives, techies, and allies. While this event is open to entrepreneurs from every walk of life, the decision to host this event in South Central, at the late Nipsey Hussle's Vector90 space was deliberate. We must change the narrative around business in the South Los Angeles community. We must highlight networking opportunities in the inner city. We believe it is our responsibility to funnel resources into the neighborhood.
Our goal is to remove the barriers that prevent access, opportunity, and scale. To support in any way, connect with us at startupweekendsouthcentral@gmail.com.
Participants are invited to attend a free pitch bootcamp prior to the official kickoff of startup weekend.
For all event details, please visit startupsouthcentral.com.
For the full event schedule, please visit the community page.
__________________________________________________________________________________
About Vector90: What is Vector90? Created by the late Nipsey Hussle -- "Our spaces will anchor cultural and intellectual hubs for entrepreneurs and creatives, and will heighten the economic and social fabric of the neighborhoods we enter." To learn more about Vector90, please visit vector90.com and here. Follow @Vector90 on Instagram.
---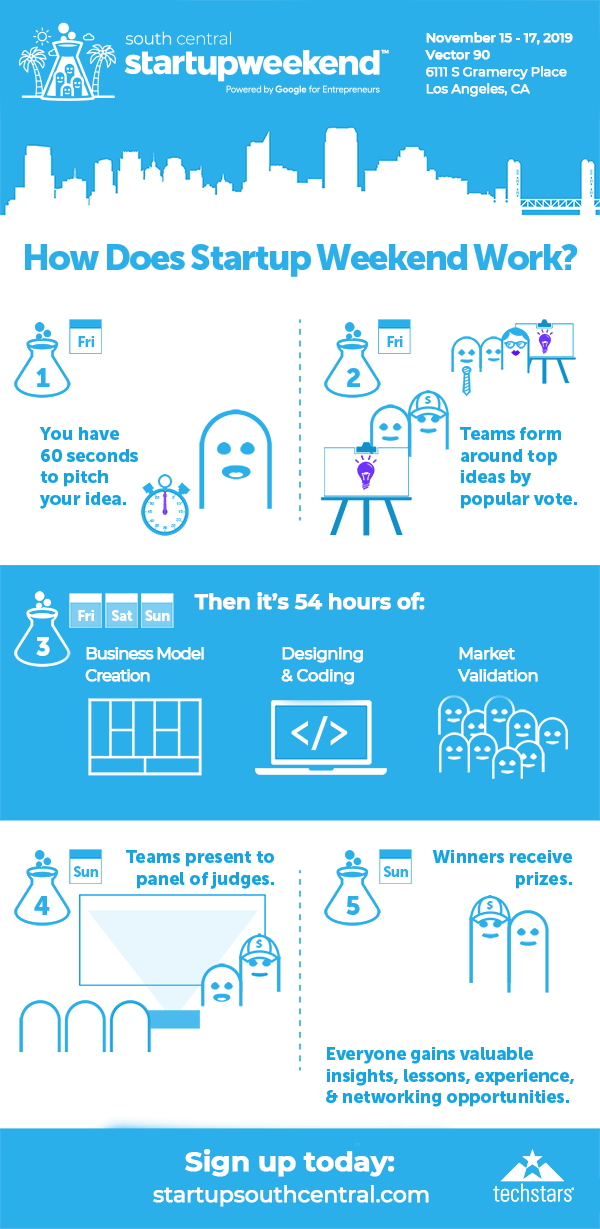 Refund Policy: No refunds will be granted within 7 days of the event if food and drink have already been ordered. Apologies for any inconvenience this may cause.
______________________________________________________________________________________
Terms of Participation Agreement: By Participating at the event, you grant Techstars Startup Weekend permission to capture photo/video of the event. You can find the exact legal terms on our FAQ Page but to summarize, we want to share your success with the world.
By purchasing a ticket to a Techstars Startup Weekend event, you are agreeing to our Terms of Use and Privacy Policy. If you have questions please reach out to privacy@techstars.com.