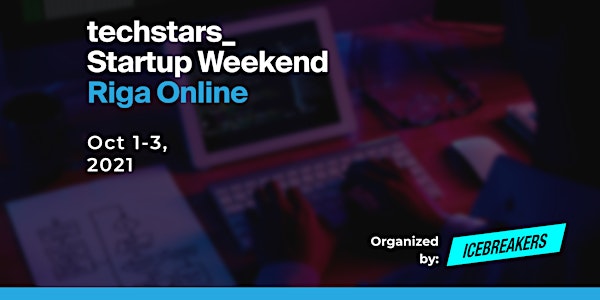 Techstars Startup Weekend Riga 10/21
Techstars Startup Weekend is a 54-hour event designed to provide experiential education for technical and non-technical entrepreneurs
About this event
✅ WHEN YOU HAVE REGISTERED FOR THE EVENT, USE THE LINK SENT TO YOU, TO JOIN OUR DISCORD SERVER!
💡 Do you want to meet new people and get creative and inspired in the field of entrepreneurship?
🎯 Then join the Techstars Startup Weekend Riga online hackathon on October 1-3! The event will bring you together with other business enthusiasts, professional mentors, investors, and sponsors - who will all be ready to help you refine your business goal.
🤝 Even if you don't have your own business idea yet, you are still welcome to join the hackathon, as you will be teamed up with other people and have a chance to work together to create something new!
🚀 Say yes to meeting new people, gaining new experiences, and spending the most thrilling 54 hours you can imagine!
The event will be facilitated by Simone Demelas
🦸‍♀️ 🦸‍♂️ Mentors at Techstars Startup Weekend Riga
- Shaw Li (Product Coach at Cornell Tech)
- Zane Bojāre (Head of Marketing at Startup Wise Guys)
- Kasper Jelaiskis (Senior Product Designer)
- Līva Bleidele (Director of Strategy | Full-Stack Digital Marketer at OMD Latvia)
- Michael Gackstatter (SVP Product Management)
- Viesturs Sosārs (TechHub Riga Co-Founder)
- Ieva Sibilla Strupule (CEO/Founder of MaterialMapper AS)
Techstars Startup Weekend Riga is organized within the annual business opportunity festival "Icebreakers'21"
About Techstars Startup Weekend Online: a 54-hour online event designed to provide superior experiential education for technical and non-technical entrepreneurs.
Beginning with Friday night pitches and continuing through brainstorming, business plan development, and basic prototype creation, Techstars Startup Weekends culminate in Sunday demos and presentations.
Participants create working startups during the event and have the opportunity to collaborate with like-minded individuals outside of their daily networks. All teams hear talks by industry leaders and receive valuable feedback from local entrepreneurs. The weekend is centered around action, innovation, and education.
Whether you are looking for feedback on an idea, a co-founder, specific skill sets, or a team to help you execute, Techstars Startup Weekend is the perfect environment in which to test your idea online and take the first steps towards launching your own startup.
Terms and Conditions
Terms of Participation Agreement: It is our job to provide you with an incredible networking and learning experience. Our intention is that you meet some amazing people that you might start a company with, learn from mentors as well as learning from your peers. The event is intended to be a collaborative forum for sharing, learning, building, and having fun. As such, by registering as a participant, you acknowledge that any ideas shared by you or anyone else over the course of the event are contributions to the overall experience and community. If you're very concerned, you can limit your pitch to the rough outline of the idea without giving away key information.
As a member of your startup community, you agree to be inclusive of any and all people and their ideas. You agree to act professionally, treat everyone with respect, and treat the event facilities with proper care. You agree that you are responsible in the event of any accidents or damages that you cause. You also agree to not hold Techstars Startup Weekend, your local volunteer team, or any of the event supporters liable for any loss, damage, injury, or any other unforeseeable incident.
By participating in the event, you grant Techstars Startup Weekend permission to capture photos/videos of the event. You can find the full legal terms on our Communities Page, but to summarize, we want to share your success with the world.
By purchasing a ticket to a Techstars Startup Weekend event, you agree to our Terms of Use and Privacy Policy. If you have questions please reach out to privacy@techstars.com.