Ritorna Startup Weekend Milano! Questa edizione, ONLINE, si concentrerà sugli obiettivi di sviluppo sostenibile (SDG) promossi dall'ONU.
About this Event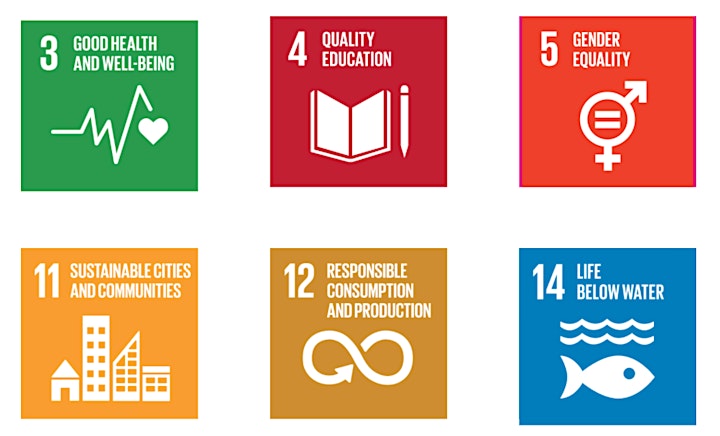 Ritorna Startup Weekend Milano! La maratona creativa dedicata al mondo startup più attesa dell'anno!
Un'edizione completamente online e interamente dedicata a proporre idee e sviluppare soluzioni per raggiungere gli obiettivi di sviluppo sostenibile (SDG) promossi dall'ONU.
Abbiamo selezionato 6 obiettivi di sviluppo sostenibile attorno cui potrai costruire la tua nuova impresa:
Good health and well-being
Quality education
Gender Equality
Sustainable cities and communities
Responsible consumption and production (circular economy)
Life Below Water
CHE COS'È STARTUP WEEKEND?
È un format internazionale unico nel suo genere! Una full immersion di tre giorni in cui: aspiranti startupper, marketer, visionari, graphic/UX designer, sviluppatori web si dividono in team e lavorano in sinergia per realizzare un'idea di business funzionante entro la fine del weekend.
Startup Weekend è una straordinaria opportunità di networking e di sviluppo del tessuto imprenditoriale. Giovani con idee rivoluzionarie che lavorano insieme per realizzarle e creare qualcosa di nuovo in una corsa contro il tempo che emoziona ed esalta.
Con eventi sparsi in ogni angolo del pianeta Startup Weekend si pone l'obiettivo di supportare gli imprenditori di domani, aiutandoli oggi a sviluppare le proprie idee in modo creativo e coinvolgente.
Sei un appassionato di business, di marketing e comunicazione, di sviluppo web o sei semplicemente un amante dell'innovazione e dell'imprenditorialità? Devi assolutamente partecipare a Startup Weekend!
Nel weekend 11-13 Dicembre potrai:
- Accedere a un network di sviluppatori, grafici e amanti del business che, come te, hanno voglia di cambiare il mondo.
- Mettere alla prova le tue competenze e sviluppare la tua idea di business.
- Incontrare Coach di altissimo livello e professionalità, esperti del mondo startup e sviluppo business, che ti aiuteranno nei momenti di difficoltà e ti daranno supporto nella realizzazione della tua idea.
- Concorrere con altri team per accedere a tanti premi e servizi che ti permetteranno nei prossimi mesi di realizzare davvero il tuo progetto.
Programma dell'evento:
- Venerdì: Si parte alle 18.00 con l'inizio dell'evento e subito il "Pitchfire" avrà inizio: chiunque intenda presentare un'idea avrà 60 secondi per dare il meglio di sé (senza slide). Una volta terminate le presentazioni, tutti i partecipanti potranno votare le loro idee preferite, e quelle migliori saranno sviluppate durante il resto del Weekend. Si formeranno i team e il lavoro avrà inizio
- Sabato: I team lavoreranno tutto il giorno per validare la loro idea, soluzione e modello di business affiancati da mentor con competenze e ambiti specifici che potranno essere prenotati con degli slot di 30 minuti
- Domenica: I team lavoreranno fino alle 14.00 sulla loro presentazione finale e/o prototipo. Dopo l'arrivo dei giudici, inizieranno le presentazioni finali: ogni team avrà 5 minuti più 2-3 minuti di domande da parte dei giudici. I giudici selezioneranno i top team e daranno premi
MODALITÅ DI PARTECIPAZIONE
Le iscrizioni a Startup Weekend Milano 2020 sono ufficialmente aperte!
Acquista subito il tuo biglietto, i posti si esauriscono velocemente!
Early Bird: 9€ valido fino al (fino ad esaurimento 30 biglietti)
Full Rate: 19€ valido fino al 10 Dicembre
FAQ
Su che piattaforma si svolgerà la competizione?
Si svolgerà sulla piattaforma Remo: una rivoluzionaria piattaforma immersiva che unisce la comodità di ZOOM, le lavagne di Miro e la privacy delle stanze private con chat privata per lavorare con il tuo team
Amici e conoscenti possono assistere alla finale?
Certamente! Puoi far partecipare quante persone desideri! La finale, infatti, sarà trasmessa in diretta sulla pagina Facebook di Startup Weekend Milano!
Posso partecipare anche se non ho un'idea?
Certo! Nella prima giornata potrai votare l'idea che ti è piaciuta di più, entrare nel team e usare le tue competenze per realizzarla!
PREPARATI CON IL BOOTCAMP
Sei ancora indeciso? Vuoi scoprire tutti i dettagli? Cerchi un co-founder?
Iscriviti al Bootcamp gratuito!
Attraverso il bootcamp vivrai un'anteprima di tutto ciò che succederà all'evento e potrai:
Familiarizzare con la piattaforma Remo in cui si svolgerà l'evento
Incontrare altri potenziali co-founder
Fare un pitch training testando la tua idea di startup (senza essere giudicato)
Iscriviti al bootcamp gratuito qui --> https://forms.gle/MjAFbCac19qDAhF26
L'evento si svolgerà martedì 08/12 dalle 17.30 alle 20.00
Per ulteriori informazioni contattaci a milano@startupweekend.org o visita il nostro fantastico sito web https://startupweekend.tilda.ws/startupweekendonlinemilansdgs
Seguici su
N.B. L'evento sarà tenuto in italiano ma diamo la possibilità di presentare le idee e le presentazioni in inglese
Per approfondire gli SDGs:
https://www.un.org/sustainabledevelopment/sustainable-development-goals/
https://www.aics.gov.it/home-ita/settori/obiettivi-di-sviluppo-sostenibile-sdgs/
-------------------------------------------------------------------------------
About Techstars Startup Weekend Online: a 54-hour online event designed to provide superior experiential education for technical and non-technical entrepreneurs.
Beginning with Friday night pitches and continuing through brainstorming, business plan development, and basic prototype creation, Techstars Startup Weekends culminate in Sunday demos and presentations.
Participants create working startups during the event and have the opportunity to collaborate with like-minded individuals outside of their daily networks. All teams hear talks by industry leaders and receive valuable feedback from local entrepreneurs. The weekend is centered around action, innovation, and education.
Whether you are looking for feedback on an idea, a co-founder, specific skill sets, or a team to help you execute, Techstars Startup Weekend is the perfect environment in which to test your idea online and take the first steps towards launching your own startup.
Refund Policy
Refund Policy: please reach out to your organising team for a refund at [insert mailing group here].
Terms and Conditions
Terms of Participation Agreement: It is our job to provide you with an incredible networking and learning experience. Our intention is that you meet some amazing people that you might start a company with, learn from mentors as well as learning from your peers. The event is intended to be a collaborative forum for sharing, learning, building, and having fun. As such, by registering as a participant, you acknowledge that any ideas shared by you or anyone else over the course of the event are contributions to the overall experience and community. If you're very concerned, you can limit your pitch to the rough outline of the idea without giving away key information.
As a member of your startup community, you agree to be inclusive of any and all people and their ideas. You agree to act professionally, treat everyone with respect, and treat the event facilities with proper care. You agree that you are responsible in the event of any accidents or damages that you cause. You also agree to not hold Techstars Startup Weekend, your local volunteer team, or any of the event supporters liable for any loss, damage, injury, or any other unforeseeable incident.
By participating in the event, you grant Techstars Startup Weekend permission to capture photos/videos of the event. You can find the full legal terms on our FAQ Page, but to summarize, we want to share your success with the world.
By purchasing a ticket to a Techstars Startup Weekend event, you agree to our Terms of Use and Privacy Policy. If you have questions please reach out to privacy@techstars.com.