Description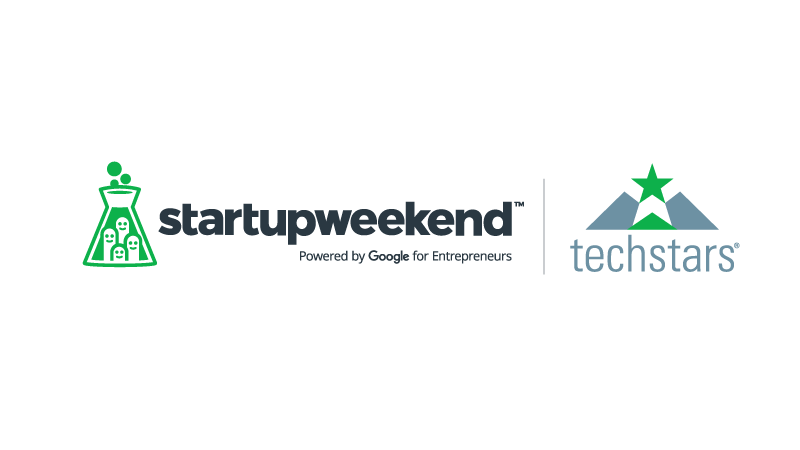 Pour tous les détails de l'événement, visitez http://communities.techstars.com/events/12637
À propos de l'événement :
Avez-vous déjà entendu parler du Startup Weekend? Il s'agit d'un événement de 54 heures où des développeurs web, des designers/infographistes, des spécialistes du marketing, des gestionnaires de produit et des amoureux d'entrepreneuriat se rencontrent pour partager des idées, former des équipes, créer des produits et lancer des entreprises !
Déroulement :
L'événement débute le vendredi soir, où les participants font des pitchs d'idées pour convaincre les autres de former une équipe visant à développer leur projet. Les samedis et dimanche, les équipes ainsi formées valident leurs idées, ciblent les clients potentiels et développent un produit minimal viable à présenter au panel d'experts du dimanche soir.
Tout au long du week-end, des coachs, des experts en financement ou en technologie et des entrepreneurs viennent rencontrer et discuter avec les équipes, en plus d'avoir des discours d'experts du domaine ! La compétition se termine par l'annonce des gagnants de la fin de semaine et la remise des prix.
Le concept :
Le concept de Startup Weekend a démarré en juillet 2007 dans l'État du Colorado (USA) et vise essentiellement à regrouper des participants afin qu'ils démarrent une entreprise pendant le weekend. L'organisation sans but lucratif est maintenant basée à Seattle (USA) et reçoit l'appui financier de plusieurs partenaires afin de multiplier de tels événements à travers le monde. Jusqu'à maintenant, plus de 1 500 Startup Weekend ont eu lieu dans plus de 660 villes de plus de 120 pays, regroupant plus de 123 000 entrepreneurs qui ont créé plus de 8 300 entreprises !
Objectif et impact :
Tout comme la plupart des autres Startup Weekend, l'événement de Longueuil a pour objectif de promouvoir l'entrepreneuriat au niveau régional, de transmettre des connaissances concrètes en démarrage et de faire émerger de nouveaux projets entrepreneuriaux pour la région.
Plusieurs bénéfices sont attendus : apprentissage du processus de création d'entreprise des citoyens, en particulier chez les jeunes, développement de relations entre les partenaires qui sont plus durables que dans les réseautages traditionnels, rencontre d'associés potentiels, validation d'idées et expérimentation dans un environnement sans risque et mise en action d'idées innovantes qui, autrement, ne resteraient que des idées…
Politique de remboursement:
Aucun remboursement ne sera fait à moins de 7 jours de l'événement. Nous nous excusons des inconvénients que ceci peut causer.
Entente légale de participation:
C'est notre travail de vous fournir une chance incroyable d'apprendre tout en faisant des activités de réseautage. Notre intention est que vous rencontriez des gens incroyables avec qui vous pourriez éventuellement fonder une entreprise, bâtir des relations avec des coaches et apprendre de vos pairs. L'événement a pour objectif d'être un forum collaboratif pour partager, apprendre, bâtir et avoir du plaisir! À ce titre, en vous inscrivant comme participant, vous acceptez que toutes idées que vous partagez ou dont vous avez accès sont des contributions à l'expérience globale des participants et de la communauté. Si à titre de participant, vous avez peur que quelqu'un vole votre idée, veuillez reconsidérer votre participation à notre événement ou gardez secret certaines portions spécifiques de votre idée.
En tant que membre de la communauté de startup, vous acceptez d'être à l'écoute des autres et de leurs idées. Vous acceptez également d'agir de façon professionnelle, traiter tout le monde avec respect, et traiter les facilités de l'événement avec respect. Vous acceptez que vous soyez responsable pour tout accident ou dommage que vous pourriez causer. Finalement, vous acceptez de ne pas tenir responsable, votre équipe de bénévole local, ou tout autre supporteur de l'événement pour toutes pertes, dommages, blessures ou autre événement imprévu.
En participant à l'événement, vous permettez à Startup Weekend de prendre des photos ou vidéos de l'événement. Vous pouvez trouver les termes exacts sur la Page FAQ, mais pour faire un résumé, nous voulons partager votre succès avec le monde entier.
For all event details, please visit http://communities.techstars.com/events/12637
About Techstars Startup Weekend: Techstars Startup Weekends are 54-hour events designed to provide superior experiential education for technical and non-technical entrepreneurs. Beginning with Friday night pitches and continuing through brainstorming, business plan development, and basic prototype creation, Techstars Startup Weekends culminate in Sunday night demos and presentations. Participants create working startups during the event and are able to collaborate with like-minded individuals outside of their daily networks. All teams hear talks by industry leaders and receive valuable feedback from local entrepreneurs. The weekend is centered around action, innovation, and education. Whether you are looking for feedback on an idea, a co-founder, specific skill sets, or a team to help you execute, Techstars Startup Weekends are the perfect environment in which to test your idea and take the first steps towards launching your own startup.
Refund Policy: No refunds will be granted within 7 days of the event if food and drink have already been ordered. Apologies for any inconvenience this may cause.
Terms of Participation Agreement: It is our job to provide you with an incredible networking and learning opportunity. Our intention is that you meet some amazing people that you might actually start a company with, build relationships with coaches, and learn from your peers. The event is intended to be a collaborative forum for sharing, learning, building, and having fun. As such, by registering as a participant, you acknowledge that any ideas shared by you or anyone else over the course of the event are contributions to the overall experience and community. If you as a participant are worried about someone stealing your ideas, please reconsider your participation in the event itself or simply refrain from sharing specifics about your idea.
As a member of your startup community, you agree to be inclusive of any and all people and their ideas. You agree to act professionally, treat everyone with respect, and treat the event facilities with proper care. You agree that you are responsible for any accidents or damages that you cause. You also agree not to hold Techstars Startup Weekend, your local volunteer team, or any of the event supporters liable for any loss, damage, injury, or any other unforeseeable incident.
By participating at the event, you grant Techstars Startup Weekend permission to capture photo/video of the event. You can find the exact legal terms on our FAQ Page but to summarize, we want to share your success with the world.
By submitting your information above you agree to the Techstars website's Privacy Policy, and you consent to receive email communication from Techstars and its programs about events and updates that may interest you.