Startup Weekend Lecce 2021 è l'evento di formazione e competizione ideale per aspiranti imprenditori che hanno un sogno da realizzare!
About this event
Descrizione
54h per lanciare la tua startup? A Startup Weekend Lecce
"Si
può
Fareee!"
Torna finalmente in presenza il laboratorio imprenditoriale più conosciuto al mondo per pensare fuori dagli schemi e cambiare il proprio futuro.
Dal 12 al 14 novembre Startup Weekend sarà l'occasione in cui designer, sviluppatori, esperti di marketing, studenti, appassionati di startup e molti altri condivideranno idee e passioni per costruire team e lanciare startup.
Si lavorerà in team su Business Model Canvas e Pitch Presentation grazie al supporto di mentor, professionisti e leader di settore selezionati tra imprenditori locali e nazionali.
Un fine settimana entusiasmante, esplosivo, adrenalinico per dare vita alle tue idee e trasformarle in startup di successo in una full immersion di 54h (sì, al caffè ci pensiamo noi!)
Dopo più di un anno di pandemia sarà bellissimo tornare a fare squadra, lavorare in gruppo, fare networking e divertirci dal vivo!
Scorri la pagina per scoprire A chi è rivolto, il Programma e i Premi in palio.
A chi è rivolto
C'è posto per tutti!
Studenti, laureandi, laureati e professionisti con in mente un'idea da trasformare in startup e ancora curiosi, innovatori di indole e talenti che vogliono mettere le mani su un'idea da realizzare e/o trovare nuove opportunità.
E se non ha un'idea, don't worry! Potrai partecipare entrando nel team che ti piace di più.
Per questa settima edizione PIÙ SIAMO E MEGLIO È.
A patto che indossiate la mascherina e mostriate all'ingresso il vostro Green Pass o, in alternativa, il referto di tampone negativo effettuato non più di 48h prima dell'evento.
È inoltre fortemente consigliato portare il proprio PC.
Perchè iscriversi
Perché non farlo? Ti diamo 5 buoni motivi per passare il weekend insieme a noi:
1. Sviluppa la tua idea
È l'ora di tirare i sogni fuori dal cassetto e farli diventare realtà!
Trasformare un'idea in una startup di successo non è cosa da poco.
Per questo non ti lasceremo mai da solo/a: abbiamo invitato i migliori professionisti appartenenti allo "startup ecosystem" locale e nazionale.
2. Entra in contatto con giovani talenti come te
Noi di The Qube lo diciamo sempre: da soli si cammina veloci ma insieme si va lontano!
Non c'è niente di più bello nel veder nascere e crescere una community. Le persone che incontrerai in questo fine settimana diventeranno i tuoi compagni di viaggio di un'avventura meravigliosa.
3. Esperienza formativa
Partecipare a Startup Weekend Lecce è un'esperienza formativa a 360°.
Potrai apprendere tantissime nozioni in ambito business, marketing, innovazione, tecnologia e metterle in pratica da subito.
Mettendoti in gioco, scoprirai tutte le fasi che compongono la creazione di una startup: dalle attività di brainstorming, finalizzate allo sviluppo di un business model, all'elaborazione dei piani aziendali e la creazione di prototipi di base.
4. Divertimento
Sì, per fare tutto questo avrai a disposizione un solo weekend.
MA NIENTE PANICO!
Ci pensiamo noi a darti la carica e a non farti sentire la stanchezza!
Sarà un percorso intenso ma non esiste uno Startup Weekend senza divertimento a dismisura, ricco di sorprese e attività esilaranti.
Quando tutto sarà finito conterai i giorni che ti separano dal prossimo Startup Weekend!
5. Premi
Che competizione sarebbe senza un podio?
Primo, secondo e terzo classificato porteranno a casa un bel bottino!
1° Premio: valore 3.500,00 €
- Membership presso MOLO 12 Coworking & Maker Space (valida per le sedi di Lecce e Brindisi) della durata di 3 mesi a persona
- Accesso al 100% del percorso di Accelerazione e Accompagnamento progettato e realizzato da "Rete Mediterranea", partner di The Qube
2° premio: valore 2.000,00 €
- Membership presso MOLO 12 Coworking & Maker Space (valida per le sedi di Lecce e Brindisi) della durata di 1 mese a persona
- Accesso al 50% del percorso di Accelerazione e Accompagnamento progettato e realizzato da "Rete Mediterranea" partner di The Qube
3° premio: valore 1000€
- Accesso al 30% del percorso di Accelerazione e Accompagnamento progettato e realizzato da "Rete Mediterranea" partner di The Qube
Dove e quando
Segnate sul calendario: la settima edizione di Startup Weekend Lecce si svolgerà nel fine settimana dal 12 al 14 Novembre 2021 presso le OFFICINE CANTELMO di Lecce, in Via Michele De Pietro 8.
RIGOROSAMENTE IN PRESENZA!
Il programma
Fischio d'inizio il venerdì pomeriggio: i partecipanti presenteranno le proprie idee che successivamente verranno validate e selezionate. Inizieranno quindi a formarsi i team sfidanti che, durante la giornata di sabato formuleranno i loro progetti di impresa.
Sarà un percorso intenso che raggiungerà l'apice domenica alle 18.00 con la pitch presentation: i progetti d'impresa sviluppati verranno finalmente presentati davanti ad una giuria di imprenditori e investitori che decreteranno su un podio le idee migliori.
Prezzo biglietti
Biglietto PROMO Student € 30,00: fino al 4 Novembre 2021 ore 23.59
Biglietto Student € 40,00: dal 5 fino al 12 Novembre 2021 ore 23.59
Biglietto PROMO Entrepreneur € 35,00: fino al 4 Novembre 2021 ore 23.59
Biglietto Entrepreneur € 45,00: dal 4 fino al 12 Novembre 2021 ore 23.59
L'esperienza che arricchirà il tuo bagaglio… Non ha prezzo!
Politica di Rimborso
La richiesta di rimborso biglietto è effettuabile fino a 20 giorni prima dell'inizio dell'evento. Per inoltrare la richiesta scrivere all'indirizzo mail amministrazione@theqube.eu
Terms and Conditions
Terms of Participation Agreement: It is our job to provide you with an incredible networking and learning experience. Our intention is that you meet some amazing people that you might start a company with, learn from mentors as well as learning from your peers. The event is intended to be a collaborative forum for sharing, learning, building, and having fun. As such, by registering as a participant, you acknowledge that any ideas shared by you or anyone else over the course of the event are contributions to the overall experience and community. If you're very concerned, you can limit your pitch to the rough outline of the idea without giving away key information. As a member of your startup community, you agree to be inclusive of any and all people and their ideas. You agree to act professionally, treat everyone with respect, and treat the event facilities with proper care. You agree that you are responsible in the event of any accidents or damages that you cause. You also agree to not hold Techstars Startup Weekend, your local volunteer team, or any of the event supporters liable for any loss, damage, injury, or any other unforeseeable incident. By participating in the event, you grant Techstars Startup Weekend permission to capture photos/videos of the event. You can find the full legal terms on our Communities Page, but to summarize, we want to share your success with the world. By purchasing a ticket to a Techstars Startup Weekend, you agree to our Terms of Use and Privacy Policy. If you have questions please reach out to privacy@techstars.com.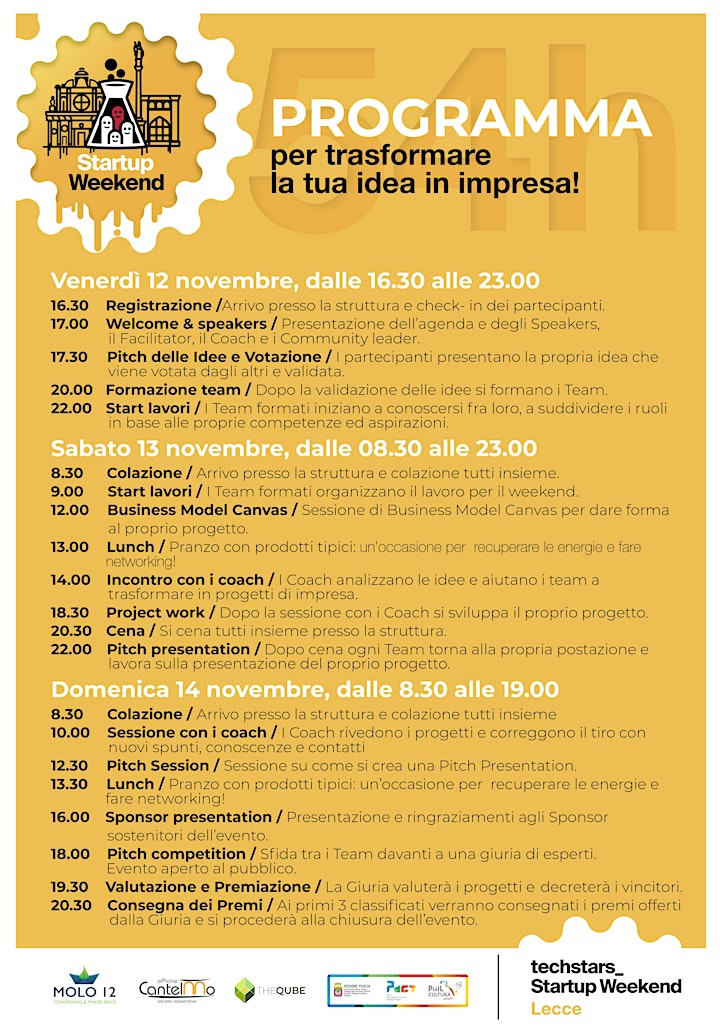 Organizer of Techstars Startup Weekend Lecce 11/21
Techstars Startup Weekends are 54-hour events designed to provide superior experiential education for technical and non-technical entrepreneurs. Beginning with Friday night pitches and continuing through brainstorming, business plan development, and basic prototype creation, Techstars Startup Weekend will culminate with Sunday afternoon demos and presentations.
Participants create working startups during the event and are able to collaborate with like-minded individuals outside of their daily networks. All teams hear talks by industry leaders and receive valuable feedback from local entrepreneurs. The program is centered around action, innovation, and education.
Whether you are looking for feedback on an idea, a co-founder, specific skill sets, or a team to help you execute, Techstars Startup Weekends are the perfect environment in which to test your idea and take the first steps towards launching your own startup.