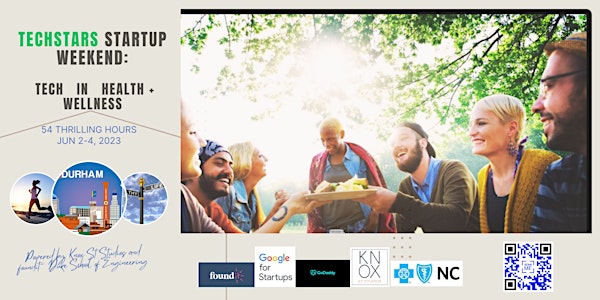 Techstars Startup Weekend: Health & Wellness
Join us for a transformative weekend of entrepreneurship + innovation at Durham techstars StartUp Weekend focused on Tech Health & Wellness!
By Knox St Studios + foundit by Duke Engineering
Date and time
June 2 · 7pm - June 4 · 8:30pm EDT
Refund Policy
Contact the organizer to request a refund.
Eventbrite's fee is nonrefundable.
Agenda
Friday
---
Participants typically arrive between 5-7 p.m., begin networking, and have dinner. After an ice-breaking game and an introduction by the Facilitator, there will typically be a short talk with a speak...

Saturday
---
Teams will work all day, with the occasional breaks to eat and listen to a keynote speaker. Breakfast, lunch, dinner and snacks will be provided. In the afternoon, expert mentors and coaches will be ...

Sunday
---
Sunday is for completing work. Expert mentors and coaches will be available to guide and assist you.Breakfast and lunch served, final pitch presentations after dinner, networking, and celebrations!
About this event
2 days 1 hour

Mobile eTicket
Join us for a transformative weekend of entrepreneurship, innovation, and creativity at Durham Techstars StartUp Weekend focused on Health & Wellness open to all community members in Durham. This event is designed for anyone who has a passion for creating innovative solutions to pressing health and wellness challenges.
Techstars Startup Weekend is a creative and collaborative three-day educational event where anyone can develop and pitch new startup ideas. It's about pitching, business model creation, prototyping, designing, and market validation, in a friendly and supportive team environment. All in just 54 hours.
Startup Weekend is a great place to connect with passionate people driven to build something new. There is no better place to meet new friends, colleagues, mentors, cofounders, and investors. Learn what it really takes to innovate, disrupt, and start a company from people who've been there. Startup Weekend features deep experiential learning guided by an experienced hand. Sometimes you really need more skills and knowledge to go to the next level. Startup Weekend also goes deep on specific topics or skill sets.
Just what you need to progress quickly.
Taking place from June 2-4, 2023, this event will be hosted by Knox St. Studios & foundit by Duke Engineering. As one of the world's leading academic and research institutions, Duke University has a unique prowess for driving innovation in health and wellness. This event will provide an excellent opportunity for participants to tap into the resources and expertise of Duke's vibrant innovation ecosystem. See this link for Fall 2022 TSW Video:
https://www.knoxststudios.org/startup-weekends
During this exciting weekend, participants will work alongside a diverse group of entrepreneurs, innovators, and experts to develop and refine their business ideas. The event is aimed at providing participants with the tools and resources you need to launch your own health and wellness startups.
Participants will have the opportunity to work closely with experienced mentors, who will provide guidance and support as they develop their ideas. The weekend will culminate in a pitch competition, where participants will have the chance to present their business ideas to a panel of expert judges and compete for valuable prizes.
Don't miss this exciting opportunity to immerse yourself in the world of health and wellness entrepreneurship, community, and innovation at this Techstars StartUp Weekend. Join us from June 2-4, 2023, and take the first step towards turning your innovative ideas into a reality!
How do I prepare?
You can find a list of tools that can help you prepare for the weekend here.
https://www.techstars.com/communities/startup-weekend/organize-a-startup-weekend/plan-your-event/tools-for-participants
Doing some market research will give you a better understanding of the problem you are trying to solve.
Practice your pitch. You'll have 60 seconds on Friday to persuade other participants to join your team. Make it clear, concise, and convincing! The elements of a good 60 second pitch are to:
State who you are and what your background is
Mention what problem your product is solving
Explain the product and how it solves the problem
What skill sets you need on the team like a developer, marketer or designer
Provide a name for your startup
Get familiar with some of the tools that you can use during the weekend like the Lean Canvas.
Check out our awesome Facilitators Mentors, and Judges:
Judge: Doc Swiner (She/Her): Self-Care Expert. Best-Selling Author on The Superwoman Complex. Family Doctor. Entrepreneur
Voted 1 of 10 Best Doctors in NC, DocSwiner is a family physician, 6-time best-selling author, blogger, speaker, wife and mother in Durham. She is also affectionately known as the Superwoman Complex expert and has written 2 best-selling books on the topic, which has now evolved into the #nosuperwoman lifestyle brand.
She also owns and runs Swiner Publishing Company, she helps writers become best-selling authors and entrepreneurs, and Serenity Hydration and Wellness, providing IV hydration and self-care consults to clients. She loves taking care of the family as a whole, with expertise in Minority Health, Women's Health, Self-Care, DEI and Female Entrepreneurship. She attended Duke University and went to medical school at the Medical University of South Carolina.
She's lived in the Triangle (Durham, NC) since finishing residency at UNC-Chapel Hill and serves there as an Adjunct Associate Professor. Along with seeing patients, she speaks nationally in the realm of mental health, diversity in medicine and equity; freelancing for WebMD and the Byrdie beauty brand; and teaching others to self-publish. She has become one of the nation's experts on self-care, imposter syndrome, physician burnout and work-life balance. Contact her at @docswiner (@realdocswiner on IG) on social media or email cnswiner@gmail.com for further info.
Facilitator: Austin Lopesilvero (He/Him): StoryBrand Certified Guide & Creative Swiss Army Knife | Community Builder & Connector | Business Made Simple Certified Coach
As the founder of Aspen Studios, Austin helps organizations craft compelling stories that connect with their audiences and drive results. He is a StoryBrand Certified Guide with over 10 years of experience in creative, marketing, and content strategy. Austin has worked with diverse clients, from startups to nonprofits, to create engaging and impactful digital and social media campaigns, websites, videos, and podcasts. Austin has also been a lead organizer and facilitator for several Techstars Startup Weekends.
Featured Guest + Breathwork Guide: Kelsey Rudzinsky is a Registered Nurse, Certified Breathwork Facilitator and holistic healer. Committed to bridging the gap between ancient healing practices and modern day life, Kelsey creates spaces for people to explore, express and excavate their inner landscapes, resulting in a healthier, happier and balanced life. Kelsey offers breathing classes, workshops and guided experiences teaching you different breathing techniques, and primarily, guiding deeply recalibrating experiences.
Mentor: Mike Long, Partner & Strategy Director, Transit Creative
Cutting his teeth and perfecting his brand-craft at such renowned advertising agencies as DDB, Digitas, and Saatchi & Saatchi, Mike has helped companies like American Express, Amgen, Wells Fargo, Genentech, and Pfizer amplify their message and crystallize their brands. Currently residing in Chapel Hill, Mike has lived in Miami, New York, San Diego, and San Francisco.
Judge: Lebone C. Moses, Founder and CEO of Chisara Ventures
Lebone is a strategic business executive, and investor with 20+ years of experienceadvising boards and c-suite leaders on strategic, sustainable business growth, including ten years asa Big 4 auditor and seven years with global financial services firms leading risk, internal controls,compliance, cybersecurity, data privacy and data governance programs. Her career spans highlyregulated industries, such as financial services, technology and healthcare, with companies rangingfrom Fortune 100 to startups. As the Founder and CEO of Chisara Ventures, Inc., she helps clientsbuild strategies to manage and monitor risk and to implement fit-for-purpose risk management andcompliance (e.g., HIPAA, NIST, SOX) programs. For over a decade, she has advised founders
Mentor: Chijioge "Chi" Nwogu, Co-founder and CEO of GameFlo, a community-focused gaming company and the creator of PickUp basketball card game. Chi also serves as the youngest Professor at the business school at UNC Chapel Hill and as mentor-in-residence at Duke. After obtaining his B.A. in Economics from Brown University in 2010, Chi worked on Wall Street at JPMorgan before making the transition to sports technology and entrepreneurship. His first startup, Bloomberg Sports, was named one of the "Ten Most Innovative Companies in Sports" by Fast Company in 2011 and was acquired by Black billionaire Robert Smith in 2014. In total, Chi has been on the founding team for four startups, and is passionate about making an impact in the community. Chi is an avid New York sports fan, bass guitarist, and proud uncle of eight.
Mentor: Amy Linnane, Managing Director, Programs for Duke Innovation & Entrepreneurship
Amy runs all co-curricular programming, including the Melissa & Doug Entrepreneurs program. Throughout her career, Amy has worked with hundreds and hundreds of people interested in starting and scaling ventures.
Prior to joining Duke I&E, Amy was the Director at Launch, a Business Accelerator located in Chapel Hill funded by a partnership between UNC, the Town of Chapel Hill, and Orange County to help local entrepreneurs grow and scale their businesses. She created a summer accelerator for student teams, new programming for Launch alumni, and helped over 50 ventures during her tenure. Before running Launch, Amy completed the program as part of her family startup, FeedStation.
Amy has an undergraduate degree in English from the University of Connecticut, a Masters in Education from Sacred Heart University, and a Masters in Education with a concentration in Reading and ELL Education from UNC. Her 10 years teaching elementary school in Connecticut and North Carolina provided a strong foundation for creating curriculum, assessing programs, and working with all types of learners.
Mentor: Alexandra Jones, 3x founder
She co-founded BitWall, one of the first venture-backed bitcoin startups, where she led design and was a front-end developer. After growing the company for 5 years, BitWall was acquired. Since then, Alex has joined the Navi team as a Startup Portfolio and Community Leader. Alex helps lead UI/UX design and the creation of Navi's public facing site.
Kwaku is a founding member of Navi — the gateway to the innovation economy. With nearly 10 years experience creating software for 5 startups across diverse industries and communities, Kwaku found his purpose building systems that ignite and scale positive outcomes for entrepreneurial ecosystems. His success is due to the teams he's worked with over the years, as a cofounder or original team member for acclaimed products and acquired companies.
Judge: Tiffany M. Griffin is the CEO, Co-Founder and Co-Owner of Bright Black, a social enterprise that uses scent to share positive stories about Blackness. Tiffany is a graduate of the University of Michigan, Ann Arbor with a PhD in Social Psychology, and of Boston College with BAs in Psychology and Communications. Before founding Bright Black, Tiffany worked at the US Agency for International Aid (USAID) in the Center for Resilience as a Sr. Strategic Advisor. Prior to her work at USAID, Tiffany worked in the US Senate on health policy for Senator Jeff Bingaman of New Mexico and in academia as a Social Psychologist focused on racial identity, racial discrimination and public policy. Tiffany lives in Durham, NC with her husband Dariel and their daughter Elena. When not running Bright Black, you can find her developing new recipes or on a nature walk.
Coach: Nic Meliones is co-founder and CEO of Navi. Navi is the gateway to the innovation economy: their tools help people learn innovation skills, solve mission-critical problems, and bring new ideas to life. Navi has helped hundreds of innovators and startups via bootcamps, accelerators, and its digital coaching platform.
Prior to Navi, Nic co-founded and was CEO of a bitcoin startup called BitWall. BitWall was one of the first venture-backed bitcoin startups, starting in 2013 and getting acquired in 2018. Since then, Nic has worked with the Alchemist venture fund as a CEO coach, led a high growth startup consultancy, and mentored startups across crypto, health, govtech, on-demand services, and more.
Nic is also co-host of The Startup Helpdesk, a podcast with Sean Byrnes and Ash Rust where they debate the most important questions facing you on your startup journey.
Judge: Chris Lam is the founder and CEO of Epistamai, an AI research company that is focused on understanding AI ethics through the lens of causality. The inspiration for his startup came from his work at the Federal Reserve, where he did research on algorithmic bias in credit decisions. He is an evangelist for the emerging field of causal data science, which could help us to solve intractable problems in data science today.
Coach: Rohini Rajgopal leads Go-To-Market Operations at Well, an early stage digital health company applying the latest advances in consumer-science and behavioral economics to the world of healthcare.
She began her career in the health & benefits consulting space at Mercer, where she served as a trusted advisor to Silicon Valley employers on health management topics. Rohini has since worked in a variety of settings in the global health, NGO and pharma industries – all with a focus on utilizing technology or other innovative approaches to improve the efficiency and delivery of healthcare access on a global setting.
Rohini was a Regents' and Chancellor's Scholar at the University of California, Berkeley and holds a Masters of Science in Public Health degree from the UNC Gillings School of Global Public Health and a Masters of Business Administration from UNC Kenan-Flagler Business School.
Frequently asked questions
Do I have to participate in all three days?
Do I need to bring a team?
Do I have to pitch an idea?
What should I bring to the event?
What is the refund policy?