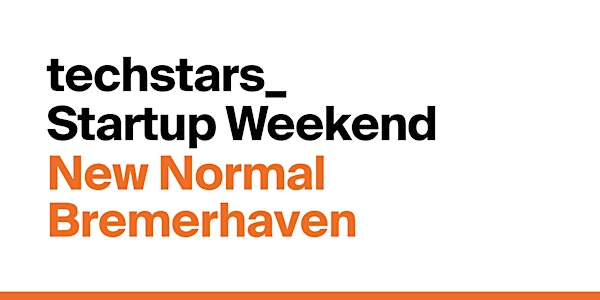 Techstars Startup Weekend Bremerhaven - "New Normal" (online)
Techstars Startup Weekend New Normal Bremerhaven is a 54-hour event guiding you and a new found team from idea to pitch.
Refund Policy
Contact the organizer to request a refund.
About this event
Have you wondered how to take part in starting a totally new chapter on planet earth?
Welcome to Startup Weekend Bremerhaven 2021 "New Normal"! After the pandemic we do not want to just go back to normal. At the SWBHV "New Normal" you will take action to shape our future and will be supported during the process.
In 54 hours of action, fun, learning and community spirit we will make a difference and write our personal pages of a brand new chapter. On the first day you will have the opportunity to seize our digital stage and present your business idea, social or environmental innovation or any topic or problem you may want to work on during the weekend. Ideas will be selected and teams will be formed around the topic. Then it is time to act and start working on the ideas and problems together with your newly formed teams. Our extraordinary mentors and organizing team will be by your side to help you make the most of your ideas. We offer pre-events for your preparation and supplement the weekend with yoga and meditation sessions.
On Sunday night you will present your ideas in the final pitches to a fantastic jury and celebrate your success.
Come join us for this spectacular event and let's create a "New Normal"!
Whether you're a student of any kind, already an entrepreneur or just looking for an inspiring weekend, you're more than welcome to join us in July. Startup Weekends are always a great place to explore something new, to sharpen your business- and problem-solving skills and to make lasting connections.
Be advised: If you don't have the financial means to participate, reach out to us info@swbhv.de to arrange a ticket free of charge.
Refund Policy
Refund Policy: please reach out to your organising team for a refund at bremerhaven@startupweekend.org.
Terms and Conditions
Terms of Participation Agreement: It is our job to provide you with an incredible networking and learning experience. Our intention is that you meet some amazing people that you might start a company with, learn from mentors as well as learning from your peers. The event is intended to be a collaborative forum for sharing, learning, building, and having fun. As such, by registering as a participant, you acknowledge that any ideas shared by you or anyone else over the course of the event are contributions to the overall experience and community. If you're very concerned, you can limit your pitch to the rough outline of the idea without giving away key information.
As a member of your startup community, you agree to be inclusive of any and all people and their ideas. You agree to act professionally, treat everyone with respect, and treat the event facilities with proper care. You agree that you are responsible in the event of any accidents or damages that you cause. You also agree to not hold Techstars Startup Weekend, your local volunteer team, or any of the event supporters liable for any loss, damage, injury, or any other unforeseeable incident.
By participating in the event, you grant Techstars Startup Weekend permission to capture photos/videos of the event. You can find the full legal terms on our Communities Page, but to summarize, we want to share your success with the world.
By purchasing a ticket to a Techstars Startup Weekend event, you agree to our Terms of Use and Privacy Policy. If you have questions please reach out to privacy@techstars.com.