Technopreneur Open Day @ Kuala Lumpur

Thursday, September 19, 2013 from 8:00 AM to 6:00 PM (Malaysia Time Malaysia (Kuala Lumpur) Time)
Event Details
Event Description
Technopreneur Open Day is a quarterly Open Day event to introduce the world of entrepreneurship and business incubation services to entrepreneurs, students, entrepreneur-wannabees and entrepreneurship enthusiasts. It is one of the avenues for MAD Incubator to touch base with its stakeholders in an Open Day.
Open Days are full-day events with attendance of more than 150 participants. It follows a Barcamp format with simultaneous workshops, trainings and discussions going at the same time. Its topics vary between entrepreneurship, technologies, ICT enablement and incubation services.
In 2013, Technopreneur Open Days will follow the theme - entrepreneurship, business building, technology enablement and community. TOD 2013 will introduce a new entrepreneurship thinking, developed by the MAD Coach Academy called "The Game of Entrepreneurship". The Game of Entrepreneurship is an introduction to entrepreneurship which was developed to make entrepreneurship easy to understand and practiced. This one-day event also aims to provide technology updates, trends as well as showcase the incubatees at KL region.
MAD Incubator takes the Open Day as an opportunity to introduce business incubation to the participants by showcasing its services, people and facilities at the MSC Malaysia Technology Commercialization Centre. Some workshops will be held in conjunction with Open Day to provide various practical entrepreneurship knowledge and skills to entrepreneurs.  
Event Details:
Date: 19 September 2013 (Thursday)
Time: 8:00am to 6:00pm
Venue: Technology Park Malaysia (Entreprise 4) - click here for location map
PROPOSED ITINERARY
TIME

TECHNOPRENEUR OPEN DAY

8:00am – 9:00am

Registration

9:00am – 9:20am

Opening Remark by Andrew Wong, CEO of MAD Incubator

9:20am – 9:50am

The Magic in Entrepreneurship by Irwin Cheong, CEOExcel

9:50am – 10:10am

Innovation Capital  by Mohd Shahriman Nazree Dato' Hashim, Innovation Capital Multimedia Development Corporation

10:10am – 10:30am

Virtual Incubation Services  by Technology Park Malaysia

10:30am – 11:00am

Financing Solutions for your Business by Ms. Angie Law Lee Cheng, Vice President of Business Building, Malaysia Debt Ventures (MDV)

11:00am – 11:30am

The Game of Entrepreneurship by Vincent Chew, CEO of MAD Coach Academy

11:30am – 12:00pm

Big Data – A Revolution That Will Change The Way You Live, Work and Think by Ng Jun Wen, Innovation Capital, Multimedia Development Corporation

12:00pm – 12:30 pm

Prototyping and Wireframing - Don't Attend this if You have Big Budget for Your Product Development by Thomas Cheah, Principal CTO-for-hire, Procto Sdn Bhd

12:30pm – 2:00pm

Break

2:00pm – 2:45pm

AWESOME Presentations to WoW! Funders! by Victor Lau, Advisor of MAD Incubator

 

Intellectual Property Financing Facility – IPFS by Malaysia Debt Ventures (MDV)

To inculcate innovation and increase productivity, incentives to support RM200 million in financing have been set aside under the IP Financing Scheme, which will be offered through Malaysia Debt Ventures Berhad (MDV). The scheme will enable companies with IP rights (IPRs) to use their IPRs as an additional source of collateral to obtain funding and spur more investments for companies with technology capabilities, in turn encouraging innovation. The scheme will also help alleviate the difficulties that some technology-focused companies face when attempting to get funding from financial institutions.

2:45pm – 4:00pm

Project Management Solutions by Agnes Yew, Project Manager, PKF Avant Edge Sdn Bhd

Efficient and responsible project management is key to any successful enterprise delivery. No matter how carefully planned a project is, without the competent supervision and coordination of all phases of the project implementation, a project is more likely to fail than succeed. 

The use of project management support techniques gives better initial planning and assessment risks by providing a greater chance of forecasting problem areas while there is time to take corrective action. This also allows flexibility for alternative modes of operation. The project management services offered are concentrate on three prime issues of managing time, cost and resources.

4:00pm – 4:45pm

StartupPartners program Facilitated by Thomas Cheah, Principal CTO-for-hire, Procto Sdn Bhd 

"StartupPartners is where Startups find their Dream Team.

StartupPartners is another MAD initiative in collaboration with Procto Sdn Bhd.  It is a platform for Startup Founders to pitch their projects to potential StartupPartners, have them evaluate the project and state their intention to work with the Startup Founder. The Startup Founder will be able to choose from the different StartupPartners' offers and pick the best Dream Team for the Startup Business. At the end of the session, Startup Founders will be able to source for a formidable Dream Team that meets the requirements of the business as well as potential investors"

 

4:45pm – 5:30pm

Choosing the Right Accountant for Your Business Needs by Ms. Chew How Hoon, CFO of MAD Incubator

End of Program
* The above itinerary is tentative and subject to change.
When & Where

Technology Park Malaysia
Enterprise 4
Technology Park Malaysia
Kuala Lumpur, Kuala Lumpur 57000
Malaysia

Thursday, September 19, 2013 from 8:00 AM to 6:00 PM (Malaysia Time Malaysia (Kuala Lumpur) Time)
Add to my calendar
Organizer
Organized By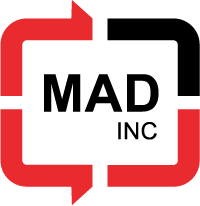 Todate, MAD has incubated more than 80 business ventures and is supporting more than 200 companies through its BizStart Program. It wants to democratize entrepreneurship by making entrepreneur assistance and incubation affordable for all entrepreneurs through MAD's high value quality programs, mentoring, coaching and handholding services, as well as business facilities, networking opportunities, training workshops, facilitation on funding access, etc.MAD Incubator is Malaysia's leading and largest private incubator. Formed in 2009, MAD Incubator is an MSC Status Accredited Incubator. MAD Incubator specializes in incubation programs from ideation to business venture and business acceleration. Its mission is to develop 1000 entrepreneurs in Malaysia achieving USD1mil by 2015 and have every entrepreneurs equipped with the tools, skills, knowledge and know-how to navigate their business challenges.