Join us for a free panel and networking event exploring current and next-gen workplace trends.
About this event
What Will Our Workplaces Look Like Over the Next 10 Years?
From a massive adoption of hybrid work environments with meetings conducted in virtual reality to desks that double as wireless chargers for virtually any device -- the next decade will see a huge paradigm shift to our workspaces.
In this free panel and networking event, four industry experts at the forefront of this new era will share their POVs about what near-future changes you can expect and the impact on business owners, freelancers, and employees alike.
Demo the Future Today
Attendees will get a special first look at DeepCharge's next-level wireless charging technology that can transform virtually any surface into a wireless charger. The future of the workplace is wireless.
Agenda
5:00pm – 6:00pm Networking with free food & drinks
6:00pm – 7:00pm Panel discussion
7:00pm – 7:30pm Exclusive DeepCharge Technology First Look
7:30pm – 8:00pm Q&A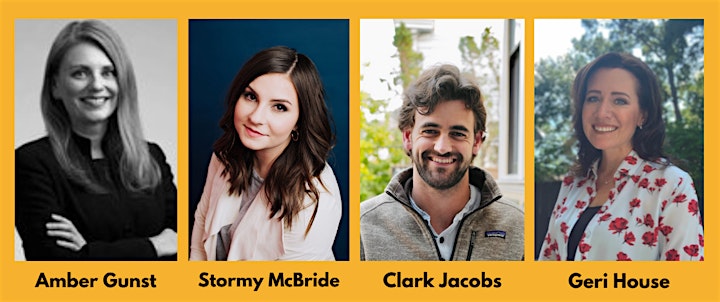 Meet the Panelists
Stormy McBride: Stormy entered the coworking world back in 2015 after working in the event industry throughout college. With her love of organization and event planning coupled with her project management skills, she entered the coworking world as an intern and never left. Since her start in the industry, Stormy has served as a community manager then general manager to the Link Coworking locations in Austin Texas. On from there she became the producer for GCUC USA. Stormy now serves as the Director of Operations for GCUC Global, managing events in the UK, Canada, Australia, Singapore, Latin America and China day in and day out. She is most in her element when she is working with teams across the globe to create impactful event experiences that help support the coworking industry.
Clark Jacobs: Clark is the Founder & CEO of FlexDesk, which is on a mission to shape the future of work. FlexDesk equips hybrid companies with a central platform to source and manage their entire flex space footprint. Before FlexDesk, Clark led revenue management at a seed-stage Proptech startup in Austin. He started his career as a management consultant at Bain & Company. Clark holds a degree in Economics from Vanderbilt University.
Geri House: Geri is an experienced, strategic human resources executive. She has a passion for aligning the people and culture of an organization to its purpose, vision, strategies, and values to unlock individual and organizational potential, and drive effective execution of goals. Most recently, Geri served as the Chief Human Resources Officer for Cardtronics plc (Nasdaq: CATM - until June 2021). In this role, she was responsible for leading the company's global human resources function, effectively elevating the role of HR as a critical business partner to drive impactful organizational transformation. Prior to joining Cardtronics, Geri was an EVP and head of Human Resources for National CineMedia LLC (Nasdaq: NCMI), where she similarly transformed the organization's approach to people and culture, improving alignment, engagement, and business results. Earlier in her career, Geri served as legal counsel for clients of two international law firms. Geri holds a Juris Doctor from Harvard Law School and a Bachelor of Arts from Simon Fraser University.
Amber Gunst: Prior to being appointed CEO of the Austin Technology Council, Amber spent an impressive 20-year career in sales and business development. She is an expert in member association sales and services, having spent four years at the Greater Austin Chamber of Commerce, where she was the top sales and retention leader of all Chambers of Commerce in the state of Texas. She ranked in the top seven nationally in sales of Chambers with revenue over $1.5M. Directly prior to her role at ATC, Gunst worked for a global staffing firm where she was responsible for client development and management and consulting staff management. This role allowed her to develop a strong understanding of the talent and staffing needs for our region's tech companies. She also serves as a mentor for the Founder Institute's global accelerator program.
Contact Information
For more information about this event, please contact: events@deepcharge.io