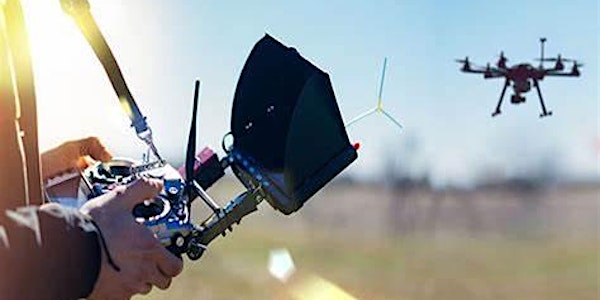 Technology Tools for Natural Resource Management - 2023
Learn about the variety of technological tools that can help you to manage natural resources.
When and where
Location
Clackamas Community College Environmental Learning Center (ELC) 19600 Molalla Avenue Oregon City, OR 97045
Refund Policy
Refunds up to 1 day before event
About this event
When:
Thursday, Jan 12, 2023, 8:00 am – 4:30 pm
Location:
Environmental Learning Center or Zoom
Workshop Description:
The use of technological tools, such as auto-samplers, low-cost drones, and Geographic Information Systems (GIS), provides opportunities for effective and efficient natural resource management. However, navigating the various options in order to choose the tools appropriate for a given objective, can be challenging and possibly even daunting. This introductory workshop will provide a basic understanding of the variety of technological tools available for monitoring, assessing and planning activities related to natural resource management. Specific applications will be presented by industry professionals who use this technology on a regular basis. The goal is that participants will walk away with an understanding of which technologies would be most appropriate for their particular management objectives.
Professional Credit:
Clackamas Community College, CEUs – 0.8 CEU (8 PDH); Certificate of Completion will be provided.
Learning Outcomes:
Upon completion of this workshop, students should be able to:
Identify a variety of technological tools and approaches to data collection that would be appropriate for monitoring and assessing different habitats.
Appreciate the benefits and challenges of using technology in the management of natural resources.
Make a determination as to which technologies might be best suited for a particular situation, based on goals, location and resource availability.
Identify open source and proprietary spatial data resources that can be tailored for specific analysis.
Tickets:
Lecture - $230
please choose your ticket based on whether you want to attend in-person at the ELC or via Zoom.
Student Rate- $92
please choose your ticket based on whether you want to attend in-person at the ELC or via Zoom.
Limited scholarships: We have a limited number of scholarship dollars available that reduce the cost of your registration by 30% for those eligible. These dollars are for those with limited resources. If you are interested in applying, please select the "Apply for Reduced Pricing" ticket and we will follow up with you.
Instructors:
Eric Butler | Clackamas River Basin Council
Eric is a landscape ecologist interested in protecting, restoring, and reconnecting ecosystems at the watershed scale. After years of seasonal and freelance work as an ecologist, botanist, stewardship technician, and geographer in Oregon and beyond, he is excited for the opportunity to make a lasting difference in the Clackamas Basin. When not at work, he can usually be found volunteering on several boards and working groups, teaching environmental science, recreating outdoors, or reading a good book. He has a Master of Science in Environmental Science and Management from Portland State University and a GIS Certificate from Portland Community College.
Mike Hamilton, PhD | Retired from University of California System
Dr. Hamilton is a retired Biological Field Station Director and Academic Coordinator for the University of California System. Over his career, he managed two field stations and natural reserves, while collaborating on research that merged the lines between ecology, engineering and conservation. He has been co-PI on interdisciplinary teams of faculty and students who design, engineer, and field test tools for remote sensing of organisms and ecosystems, including portable sensor platforms, drones, below ground robotic image collectors and small robotic boats for measuring water quality at various depths.
Chris Pucci | Oregon Dept. of Transportation
Chris Pucci is a Project Surveyor for ODOT and an adjunct instructor at Chemeketa Community College. He is a graduate of Oregon State University and has been a licensed surveyor in the State of Oregon since 2007. He previously worked as a surveyor for two counties and a large city. Past projects have included surveying for planning, project development, right of way, construction, and everything in the middle. He is currently working on ground-penetrating radar for highway projects, precision GNSS for non-surveyors, technical support for automated machine guidance, advanced survey research, and general survey skills training. When he is not working, teaching, or talking about surveying, he enjoys spending time outdoors; camping, canoeing, participating in triathlons, and travelling the backroads of the West in search of the best burrito.
Lauchlan Ray | Mason, Bruce & Girard, Inc.
Lauchlan Ray is a biologist and environmental compliance specialist with Mason, Bruce & Girard. He holds an Environmental Science B.S., focused on oceanography and riparian systems, and a GIS Certificate from PCC. Lauchlan's work history has moved between local community fishery enhancement groups, industrial engineering firms, and natural resource consulting. He uses GIS tools daily to assist in regulatory and compliance activities such as wetland delineations, regulatory permitting, and resource identification.
Joe Rudolph | Wolf Water Resources
As a landscape ecologist Joe works on a variety of projects ranging from ecological monitoring studies to river restoration design. Joe is a certified FAA remote pilot and regularly acquires and works with multispectral imagery and other remotely sensed data. He applies his knowledge of ecological processes and geospatial analysis to generate ideas and solutions for real-world environmental planning. Example applications include invasive vegetation management, water quality, and topographic modeling.
Refunds
Refunds will be provided (minus the Eventbrite fee) if you cancel up to one day prior to the start of class.
Please contact rharber@clackamas.edu if the cancelation is due to being COVID positive. In this case, we will happily refund you in full.