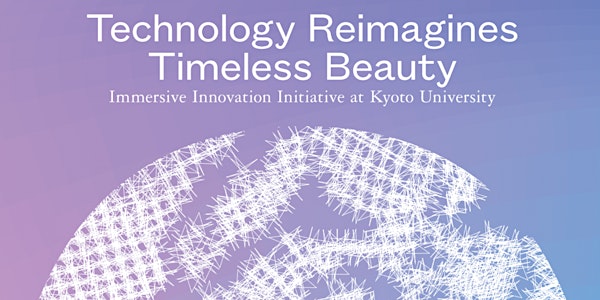 Technology Reimagines Timeless Beauty - OPENING RECEPTION
Opening reception for an exhibition at NowHere gallery in SoHo, NYC. Complementary drinks/Tea Pairing Session
Date and time
Friday, February 17 · 6 - 8pm EST
Location
NowHere 40 Wooster St New York, NY 10013
About this event
Please kindly RSVP for the Opening Reception on February 17th from 6pm to 8pm. If we have reached capacity, please kindly contact the person who sent you the invitation email. Thank you.
Technology Reimagines Timeless Beauty: Immersive Innovation Initiative at Kyoto University
6pm: Opening Talk (Online) from Steven K. Feiner, Director of Computer Graphics and User Interfaces Lab at Columbia University: VR/AR and the Application
6:15-6:30pm: Panel with Steven, Jing Liu (architect, co-founder of SO-IL), Masatoshi Honda (Specially appointed Associate Prof at Kyoto U) and Debasis Mitra (Senior Research Scientist at Columbia): Augmenting the City
7:30pm: Talk & Music session with Miho Hatori (artist, former Cibo Matto) and Kamron Saniee (artist, data scientist at TikTok) : Data, Multimedia, and Culture
--------------------------------------------------------------------
In Fall/Winter 2022, twenty-one young talents from Japan, from late teens to early twenties, embarked on a one-of-a-kind journey around Kyoto, where they participated in workshops, field trips, lectures, and visits to artisans in the fields of I-shoku-jyu (necessities of life).
Guided by mentors at the forefront and collaborating with interdisciplinary peers, the participants apply modern technologies such as AI and blockchain to create five artworks that showcase their findings and entrepreneurial curiosities.
Be a part of this journey and witness the intersection of technology and art, where culture is cultured.
Join us on February 17th, 18th, and 19th at NowHere Gallery in SoHo, New York City, to see the works of forward thinkers and experience the Tea Pairing sessions.
Please RSVP for Opening Reception on Feb 17th, 6pm – 8pm
Hours:
2/17/2023 Fri: 4pm – 6pm General Admission
2/17/2023 Fri: 6pm – 8pm Opening Reception & Tea Pairing Session with complimentary drinks (More details to come!)
2/18/2023 Sat: 11am – 6pm: General Admission and Tea Pairing sessions
4pm: Small talk on "Aesthetics of Biodiversity under Urbanization" with Sam Van Aken (Syracuse) and Yuki Haba (Princeton)
2/19/2023 Sun: 11am – 2pm: General Admission and Tea Pairing sessions
For more details, see https://www.thekurama.com/
Frequently asked questions