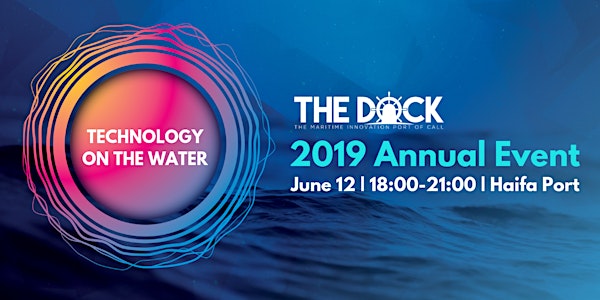 Technology on the Water 2019
When and where
Location
Haifa Port Passenger Terminal Haifa Israel
Description
theDOCK's Technology on the Water Annual Event 2019
Technology on the Water, theDOCK's main annual event, brings together global leaders from the maritime industry along with entrepreneurs, startup founders, regulators, investors and VCs' representatives. The event will feature a unique panel of speakers discussing maritime technology innovation, and will showcase theDOCK's portfolio companies graduating the Wave2 program as well as the winners of the DOCKATHON (a 24-hour maritime-tech hackathon preceding the event)! As in previous events, we promise a wealth of exciting engagement opportunities for entrepreneurs, industry leaders and investors alike.
In two packed hours you'll get a full view of the emerging and exciting maritime-tech ecosystem, and all that with a cool beer and an evening sea breeze while overlooking Haifa Port!
WHO SHOULD ATTEND
Entrepreneurs looking to ride the digital transformation wave in the huge maritime market
Investors exploring attractive and unique investment opportunities
Industry leaders looking to leverage open innovation and new technologies
AGENDA
18:00 - Gathering & Networking (grab a cool beer!)
18:45 - Welcome & Greetings
19:15 - Winners Pitch! Spotlight on the top DOCKATHON (hackathon) ideas
19:30 – Keynote: "Port Innovation - Technology on the Water(front)"
Elton Fong, Vice President, PSA unboXed,
19:45 – Panel: "The Rise of Maritime-Tech: Making Ends Meet (an Innovation Panel with Leading Maritime Organization, Corporate Venture Arm, VC and a Startup)"
Moderated by: Hannan Carmeli, Co-Founder & CEO, theDOCK
Kash Mahmood, Deputy Chief Digital Officer, American Bureau of Shipping (ABS)
Haymon Sinapius, Investment Manager, Bernhard Schulte Innoport
Catherine Leung, Co-Founder & General Partner, MizMaa Ventures
Yarden Gross, Co-Founder & CEO, Orca AI
20:15 - Pitch Time! theDOCK Wave2 Startups
20:45 – PORTfolio Success Stories: Loginno's Contopia and FAST's Digital Freight Forwarding Platform
21:00 – Networking, Dessert & some more Beers
Space is limited, so make sure to register TODAY and claim your ticket.
Details to come... Stay tuned...
SPONSORED BY: