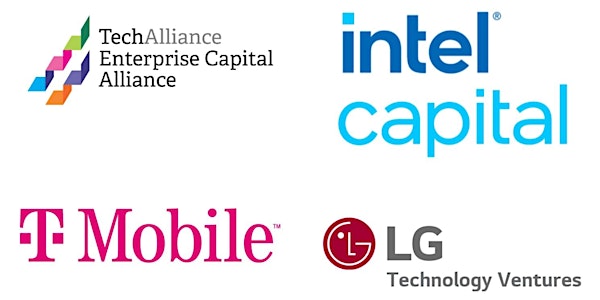 Technology Alliance - Corporate Venture Connections: 5G
Are you a startup working in 5G? These companies are actively looking to deploy capital into this strategic area. Apply for your 1:1 meeting
About this event
This event is open for event attendees who now wish to apply for a 1:1 meeting with one or more of our presenters. Please click the green "register" button, answer a few basic questions about your company and send us your executive summary. Meetings will take place during the week of November 29th.
Intel, T-Mobile, and LG are actively seeking to deploy capital into companies in this strategic area. This is a unique opportunity for a 1:1 meeting with a senior member of their corporate VC arms - apply below!
Did you know that Washington state punches significantly below its weight when it comes to the amount of corporate venture capital dollars invested in local startups? The Enterprise Capital Alliance, an initiative of the Technology Alliance, is trying to change that.
Our Corporate Venture Connection series continues on November 9th at 1:30 via Zoom with a session on the topic of 5G. Speakers from Intel, T-Mobile, and LG represent the full spectrum of the 5G value chain. They will cover a range of topics from 5G infrastructure to connected edge and IoT devices to applications and services across related sectors such as smart retail, digital manufacturing, intelligent supply chain, and connected health.
Chetan Sharma will moderate a panel with executives from T-Mobile Ventures, LG Ventures, and Intel Capital. You'll have the opportunity for networking during the session and to apply for a 1:1 meeting with investors from each company.
We've designed this event to have wide appeal for our Washington state innovation ecosystem. C-level entrepreneurs will gain important insights into how these industry leaders are thinking about opportunities enabled by 5G as well as how CVCs make investment decisions. VCs, angels, and family offices can leverage the experience of CVC executives for their own portfolios and learn more about CVCs as possible co-investors, channel partners, or validation partners. Lawyers, Financial Advisors, and other strategic advisors will gain invaluable insights as you guide your clients to success.
Attendees who wish to apply for a 1:1 meeting with the presenting CVCs may do so up to 24 hours after the event at this link.
Presenters:
Dave Johnson, Managing Director, United States at Intel Capital
Jeff Pellegrini, VP Acquisitions and Investments, T-Mobile Ventures
Michelle Moon, Principal at LG Technology Ventures
Moderator: Chetan Sharma, CEO of Chetan Sharma Consulting,