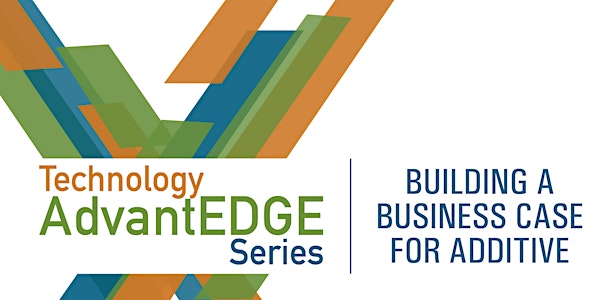 Technology AdvantEDGE Series presents Building a Business Case for Additive
Location
Geotech Environmental Equipment
2650 East 40th Avenue
Denver, CO 80205
Description
How to develop a business case for additive manufacturing
Does your organization have a desire to engage with metal additive manufacturing, but you are unsure of how or where to get started? Perhaps you're also wondering how to measure the payback of your additive investment?
Join this 1-day hands-on workshop to understand how your organization can create a business case for metal additive manufacturing.
Following the success of the GE Additive event held in October 2017, manufacturers requested a return engagement where they could find out more about the process of implementing and integrating additive into their workflow -- and their budget. That is the purpose of this event.
This course will cover:
Key factors to identify the right part for metal additive manufacturing

Design, materials and manufacturing considerations for successful additive part design

The necessary cost assumptions required to build a business case with ROI
This is a hands-on workshop - Bring a part that you have identified as a possible fit for additive. GE Additive will help you understand the compatibility and potential benefits you might gain by redesigning it for additive.
Agenda
9:00 – 10:00 Breakfast / Networking
10:00 – 10:30 Addressing your business challenges
10:30 – 11:30 Identifying the right part for additive
Group project
Understand key considerations for part identification
11:30 – 12:00 Break / Networking
12:00 – 1:00 Optimize your additive post-processing
Understand the additive part lifecycle
Thermal processes, surface/tolerance limits, inspections
1:00 – 1:30 Design recommendations and Considerations
Tips on design
Thermal processes, surface/tolerance limits, inspections
1:30 – 2:30 Lunch / Networking
2:30 – 3:30 Costing additive parts
Understand key cost drivers
Sources of waste
3:30 – 4:30 Building a business case for additive
What does the c-suite want?
Key financial metrics and calculations
Example pitches
4:30 – 5:00 Q&A / Wrap-Up
5:00 – 7:00 Networking B2B Lounge sponsored by KeyBank
About the Technology AdvantEDGE Series from Manufacturer's Edge:
As the Manufacturing Extension Partner for the state of Colorado, Manufacturer's Edge is committed to keeping Colorado manufacturers informed with the latest cutting-edge info and access to the latest trends. We want to show you what is on the horizon so that you can anticipate the arrival and stay competitive. To that end, we are pleased to introduce the 2018 Technology AdvantEDGE Series -- a series of workshops where we will introduce a variety of new technologies that manufacturers can implement into their manufacturing processes and products. These workshops will cover everything from new materials such as composites, smart fibers, and fabrics to new manufacturing processes, such as 3D printing and robotics. Topics of interest will also include radical new technologies that will change the way we live, such as flexible hybrid electronics, biopharmaceuticals, and biofabrication.
Let us help you stay ahead of the game by anticipating and preparing for the amazing innovations on the horizon. Let us bring the future to you!

About GE Additive:
GE Additive helps organizations like yours navigate its additive journey. Our team is intimately familiar with your challenges in additive because we have experienced the same journey. We have faced the early difficulties you have and overcome obstacles you may not have anticipated yet.