'Technologies of Gender' Symposium
Description
The Intersectionalities: politics - identities - cultures (IPIC) research group and the MA Global Media Management at Winchester School of Art are pleased to host this multidisciplinary and cross-departmental symposium on 'Technologies of Gender.'
Registration is free but online booking is strongly recommended.
Technology has been held responsible for producing and reproducing gender norms and practices (Cockburn 1983, 1985; Wajcman 1991), but it has also been hailed as the saviour of minorities, especially women, by providing the tools for their liberation from oppression (Haraway 1997; Plant 1998). The reality is somewhere in the middle, 'between technophobia and technophilia' (Wajcman 2007, p. 287). We are interested in theorising this middle ground, examining the mutually-defining relationship between gender and technology by exploring the gendered dimensions of technology's access and use, and the framing of debates around gender identities and technology. Taking up Ursula K. Le Guin's broad definition of technology as 'how a society copes with physical reality' (2004), we will consider the various ways in which technology works as a mediator between the body and embodied experiences of identity. From the household appliance revolution to Haraway's feminist cyborg to sexual reassignment surgery, how is gender shaped, performed, and transformed by various technologies and technological metaphors?
As a first step in this process, on 5th June 2019 the Intersectionalities: politics – identities – cultures research group and the MA in Global Media Management will co-host a one-day symposium on 'Technologies of Gender'. Through a series of expert lectures, workshops and discussions, this event will explore the ways in which technology shapes (and is shaped by) our constructions of gender identity. We hope that this event will lead to future collaborations between participants, not least by fostering an interdisciplinary understanding of the gendered dimensions of technology, and the ways in which gender plays a core role in shaping how technology is manufactured, produced, used and consumed.
---
Bibliography
Bonner, Frances et al. (eds.) (1992). Imagining Women: Cultural Representations and Gender.
Carter, Cynthia; Steiner, Linda; McLaughlin, Lisa (eds.) (2014). The Routledge Companion to Media & Gender. London: Routledge.
Cockburn, C. (1985). Machinery of Dominance: Women, Men and Technical Know-How. Pluto Press.
Gill, Rosalind (2007). Gender and the Media. Cambridge: Polity Press.
Haraway, D. J. (1997). Modest−Witness@Second−Millennium.FemaleMan−Meets−OncoMouse: Feminism and Technoscience. London: Routledge.
Le Guin, U. K. (2004) A Rant About 'Technology' [online]. Available from: http://www.ursulakleguin.com/Note-Technology.html (Accessed 10 December 2018).
Mulvey, Laura (1975). 'Visual Pleasure and Narrative Cinema'. In Caughie, John et al. (1992). The Sexual Subject: A Screen Reader in Sexuality. London: Routledge, pp. 22-34.
Plant, S. (1998). Zeros + Ones: Digital Women + the New Technoculture. Fourth Estate.
Wajcman, J. (1991). Feminism Confronts Technology. John Wiley & Sons.
Wajcman, J. (2007). 'From Women and Technology to Gendered Technoscience'. Information, Communication & Society, 10(3), 287–298.
Webster, Juliet; Michailidou, Martha (2018). 'Building Gender Perspectives in the Analysis of Virtual Work.' In International Journal of Media & Cultural Politics, 14(1), pp. 3-18. Cockburn, C. (1983). Brothers: Male Dominance and Technological Change. Pluto Press.
---
For more information, and the full programme please go to the GMM blog and IPIC website.
To contact the organisers, please email Mihaela Brebenel (m.brebenel@soton.ac.uk), Megen De Bruin-Molé (m.j.de-bruin-mole@soton.ac.uk) and/or Estrella Sendra (e.sendra-fernandez@soton.ac.uk).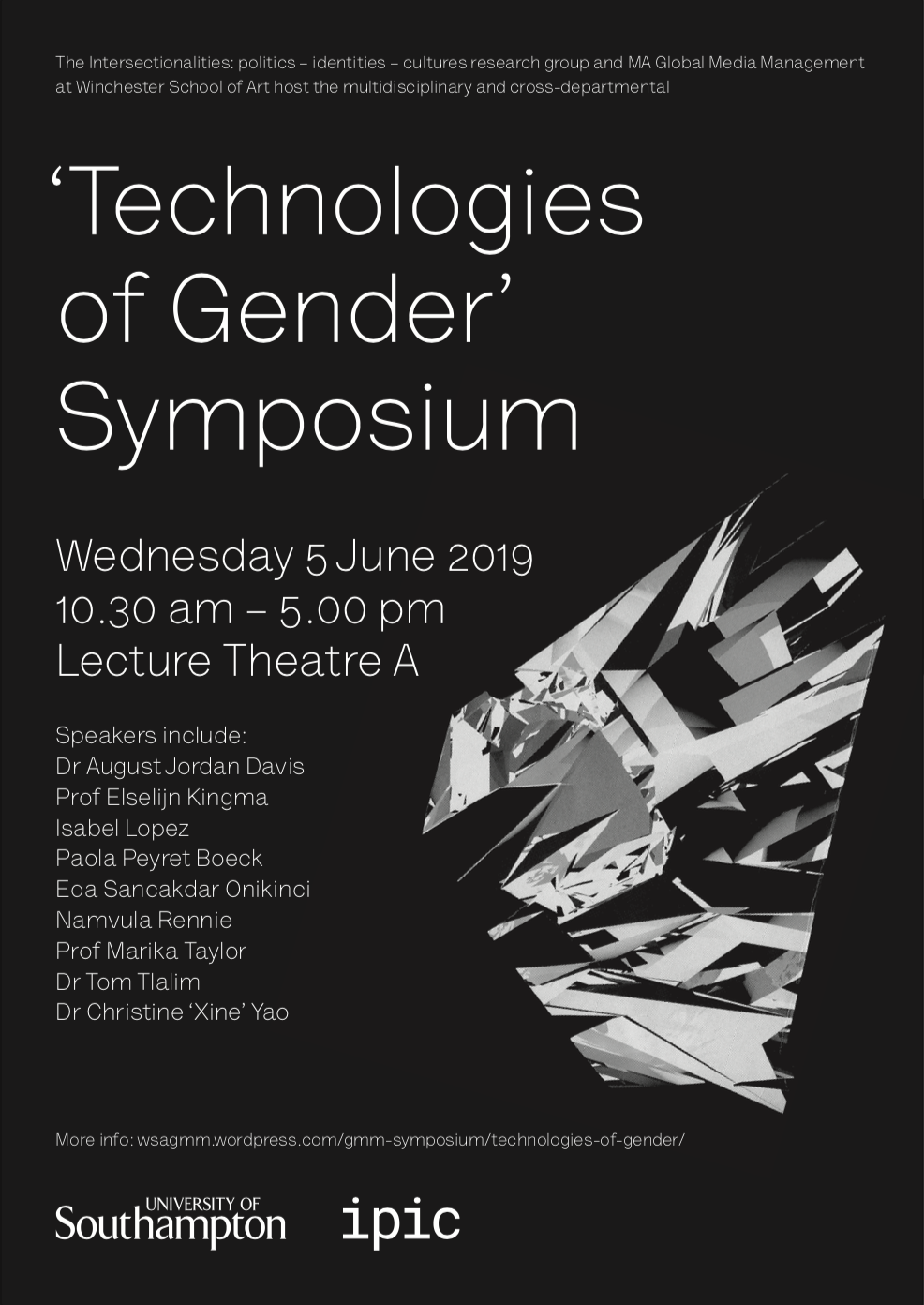 ---