| | |
| --- | --- |
| Technical Meeting & Event Production (Spring 2016) | |
Event Details
Description
Do you know how many lumens your projector should have or what kind or lens it needs? Or whether your lighting is correct in using PAR fixtures instead of Lekos for a given task? Regardless of your experience level, if your audio visual proposal looks like like a foreign language to you, you're not alone. This course will empower you to understand what kind of gear, staff, and set up your event actually needs to function properly, look right, and be cost-effective.

This course will cover audio (microphones, speakers, sound systems & acoustics), projectors & display screens, lighting, video, staging, run of show and production documents, teleprompters, who's who in the production booth, configuring slide decks, what's involved in "calling a show."
Syllabus
Vist the class page for an overview of the full curriculum. 
Dates / Times
This 5 week online course will run from February 9, 2016 to , though the course will remain open until December 1, to allow participants to catch up if they were unavailable for any portion of the course (hey, we know planners are busy in the fall). New lessons will be released each Tuesday at 7:00 pm EST, and can be viewed at any time thereafter.

How the Course Works     
Participants will log into our private Learning Management System, where each week approximately 2 hours of new lesson content will be released. Lesson content will usually be in video format, broken into digestible chapters of approximately 5-10 minutes each, and may be supplemented with PDFs or links to external articles. The lessons may be viewed at any time once they are released, and you can complete the lesson videos at your own pace.  Short quizzes and assignments may be given to help reinforce learning outcomes.
Earn Your Credential
Students who complete this course and pass a final exam will earn a Certificate from the Event Leadership Institute for Technical Meeting & Event Production.  
Instructor 'Office Hours'
The instructor will be available to answer questions and provide feedback at set times each week, currently scheduled on Thursdays from 4-5 pm CST. Outside of those hours, the instructor will make every effort to respond to emails within two business days.  (Keep in mind our instructors are subject matter experts who are actively working on events.) 
Registration
This course is NOT included in monthly or annual subscriptions, and requires separate registration, though active members will benefit from 20% off the enrollment fee. Enrollment is $395 before January 19, 2016, and $495 thereafter. Please contact us if you'd like to pay by check.
Your Learning Is Guaranteed      
The Event Leadership Institute stands behind all of its content.  If you're not fully satisfied for any reason, just let us know within 30 days of the final lesson and we'll give you a full refund. 
Course Preview
A free course preview via recorded webinar is available to explain how the course works and discussing the content.  Click here to watch the course preview. 
Instructor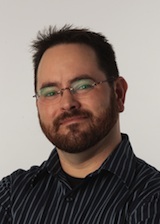 Brandt Krueger is one of the highest rated instructors at the Event Leadership Institute. All of his classes have earned the top rating level. He has a gift for explaining audio visual and event technology in simple terms we can all understand.
Brandt is the Director of Corporate Technology for metroConnections where he helped to build, literally, their event decor fabrication shop, and manages their growing event rental inventory. A first generation personal computer user since the age of 6, technology is part of Brandt's DNA.  
Shortly after starting with metroConnections, he built the company's first website, and started designing interactive game shows for teambuilding events within the next couple years. Initially using the page linking technology in PowerPoint, then moving on to full fledge Flash programming, these game shows and their descendants still feature prominently in metroConnections teambuilding event arsenal. As the fabrication shop grew, Brandt bowed out and moved exclusively into a full time technology role. Stage management experience made him a natural for the tech table, and now he's "the man on the headset" for most of metroConnections' large scale meetings and events, between 1 and 4 productions a month. With hundreds of productions under his belt, Brandt has seen more than his fair share of PowerPoints in his now 15 years in the business, and has recently turned his sights on furthering the discussion of how we, as event and meeting planners, can help make presentations better and increase the overall quality of our programs.
metroConnections provides complete conference, event, production and transportation services for meeting and event planners nationwide. Clients range from small privately-owned businesses to Fortune 100 companies. metroConnections is headquartered in Minneapolis, Minn.  
Organizer
Event Leadership Institute
ABOUT US
 Launched in June, 2011, the Event Leadership Institute provides the highest quality educational programs, and features top thought leaders and industry influencers sharing their insights at live events throughout the country. We strive to empower a more educated planner to produce smarter, more creative, and cost-effective events. 
LEARNING GUARANTEE
We stand behind the quality of our content and back all of our online classes and live events with a 100% money-back guarantee if you feel you did not learn what you expected to.
TESTIMONIALS
"ELI has moved to the forefront of online learning for the event industry, and has created THE standard of education provision in both level of content and accessibility to students."  
Kevin White | President-Elect, ISES International, Adjunct Professor, NYU
"One of the smartest investments an event business owner can make."  
Lyn Stout | A Bond Event
"Thank you for your continued leadership, and always lighting the way."  
Ceci Johnson | Founder, CECI New York
"Hands down, the best educational content and the smartest instructors in our industry."  
David Adler | CEO, BizBash
"ELI classes are like a shining light in the dark."  
Jharna Jaisinghani | Owner, Artistic Affairs