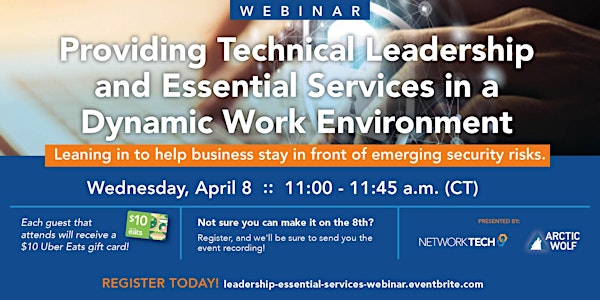 Technical Leadership & Essential Services in a Dynamic Work Environment
Leaning in to help businesses stay in front of emerging security risks.
About this event
2020 brings challenges to your corporate networks and workflow that necessitate new strategies and expert leadership. How do you continue to conduct business as usual in times like these?
How can you ensure security and productivity in the current work-from-home environment?
Network Tech and Arctic Wolf share how they can help reduce the exposure of a remote workforce and keep your employees focused on success.Join our Kansas-based tech experts for our 45-minute interactive webinar where you will learn:
• The right ways and wrong ways to manage a work-from-home infrastructure
• How to identify and mitigate threats and vulnerabilities that may result from a remote workforce
• What application and workflow monitoring tools you should be deploying
• Actionable takeaways to help your organization return to normal faster
Your presenters:
Brad Hanly | Presales Systems Engineer | Arctic Wolf
Jeremiah Reed | Centralized Services Lead | Network Tech
BONUS: Each guest that attends will receive a $10 Uber Eats gift card!
Not sure you can make it on the 8th? Register and we'll be sure to send you the event recording!
For more information about this event, please contact Clark Thompson at Network Tech at 913-538-7813.