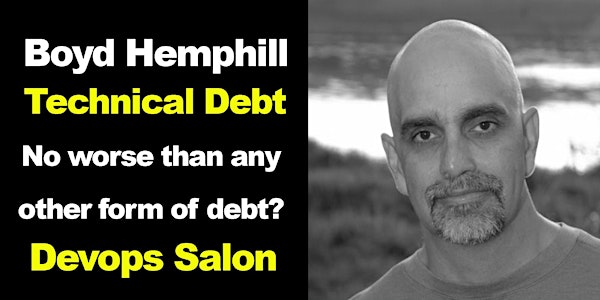 Technical Debt - an online DevOps Salon with Boyd Hemphill
Join us for an evening of open discussion with a topic presented by Boyd Hemphill
About this event
NOTE: This event has been rescheduled for October 13.
The inspiration for this Austin DevOps Salon came from a recent Linkedin post by Boyd Hemphill:
Technical debt is no worse than any other form of debt.
I chose to get a loan to buy a house. It was a great investment. I understood the terms and the cost of the loan. The company agreeing to the loan evaluated me for risk and ability to pay. They've made the money the contract called for. Conclusion: debt can be good.
I chose to assume some arch debt. I don't know the blast radius. I am unclear on downstream cost to maintainers. There is nobody agreeing to the notion that I am capable of taking on the debt in service to my company. Conclusion: some debts are bad.
The event date is subject to change. The event will be held over Zoom. RSVP is required for access.
We look forward to seeing you!