Description
Don't miss the Bay Area's only Food Content Creator/Influencer Conference this year!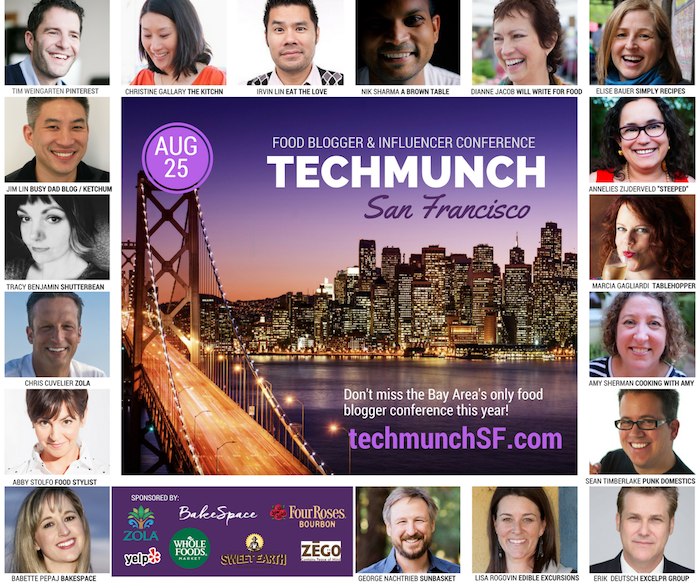 The traveling TECHmunch Conference returns to San Francisco on August 24th & 25th — for an opening party and a full day of networking, educational sessions, tastings, and demos — all designed to help you take your content creation and monetization efforts to the next level.
---
SCHEDULE:
8/24: OPENING-NIGHT PARTY & BOURBON WORKSHOP PRESENTED BY BOURBON LEGEND AL YOUNG, FOUR ROSES BOURBON (YELP HQ)
YELP HQ: 140 New Montgomery Street, San Francisco, CA 94105 (Security at Yelp requires that you RSVP to attend the workshop and mixer.)
6:00 p.m - 7:00 p.m. - Private Bourbon Tasting (tasting starts at 6:30 p.m sharp - Must have an invite or Tasting Ticket to attend)
7:00 p.m. - 8:30 p.m. - Opening Night Party (All-Conference Badges)

IMPORTANT: If attending the opening-night party, you must have a conference badge or a party ticket (be on our official list). Venue security is very strict. No unexpected guests are allowed into the building.
8/25: TECHMUNCH CONFERENCE (THE WOMEN'S BUILDING)
The Women's Building - 3543 18th St, San Francisco, CA 94110
10:00 a.m. - 4:40 p.m. - Conference Sessions (All-Conference Badges)
---
ABOUT TECHMUNCH
NO NEED TO TRAVEL FAR OR SPEND A FORTUNE TO ATTEND A WORLD-CLASS CONFERENCE
TECHmunch San Francisco 2017 is the hometown conference for turning your passion into profit.We'll cover the latest content and monetization strategies. Fast-paced sessions will help you optimize everything from working with brands to producing great videos, photos, podcasts and digital cookbooks.
LEARN FROM TOP EXPERTS & CONNECT WITH LOCAL COLLEAGUES
TECHmunch San Francisco will connect you with top experts sharing the latest hands-on tools and tactics. No fluff and no heavy-handed promotion – just the information you need to succeed. In addition, because TECHmunch is a local conference, you'll have an opportunity to build valuable relationships other Bay Area content creators and influencers, as well as potential brand partners.
WHO WILL I MEET AT TECHMUNCH?
Food/lifestyle bloggers, social media influencers on Instagram/Facebook/Snapchat, recipe writers, cookbook authors and traditional food media professionals who are serious about creating great content. You'll also meet brands, PR Professionals and Marketing Pros who work with bloggers/influencers.
Connect with Event:
facebook | instagram | twitter
#techmunch
---
PRODUCED BY
The traveling TECHmunch Conference is produced by Webby and IACP-honored BakeSpace.com — a leader in online food content and community with a tasty grassroots approach.
Learn more at techmunchconf.com.
Interested in sponsoring the event? Visit TECHmunchconf.com
---
OTHER TECHmunch Events:
TECHmunch NYC - Sept 29
TECHmunch Los Angeles - Oct 21
---
FINE PRINT:
All ticket purchases are final. You may transfer your ticket to another attendee.