#TECHmunch | NYC: Food Blogger Conference (Internet Week #IWNY)

Saturday, June 11, 2011 from 9:30 AM to 8:00 PM (EDT)
Event Details

BakeSpace.com's TECHmunch Food Blogger Conference
New York City | June 11, 2011
Doors open at 9:15am. (Light breakfast provided)
Panels: 10:00am-5:30pm
Networking Party: 5:30pm-7:30pm

As the online world descends on New York City June 6th-13th for Internet Week, food bloggers in the Big Apple will be focused on an event all their own in the form of TECHmunch NYC, which will be held Saturday, June 11th at Astor Center. New York City is the latest stop for TECHmunch, which was created to help food bloggers learn practical tools and tactics for generating buzz, building an audience and making their hard work profitable.
TECHmunch is a blend of networking mixers, panels, tastings and cooking classes that will inspire even the most seasoned food blogger. The goal is to provide the ingredients you need to succeed and pursue your passion.
Who should attend?
•    Food bloggers of every level - from hobbyists to media conglomerates and everything in between
•    Brands that want to connect and form partnerships with food bloggers
Can non-food bloggers attend?
Yes of course!  A lot of our chats will be focused on food content, but anyone interested in SEO, monetization, content creation and syndication will walk away from our event with useful information.
What you'll learn?
Topics include the latest tools and tactics to develop and optimize content, build buzz, grow an audience and profit financially from all the hard work. The focus is on practical, hands-on information that you can use from day-one to take your blog to the next level.
We'll be giving away great prizes throughout the event (ask anyone who attended last year!). A light breakfast (w/ coffee & tea) as well as snacks throughout the day and lunch will be provided for full access pass holders. For networking party pass holders only, there will be beverages served at the party.
Speakers (Partial List): 

Chef Jacques Torres (aka Mr. Chocolate)
Lynn Andriani, Oprah.com
Lauren Drell, Mashable.com
Babette Pepaj,  BakeSpace.com/TECHmunch
Nichelle Stephens, Cupcakes Take the Cake
Chris Pearson, DIYThemes.com (Creator of the Thesis Theme)
Jessica Randazza, Digitas (KitchenAid)
Emily Schildt, Communications Manager at Chobani
David Leite, Author & James Beard Award Winner
Cathy Erway, Author
Geoff Allen, CEO Ziplist
Marc Matsumoto, Norecipes.com
Erik Deutsch, ExcelPR Group
Karen Seiger, MarketsofNewYork.com
Emily Clavalier, Mouth of the Border
Nicole Taylor, Brooklyn Food Coalition
Cathy Brooks, Other than That
Jessica Lee Binder, FoodMayhem.com
Eric Rochow, GardenFork.TV
Adam Salomone, The Harvard Common Press
Jennifer Perillo, InJenniesKitchen.com
Joshua Unseth, Jar Group
Danielle Gould, FoodandTechConnect.com
Eric Issac, Snapfood
Tricia Okin, papercutny
Jackie Gordon, The Diva that Ate New York
Tameeka Ballance, Tameeka Time
Who's involved?
TECHmunch NYC is produced by Babette Pepaj (@BakeSpace), founder of BakeSpace.com and co-produced locally by Nichelle Stephens (@Niche), co-founding editor of New York-based Cupcakes Take the Cake.
For more information, visit our official TECHmunch site.
DIRECTIONS TO EVENT:
The 6 train to Astor Place is the closest.  You get off the train and walk south down Lafayette, we are on the left - you'll see a large maroon flag. Other options listed here as well. http://www.astorcenternyc.com/contact.ac?rel=nav
Got a question or would like to sponsor our event?
Email us at babette[@]bakespace.com or via twitter at
@BakeSpace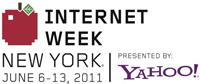 TECHmunch tickets are non-refundable.
Tickets may be purchased at the door (unless the event is listed as SOLD OUT) for the amount listed above. We accept cash or check. Checks should be made out to BakeSpace, Inc.
When & Where

TECHmunch NYC
Astor Center
399 Lafayette St. (At East 4th Street)
New York, NY 10003


Saturday, June 11, 2011 from 9:30 AM to 8:00 PM (EDT)
Add to my calendar
Organizer
Premier Sponsors: 
Event Sponsors: 
TECHmunch is a series of conferences in cities across the U.S. designed to help food bloggers gain the hands-on digital media, marketing and business skills they need to make their blogs more personally and financially rewarding. Each conference features leading experts in a range of disciplines -- from digital publishing and search engine optimization to public relations and online advertising. TECHmunch was created by BakeSpace.com Founder Babette Pepaj, who serves as its producer and host.
Connect with us for updates!
@BakeSpace