Description
Accelerate your tech-readiness with thought-provoking strategies and insights to help Hawai`i's tech workforce flourish. Join business, technology and education leaders, private and public employers, and our current and future workforce for TechForce Hawaii Conference & Expo. See the Event Schedule here:
TECHFORCE HAWAI`I CONFERENCE, focusing on 4 of the key drivers of tech workforce transformation — culture, competency, communication, and co-opetition:
CULTURE — KEYNOTE 9:15-10:30am:
"Digitalization and Hawai`i's Tech-Based Workforce and Education Pipeline"
Google Education Evangelist Jaime Casap believes Hawaii is the ultimate digitalization laboratory.

The care and feeding of a culture of innovation that harnesses the power of technology will prepare an agile, competent workforce ready for the new world.


COMPETENCY — SPEAKER PANEL 10:45am-12noon:
The Tech Mindset
Scott Godwin, GM-Corporate Partnerships & Alliances, Pacific Northwest National Laboratory
John Gotanda, President, Hawai`i Pacific University
Dr. Christina Kishimoto, Superintendent, State of Hawai`i Department of Education
Stephen Schatz, Executive Director, Hawai`i P-20

With technology deeply embedded in everything we do, how do we prepare a workforce for jobs today as well as jobs that don't yet exist? Multidisciplinary skills are key, including critical thinking, creative problem-solving, collaboration and communication.


COMMUNICATION — SPEAKER PANEL 1:30-2:45pm:
21st Century Tech Stories
Isla Young, Director, STEMWorks, Maui Economic Development Board
Ian Kitajima, Director of Corporate Development, Oceanit
Tyler Iokepa Gomes, Partnerships Manager - Hawai`i, Elemental Excelerator

Can we stop being "shame" to tell our tech success stories — as well as the lessons learned from our failures? Let's shape a message of innovation that tells the world what we have to offer.


CO-OPETITION — SPEAKER PANEL 3-4:15pm:
Big Thinking
Mike McCartney, Director, State of Hawaii DBEDT
Alan Oshima, President & CEO, Hawaiian Electric
Peter Dames, EVP Technology, Marketing & Mobility, Servco
Brennon Morioka, Dean, University of Hawai`i, College of Engineering

Say "Hawaii" and people the world over think beaches, palm trees, sunsets. Can we be as famous for brains as for beauty? If government, business and education learn how to both compete and collaborate, we can move forward faster and further in developing our tech and human resources, and leave no doubt that we're more than just a pretty face.


TECHFORCE HAWAI`I EXPO 9am-4:30pm, showcasing people, products and services throughout the tech-based workforce development continuum, including:
internship and mentoring opportunities

training programs from both employers and educators

innovative technology that's creating the jobs of the future

workforce readiness (how to go on a job interview, how to network, and more)

STEAM-inspired "interactivities" including a Design Thinking Playground

Exhibitors include: Blue Startups, CIO Council, DOE, Hacker High School, Hawaii Language Roadmap Initiative, Hawaii Tech Support, Hawaiian Electric, the Heim McCollum Group, HPU, HTDC, Integrated Security Technologies, Oceanit, Pacific Northwest National Laboratory, PCATT/DLIR/American Apprenticeship Initiative, Purple Mai`a, the Queen's Medical Center, RM Towill, SBDC, Servco, SHRM Hawaii, STEMWorks, Transform Hawaii Government, UH College of Engineering, USS Bowfin Submarine Museum & Park, Waipahu High School, Young AFCEA Hawaii, and more.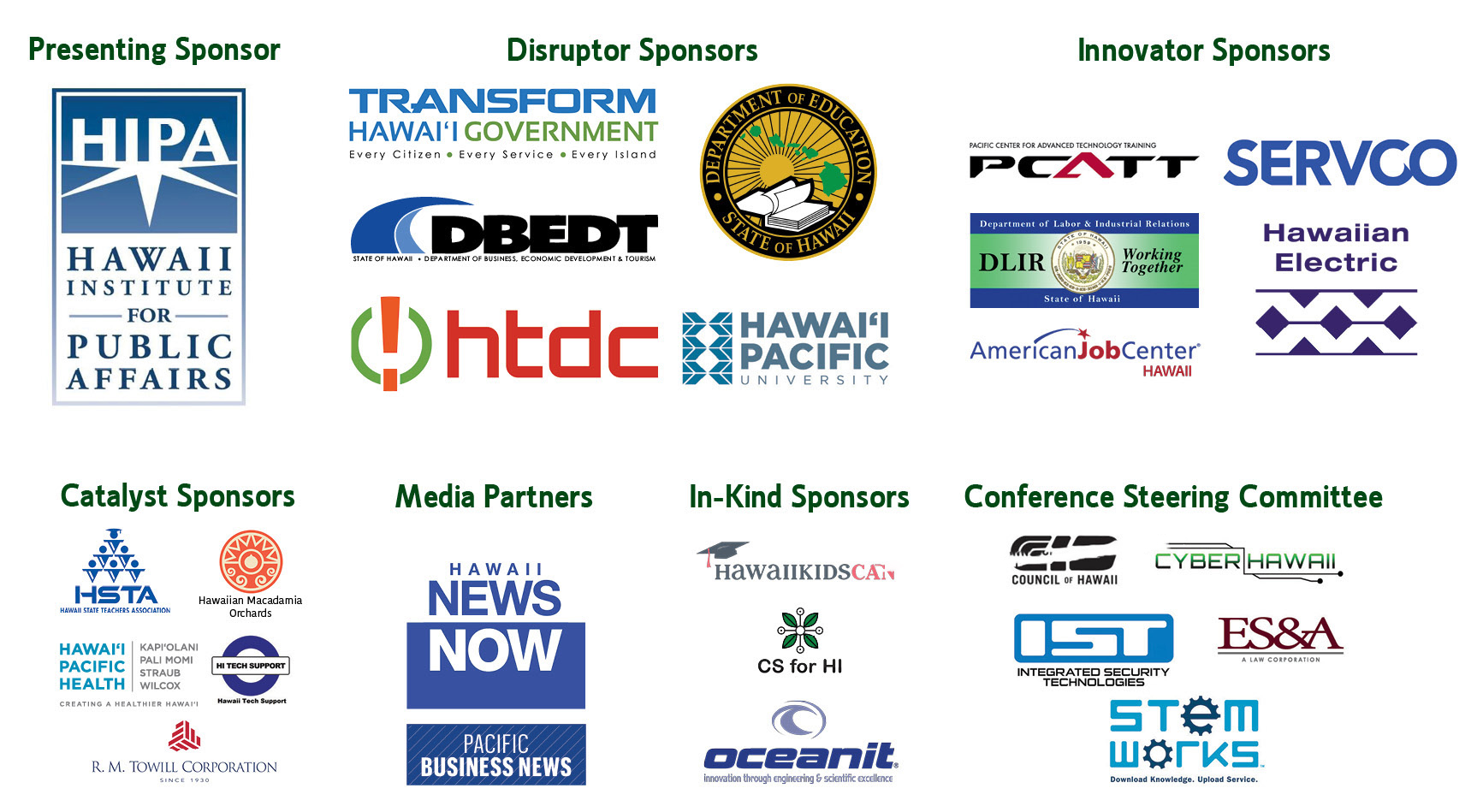 Presenting Sponsor
Disruptor Sponsors
Innovator Sponsors
Catalyst Sponsors
Hawaiian Macadamia Orchards
Collaborator Sponsors
Media Partners
Steering Committee
FAQs
What's the refund policy?
Tickets are non-refundable.
Do I have to bring my printed ticket to the event?
You may, or you could also download the Eventbrite app and save the tickets there, or show the pdf of the ticket on your smartphone.