Sales Have Ended
Registrations are closed
Registration is sold out. Please sign up for the waitlist.
Sales Have Ended
Registrations are closed
Registration is sold out. Please sign up for the waitlist.
Description
UPDATE: DUE TO TREMENDOUS DEMAND, THE EVENT HAS SOLD OUT. SORRY! WITH MORE THAN 50 PEOPLE ON THE WAITING LIST ALREADY, WE REGRET THAT NO TICKETS WILL BE AVAILABLE AT THE DOOR. Please sign up for our mailing list to receive invites to future events!
Join us on April 19 at Google LA!
The Road to Series A:
From Idea to Product/Market Fit
Presenting Sponsor: Wilson Sonsini Goodrich & Rosati
New for 2017, and building on our popular fireside chat events moderated and sponsored by WSGR since 2014, we're excited to announce a fresh new event series called The Road to Series A, sponsored by Wilson Sonsini Goodrich & Rosati (WSGR). Each of these events will center around a specific theme on the journey of starting and growing your startup and building towards your Series A venture capital round.
Join us for our first event (of four) on April 19, generously hosted by Google, as we explore the first stage, from ideation to finding product/market fit. How do you go about going from the "napkin moment" when lightning strikes with your idea, to iterating on the idea until you find the right fit with real-world demand in the market? Don't miss our panel discussion featuring a product expert from Google, and the head of a leading accelerator and seed fund who was a veteran product executive in Silicon Valley before moving to LA to steer countless startups towards product/market fit.
Featuring:
Erik Rannala, Co-Founder & Managing Partner of Mucker Capital
Erik Rannala is Co-Founder and Managing Partner of Mucker Capital, a $45 million seed & pre-seed fund based in Santa Monica, and co-founder of MuckerLab, ranked among the top accelerators in the nation. He previously was an investor with Harrison Metal Capital in Silicon Valley, and was the vice president of product management and strategy at TripAdvisor, the largest travel community site on the Web. Earlier, Erik spent over four years at eBay, where he held a variety of positions, including leadership of eBay's premium features business, which grew during his tenure from $124 million in revenue in 2002 to $410 million in 2005, significantly outpacing overall eBay revenue and listings growth. He also has held roles with MVP.com, Accenture, and the Domestic Policy Council at the White House.
Josh Yguado, Co-Founder, President and COO of Jam City

Josh Yguado is the Co-Founder, President, and COO of Jam City and a longtime media and gaming entrepreneur. Since founding Jam City with co-founders Chris DeWolfe and Aber Whitcomb in 2010, Josh has overseen the mobile game developer's exponential growth and global expansion. During his time leading the company, Jam City's gaming portfolio has repeatedly dominated the top grossing charts of Apple, Google and Amazon's app stores. Among other honors, SoCalTech named Josh one of its top 50 most influential people in Southern California's technology industry.
Patrick Anding, Senior Associate at Wilson Sonsini Goodrich & Rosati (MODERATOR)
Patrick M. Anding is a Senior Associate at Wilson Sonsini Goodrich & Rosati, where he represents public and private technology and media companies through all stages of their growth. Patrick specializes in areas of corporate and securities law, including general corporate representation, venture capital financings, mergers and acquisitions, and public offerings. His practice also focuses on intellectual property, licensing, and commercial transactions, with specialized emphasis in the digital exploitation of intellectual property. Before attending law school, Patrick worked in the media and entertainment business as a producer and media architect. He has supervised and produced film, music, and new media projects for a diverse range of companies and non-profit organizations, including DreamWorks, Disney, Mattel, the BBC, New Line, the J. Paul Getty Museum, and The Guggenheim Museum. Patrick served as the director of production and development for the music, DVD, and film company Palm Pictures. Learn more about Patrick and Wilson Sonsini Goodrich & Rosati at wsgr.com.
PRESENTING SPONSOR:

WHEN: April 19, 2017 (6 pm-8:30 pm)
Doors open at 6pm. The program starts at 6:30, followed by a reception from 7:30 - 8:30 pm.
WHERE: At Google LA, 320 Hampton Drive, Venice CA 90291 (in Google's "Big Lebowski" event space).
Directions & entrance instructions will be emailed to registrants prior to the event. Special thanks to Google for hosting the event, and for all their work to support the LA tech community!
Special thanks to Google for hosting the event, and for all their work to support the LA tech community!
DIRECTIONS & PARKING INFORMATION:
Public transportation, ridesharing, carpooling, biking, and walking are encouraged. Google will have a visitor parking lot with limited valet parking, located at 320 Hampton Drive, Venice CA 90291 (Hampton is the block behind Main Street). Please allow extra time for parking, as the on-site lot has limited capacity; if you arrive after it fills up, you will need to use one of the other private or public parking lots in the neighborhood--see Park Me for details.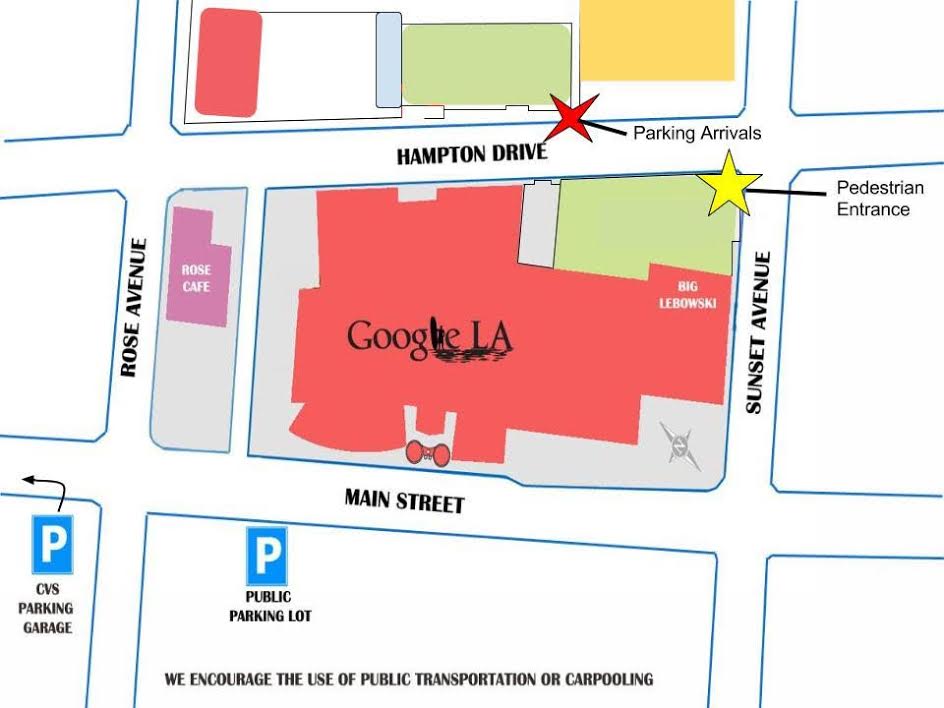 The parking and pedestrian entrances are on Hampton Drive between Sunset Avenue and Rose Avenue. Parking is on the East side of the street. Guests should pull up to the gate and the valet team situated inside of the gate will direct the guest where to park. Please note, you will be required to leave your keys with the valet team. The valet team will direct you to the Big Lebowski reception room to formally check-in.
The pedestrian entrance is on the West side of Hampton Drive, near the corner of Sunset Avenue.
If the Google lot is full, here is a list of off-site parking lots in the area.
Thank you, and we look forward to having you join us!

ABOUT US: Visit techfire.co to learn more about TechFire.
Note: Admission is subject to room capacity -- admission is not guaranteed if turnout exceeds expectations (first come first serve).
AUSTIN • BEIJING • BOSTON • BRUSSELS • HONG KONG • LOS ANGELES • NEW YORK • PALO ALTO
SAN DIEGO • SAN FRANCISCO • SEATTLE • SHANGHAI • WASHINGTON, DC • WILMINGTON, DEmore about Patrick and Wilson Sonsini Goodrich & Rosati at wsgr.com.