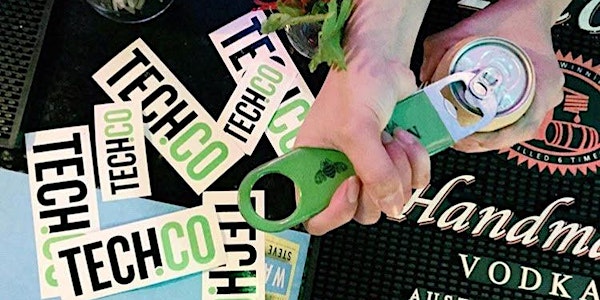 Tech.Co's Startup Night SXSW 2017
When and where
Location
Maggie Mae's 323 East 6th Street Austin, TX 78701
Description
Tech.Co is a celebration of startups, community, and technology, and nowhere is there a Tech.Co party bigger than at our Startup Night during SXSW. For the last seven years, we've mixed together the world's brightest startups in a venue jam packed with technology enthusiasts, entrepreneurs, and investors. Tech.Co's 2017 Startup Night promises to be our best time at SXSW ever.
Special Timely Offer! Our friends at Moo will hand deliver business cards to you in Austin at SXSW but you need to order quickly! Get your order in today.

This event is an official SXSW event so please bring your badge for faster entry. Limited space available for non-badge holders.
STARTUPS!
Join us as we showcase 25 of the hottest startups from around the world while enjoying a night of great conversation, giveaways, and of course cocktails. Past showcased startups at our events have gotten great feedback, been funded on the spot, met new employees, investors, and some have even been acquired.
SXSW Startup application is now closed and selected startups will be announced soon! You can still apply for our SOTY competition and our fall event - learn more and apply here: http://startupofyear.tech.co/.
Learn about other events Tech.Co is hosting during SXSW



Thank you to Tech.Co's partners!
---
Do you travel for business? American Airlines® has a special offer for Tech.Co readers – companies who enroll in their Business Extra program can earn up to 600 bonus Business Extra points. Enrollment is free, so take advantage of this special offer.
---
Pledge 1% is looking change the world through inspiring early–stage corporate philanthropy. Pledge 1% is an easy way to leverage a portion of your future success to support nonprofits in your community. It's a small commitment today that can make a huge impact tomorrow. The sooner you start, the easier it is–so join your fellow founders by making a pledge today!
---
Are you trying to find a way to take control of your online identity? Maybe trying to position yourself as a thought leader in your industry? .ME is uniquely positioned to provide you with the space you need to build your personal brand and create a captivating online persona that's a direct reflection of you.
---
Every year LaunchKC awards $500,000 in grants, including a grand prize of $100,000 in 2017, to truly remarkable startups from around the globe. That is just the start! In addition to funds, LaunchKC winners receive expert mentorship, incubator space, and they win access to resources, infrastructure, and people of a city where remarkable things are happening – all in KANSAS CITY, MO.
---
Launched in 1994, Softvision has been the premier global provider of digital solutions, mobility, analytics, merchandise planning, in-store engagements and quality assurance for hundreds of companies worldwide. No matter where you are on your digital roadmap, Softvision can help.
---
During SX, Moo, a premium online printing company specializing in Business Cards, Notecards, and more, is offering customers an opportunity to receive 15% off their order (with minimum spend of $75) and hand delivered to them anywhere in Austin during SX. Meaning, customers can be in a conference, out to dinner, or at a networking event and we will meet them at their designated time and place to deliver their business cards, postcards, etc. In the past, Moo has also included a gift with purchase with the promotion to further incentivise ordering.
Interested in becoming a sponsor? contact@tech.co