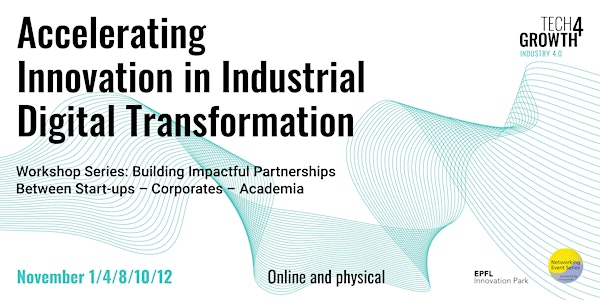 Tech4Growth Industry 4.0.
Learn about collaboration models and best practices
About this event
The rapid global digital transformation or Industry 4.0 impacts all companies, collaboration, manufacturing networks and partnerships within the field of production technology. This transformation is reshaping the competitive landscape by bringing fundamental changes to established industries, and innovation to transform the value chain is becoming ever more important.
Interdisciplinary and multi stakeholder win-win partnerships between start-ups, corporates and academia is the key to accelerate innovation across manufacturing networks.
The dynamic Tech4Growth partnering workshops are part of the networking events series empowered by Innosuisse and EPFL Innovation Park, connecting start-up founders, corporate innovators as well as academic professors to learn about collaboration models and best practices. This series focuses on the digital transformation of industry, where new technology such as industrial robotics, IoT, AI and data analytics are playing an increasing important role and will cover the following topics:
• successful technology transfers
• how to run joint R&D projects
• how to build win-win commercial partnerships
• how to make/get strategic investment and prepare a successful merger and acquisition
This workshops series is for high tech start-up founders, corporate senior executives and university professors / and senior scientists active in Industry 4.0 sector to ensure relevant collaboration and exchanges. The 4 online workshops on Nov. 1, 4, 8 & 10 are complimentary and you can join the series anytime to attend a single session. The final physical session on Nov. 12 at Bois Chamblard will be available at a fee. Reserve your spot, participation will be confirmed due to limited seats!
Why should you attend: