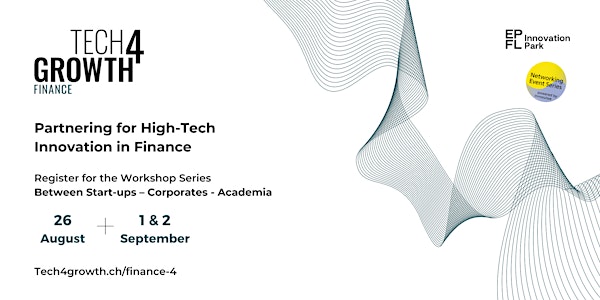 Tech4Growth Finance
Learn about collaboration models and best practice
When and where
Location
EPFL Innovation Park Batiment C 1015 Lausanne Switzerland
About this event
Although times may be uncertain, one thing remains true. There's a simple power in people coming together.
EPFL Innovation Park and Innosuisse bring you Tech4Growth Finance workshop series on August 26th, September 1st and September 2nd, 2022 with a great lineup of speakers and decision makers, connecting start-up founders, corporate innovators as well as academic professors to learn about collaboration models and best practices. More info on agenda and speakers can be found on website.
Join thought leaders from the Swiss FinTech ecosystem for 2 content packed days where you can learn from key players who share their experience about how to build win-win Start-up-Corporate partnerships to address challenges in digital transformation, personalized banking, regulatory compliance and digital asset management, and to drive the global financial industry forwards.
Whether you are an executive in a bank, a trading company, a founder of a Fintech start-up or cutting-edge tech player, come and join the Tech4Growth Finance workshop series, where you will build strong business network, learn from your peers, identify new opportunities of innovation, and walk away with suggestions and approaches for your next partnership plan.
This series focuses on the innovation in finance and will cover the following topics of AI, Opening Banking, CBDCs , DeFi, Embedded Finance, Fraud, AML, digital transformation and more!
Key learnings:
• successful technology transfers
• how to run joint R&D projects
• how to build win-win commercial partnerships
• how to make/get strategic investment and prepare a successful merger and acquisition
*The online Aug. 26th session is complimentary and you can attend a single session or several sessions. The 2-day physical session at EPFL Innovation Park will be available at a small fee to cover costs.
Why should you attend: