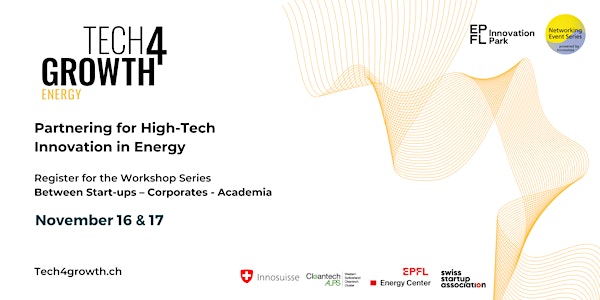 Tech4Growth Energy
Learn about collaboration models and best practice
When and where
Location
EPFL Pavilion A Place Cosandey 1015 Lausanne Switzerland
About this event
EPFL Innovation Parkand Innosuisse bring you Tech4Growth Energy executive workshop series on November 16-17, 2022 with a great lineup of speakers and decision makers, connecting start-up founders, corporate innovators as well as academic professors to learn about collaboration models and best practices. More info on agenda and speakers can be found on the website soon.
The energy sector is booming. With the world's population growing and economies expanding, global demand for energy is skyrocketing. But at the same time, traditional sources of energy are becoming scarce and more expensive. The future belongs to products and services that can be made using less energy and commodities. Swiss academic research institutes and companies have been acting as strong players particularly in the areas of energy efficiency, renewable energy, automation and control, mobility, water, and wastewater as well as waste management and the use of new types of materials to drive the energy industry forward.
To stay ahead of the game, companies in the energy sector must develop innovative solutions that meet the challenges of the 21st century. One way to do this, is by collaborating with start-ups, corporates and academic institutions. These partnerships give companies access to cutting-edge technology and ideas, and they help to ensure that the energy sector remains at the forefront of innovation. As the energy sector continues to grow and evolve, collaboration between the stakeholders will become increasingly important for companies that want to stay ahead of the competition.
Join the leaders from the Swiss Energy ecosystem for 2 content packed days where you can hear from key players to share their experience about how to build win-win Start-up-Corporate-Academic partnerships to address challenges in the Energy sector.
Why attend:
• Build a strong business network in the Energy sector
• Learn from your peers and design future solutions through collaboration
• Identify new opportunities of innovation
• Walk away with suggestions/approaches for your next partnership plan
Why should you attend: