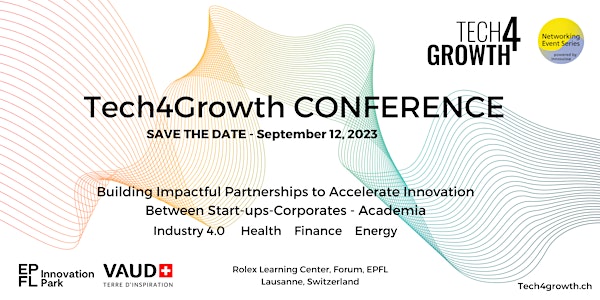 Tech4Growth Conference 2023
Dive into the world of collaboration models and best practice
Date and time
Tuesday, September 12 · 9am - 5pm CEST
Location
Rolex Learning Center Route Cantonale 1015 Lausanne Switzerland
About this event
EPFL Innovation Park, Canton Vaud and Innosuisse - Swiss Innovation Agency bring you Tech4Growth executive networking conference on September 12, 2023 with a great lineup of speakers and decision makers, connecting start-up founders, corporate innovators as well as academic professors to learn about collaboration models and best practices. Save the date and stay tuned for a more detailed agenda soon...
To stay ahead of the game, companies must develop innovative solutions that meet the challenges of the 21st century. One way to do this, is by collaborating with start-ups, corporates and academic institutions. These partnerships give companies access to cutting-edge technology and ideas, and they help to ensure to remain at the forefront of innovation.
This partnering conference invites potential participants in 4 verticals (Health, Industry 4.0, Finance & Energy) at the same time, with the goal to co-design disruptive solutions for the challenges that individual corporate /start-up / academic research entities are facing. The idea is to leverage on the network of senior leaders built by the first series of events in 2021-2022. We will invite professors, researchers, corporates, CVCs and start-up founders in each of the 4 verticals and we envision making this an annual event gathering the full ecosystem to facilitate partnering between all stakeholders.
We hope you can join this unique experience sharing networking series to connect with key players from the ecosystem! Learn and gain valuable insights from expert speakers who will share their experience on how to build win-win Start-up – Corporate - Academic partnerships.
Confirmed speakers to date include: Raphael Conz of Canton Vaud, Alexander Schlaepfer of Swisscom, Patrick Thévoz of Flyability, Lajla Aganovic of Logitech, Torsten Butz of CSS, Veronica Lange of UBS Next Connect, Luiggino Torrigiani of Insolight, Lan Zuo Gillet of EPFL Innovation Park…and more to be announced soon. View the full agenda here.
Venue: Rolex Forum, Rolex Learning Center, EPFL campus, Ecublens / Lausanne, Switzerland
*a fee of CHF 150 will be charged to cover catering costs (coffee breaks, lunch & apero on Sept. 12) and the 121 meeting scheduling platform. Contact us for group discounts on the fee. You will pay the fee on the website after registering your details here in eventbrite to confirm your participation!
Why attend:
• Build a strong business network
• Learn from your peers and design future solutions through collaboration
• Identify new opportunities of innovation
• Walk away with suggestions/approaches for your next partnership plan
Why should you attend:
About the organizer
The EPFL Innovation Park hosts technology driven companies in an inspiring environment, with access to cutting-edge research, a large network of dynamic entrepreneurs and established companies. It also organizes many events to support the ecosystem.