Tech Tutor Classroom: Facebook & Your Privacy

Wednesday, August 24, 2011 from 9:30 AM to 10:30 AM (PDT)
Event Details
Tech Tutor Classroom: Adjusting Facebook Settings to Guard Your Privacy
Wednesday August 24, 2011
9:30-10:30AM Pacific Time (click for other time zones)
Join Technology Tutor Chet Davis for this online class where you'll learn how to correctly set your Facebook Privacy & Sharing options.
Click below to play short video to introduce our topic

Description
Many active Facebook users take risks that can lead to burglaries, identity theft, and stalking. And some twenty-percent have not used Facebook's privacy controls, making them more vulnerable to threats.  You may not even know there are more than 20 different settings that affect what you share and with whom you share it.   The issue of personal security and identity theft and growing in importance for your and your family as cyber criminals looking for easy targets. 
In this 1-hour online learning session Your Technology Tutor - Chet Davis - will teach you how to correctly set your Facebook Privacy & Sharing options. You will learn the clear and understandable steps to protect yourself and your family with the many settings available now in your Facebook account.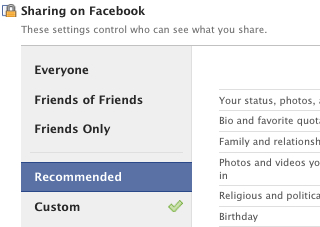 Here's what you will learn
Where to find the Privacy & Sharing settings in your Facebook account

Recommended settings to determine what is shared and with whom 

How to control what personal information is shared with apps and connected websites 

Settings to Block users, apps, and events you don't want to connect with

How to be notified if any device is attempting to log into YOUR Facebook account
BONUS: Tech Tutor Classroom participants receive a free copy of the lesson to download (via email within one week after the live session).    This is a video file you download to your computer via the internet that you can stop, start, rewind and replay as often as you wish.
Register now by clicking the green 'Order Now' button at the top of this page

Who Should Attend

Any person using the Facebook social website, curious or planning on starting to use Facebook, or with children or other family members who are on Facebook.

Prerequisites
There is no prerequisite to attend or gain benefit from this session - a basic knowledge of Facebook would be helpful, but I will also provide some suggested info for that topic. NOTE: This is not a session on using Facebook & all it's Applications, nor will we cover Business applications - that is a future Classroom topic.
Presenter

Chet Davis has been working with technologies for more than 30 years. He has led workshops and presentations all over North America and is heralded as an "amazing teacher" who is "so knowledgeable but has a miraculous way to help others learn so well". More here: Your Technology Tutor
What is a Webinar?
It's a web-seminar or virtual seminar, delivered right to the computer in your home or office. Your presenter appears via a Web Cam from his studio and shows you his computer while he teachers and talks with you.
Unlike some other webinars available today - these Tech Tutor Classroom sessions are not veiled attempts to sell you some program or product.  This session is pure instruction, online learning in the comfort of your home or office.
You simply need a computer (Windows PC or Apple/Mac) connected to the internet.  You register in advanced for the Webinar and then at the date and time, you log into your computer, entering the specific URL (web-page address) & password you receive via email once you register.

Click here for a 2-page guide to attending a Webinar (PDF)
Click here for the detailed specifications required for your computer.
Click below to view this short video explaining a webinar lesson
Register now by clicking the green 'Order Now' button at the top of this page
Organizer
Your Technology Tutor
Chet Davis is Your Technology Tutor... his expertise is helping you make better use of personal technology... to help you harness the power, the efficiency, and the creativity available in today's technology tools.