Tech to Preach: Catholic Hackathon

Friday, June 5, 2015 at 6:30 PM

-

Saturday, June 6, 2015 at 9:30 PM (PDT)
Event Details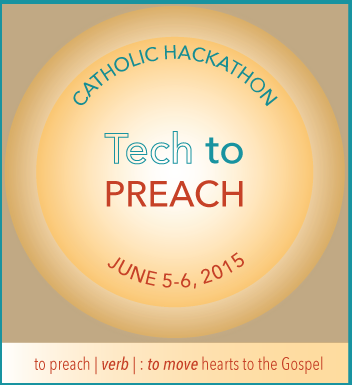 Tech to Preach: Catholic Hackathon
JOIN THE DIGITAL PENTECOST! 
Developers and Designers collaborating with Dominicans to create new ways to preach.
Are you a developer, designer, or have ideas on how we can apply the tech brilliance of the Bay Area to move hearts to experience and live the Gospel? 
The first Apostles went out by foot to spread the Good News to everyone, everywhere. The Order of Preachers, also known as the Dominicans, invite you to follow in their footsteps and share your talent, as we build and collaborate on new ways to spread the Word together at:
Tech to Preach
June 5, 2015 | dinner available beginning at 6:30pm; event starts at 7:15pm (See schedule below)
June 6, 2015 | event ends at 9pm
St. Dominic's Catholic Church in San Francisco
Event is free. Space is limited. Register today to save your spot.
What is a hackathon?
hackathon | noun | : a fun weekend event where people from technical and creative backgrounds come together, form teams around an idea, and use their skills to transform ideas into reality
Who can join?
hacker| noun | : developer, designer, ideator. 
Want to know what last's year's event was like? Click here to learn how fun and meaningful last year's Catholic Hackathon was for the participants.
SCHEDULE
FRIDAY, 5 June 2015
6:30pm: check-in; dinner is served. opportunity to network. 
7:15pm: opening prayer; instructions
7:30pm: pitch ideas (2 minutes per idea)
7:45pm: team creation
8:00pm: teams meet and start working. 
SATURDAY, 6 June 2015
8:30am: breakfast is served. Snacks, lunch, and dinner are provided as well.
7:00pm: team presentations
8:00pm: dinner celebration
9:00pm: winner is announced; closing prayer; team clean up
NEED A SPIRITUAL BREAK?
For those who need a spiritual break to recharge, please feel free to join the following activities that are going on at St. Dominic's during the weekend:
FRIDAY, 5 June 2015
5:30pm: evening mass. Main Church.
9:00pm-7:15am: All-Night Adoration. Lady Altar. The Eucharist will be exposed from 9:00pm to 7:15am the following day. There will be people praying the whole evening in the church.
SATURDAY, 6 June 2015
8:00am: morning mass. Lady Altar.
5:00pm: evening prayers. Main Church.
5:30pm: Saturday vigil mass. Main Church.
When & Where

St. Dominic's Catholic Church
2390 Bush Street
San Francisco, CA 94115


Friday, June 5, 2015 at 6:30 PM

-

Saturday, June 6, 2015 at 9:30 PM (PDT)
Add to my calendar
Organizer
The Order of Preachers, also known as the Dominicans, is a Catholic religous order dedicated to preaching.

OPTIC is a branch of the Order of Preachers in Technology, Information, and Communication.
OPTIC West is a network of technical professionals and creative people in the San Francisco Bay Area who collaborate with the Order of Preachers.
LEARN MORE
The Dominican Order (Dominicans worldwide)
The Dominican Order of the Western Province (the Dominicans in the Western US)
OPTIC
St. Dominic's Catholic Church