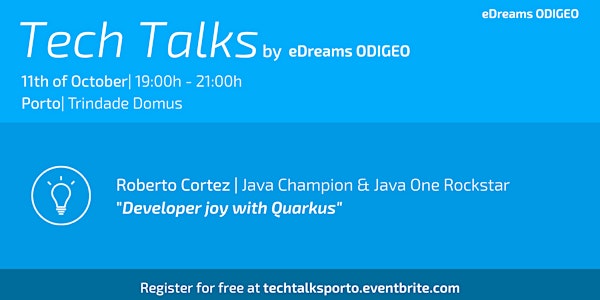 Tech Talks by eDreams ODIGEO @ Porto
Join us at eDreams ODIGEO's Porto Tech Lab with Java Champion Roberto Cortez to talk about developer joy with Quarkus in the first Tech Talk
When and where
Location
Trindade Domus 49 Rua dos Heróis e dos Mártires de Angola 4000-285 Porto Portugal
About this event
eDreams ODIGEO's Tech talks finally arrive to Porto!
After very succeful editions in Barcelona, Palma de Mallorca and Alicante, eDO's tech community arrives to Porto and for a very first special edition.
Roberto Cortez will be leading the very first Tech Talk by eDreams ODIGEO with the topic "Developer joy with Quarkus".
Developing a Java application does not have to be boring. Did you find yourself wasting several hours to accomplish simple tasks? Quarkus brings back the developer's joy of writing code. See your changes in the blink of an eye? Done! Start a database automagically? Done! Run only the tests affected by your code? Done. Deploy seamless to Kubernetes? You got it! Create a native executable? Go get a coffee! Quarkus is all about developer experience. If you want to learn more, join this session and rediscover the pleasure of developing Java applications.
This will be a live code-only session, focusing on the developer experience offered by Quarkus, including:
- Code Live Reload in a local environment
- Code Live Reload in remote Kubernetes
- Continuous testing
- Database bootstrap
- Zero configuration
- Native Image build
- Deploy to cloud
We will also start off by welcoming everyone at this brand tech new community in the city. At the end, you'll have the chance to meet other professionals and network with them. Food and drinks are on us!
The entrance is free, you just need to register on Eventbrite to assure your seat!
GDPR:
By registering and acquiring a ticket to this event, you subscribe to the eDreams ODIGEO Careers Newsletter which keeps you updated with our latest job opportunities. You can unsubscribe at any time by clicking the unsubscribe button in the footer of the email you will receive. We will process your data for communication purposes based on your consent. You can exercise your data protection rights and more data protection information by email at privacy.careers@edreamsodigeo.com