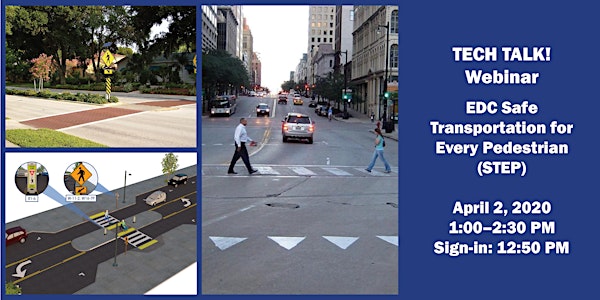 Tech Talk! Webinar - Safe Transportation for Every Pedestrian (STEP)
Please join the NJDOT Bureau of Research for an Innovation Exchange Webinar, Safe Transportation for Every Pedestrian (STEP)
About this event
Please join the NJDOT Bureau of Research on April 2nd, 2020 for an Innovation Exchange Webinar, Safe Transportation for Every Pedestrian, that we are convening in NJDOT's E&O Building Training Room A.
Safe Transportation for Every Pedestrian (STEP), an Every Day Counts (EDC) innovation, is about a new type of "STEP" to keep pedestrians safe at uncontrolled road crossing locations. This webinar will outline five cost-effective countermeasures available to local agencies, and identify resources to guide in their selection and installation. Stories from local agencies will tell of county, city, and Tribal deployment leadership, with details on site and countermeasure selection, installation, monitoring, and improved safety measures of success.
AICP maintenance credits and NJ PE continuing education credits are available. This "live" webinar event is free to attend, but you must register ahead of time to guarantee a seat as there is limited space in the training room.
This Innovation Exchange webinar is one in a series sponsored by the Center for Local Aid Support (CLAS) in the Federal Highway Administration's Office of Innovative Program Delivery. Through Innovative Exchange webinars, CLAS is bringing cutting-edge transportation leaders to the table to share ideas and out of the box innovative practices that have proven results.
Organizer of Tech Talk! Webinar - Safe Transportation for Every Pedestrian (STEP)
The New Jersey Department of Transportation's (NJDOT) research staff works directly with university and other research professionals to find workable solutions to problems that face transportation engineers. The goal is to enhance the quality and cost effectiveness of the engineering policies, practices, standards and specifications that are used in planning, building and maintaining New Jersey's transportation infrastructure.