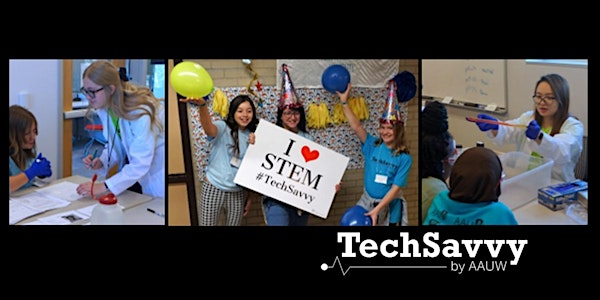 Tech Savvy 2023 - STEM for Girls 5-8 grades
Getting girls 5-8 grades interested in and excited about the STEM career field.
When and where
Location
St. Cloud State University 720 4th Avenue South St. Cloud, MN 56301
About this event
THE EVENT: Bring a friend and join us on St. Cloud State University's campus for this one day event! Attendees can choose from a wide variety of fun, engaging, interactive workshops that help you explore and learn about the STEM field, and if it might be a perfect fit for your future!
ATTEND: Cost is $10 (includes materials, lunch, swag, and raffle tickets for sponsored prizes). Sign up early, as space is limited!
OUR COORDINATORS: The Saint Cloud Area Branch offers the only AAUW TechSavvy event in Minnesota. St. Cloud State University and the College of Saint Benedict collaborate with the branch to facilitate interactive and imaginative workshops created by professionals that introduce the girls to careers in science, technology, engineering, and mathematics (STEM).
OUR VOLUNTEERS: SCSU and CSB students majoring in STEM areas volunteer to guide and assist the school girls.
OUR WORKSHOPS:
Yo GABBA GABBA! How Neurotransmitters Affect Movement of Flatworms Explore how different neurotransmitters affect the nervous system of a flatworm. Neurotransmitters include GABA, Glutamate, and NMDA. You will first explore how flatworms behave in artificial pond water (normal gliding movement) and compare to how they behave when exposed to different neurotransmitters. You will then see if you can get the flatworms to return to their normal gliding movement by treating their seizure activity by placing them in various medium that contains different herbal extracts. This is like treating epilepsy in flatworms.
Help Us Solve the Restaurant Robbery! There has been a robbery in a St. Joseph restaurant! We need your help with our investigation. It is your job, as forensic chemists and investigators, to figure out which one of our suspects did it. You'll analyze fingerprints left at the scene, use invisible ink to decode a note that was washed away, determine what the mysterious white powder left at the scene was, and decode a partial message left by the robber. The objective is to complete this series of experiments to figure out who the robber is.
Harry Potter Wizarding Science Have you been waiting for your invitation to Hogwarts to arrive? Well this is it! Come learn some of the amazing forms of wizarding science. You will learn about the science of dragon fire, make your own potions, read your fortunes in a crystal ball, and manage your own mischievous material.
Power from Thin Air – Build Your Own Wind Turbine Do you know how wind is converted into electrical energy? Did you know there are different ways to generate energy from air? Students will be build their own wind turbines. They will have paper, tape, glue, and a few other common items. The completed turbines will be tested for how well they can generate power.
Solar Quest & Tour of the Current Night Sky Visit the SCSU Planetarium for a tour of our closest star, The Sun, then stay for a tour of what you can find in the current night sky with the unaided eye.
Pew! Pew! Tiny Craters Participants will learn to safely use high power lasers, then each student can fire pulses of laser radiation onto a metal target to vaporize material. We will then examine the craters in a microscope and virtually measure and view the 3D surface of the crater using a profilometer. Participants can take home their targets for future study.
Your Analysis of Urinalysis Join a medical laboratory for an hour! The analysis of urine is a routine but essential procedure for diagnosing human disease. You will test normal and abnormal simulated urine specimens and determine probable disorders.
Tie-Dye Chemistry The American Chemical Society celebrates National Chemistry Week October 16 – 22. This month's theme is Fabulous Fibers: The Chemistry of Fabrics. In accordance with this year's theme, the chemistry club will present demonstrations on the chemistry involved in designing and dyeing fabrics. All participants will have the opportunity to design and tie-dye a t-shirt.
How Not to Lose: An Introduction to Game Theory Did you enjoy playing tic-tac-toe when you were younger? Do you still enjoy it? It is possible to never lose when playing tic-tac-toe. We will play some new games that are similar to tic-tac-toe, and we will figure out how to never lose.
Fantastic Food Sciences If you've ever watched a baking competition, you've likely heard the phrase "Baking is a science". We'll be digging into some of the nitty-gritty on how different aspects of STEM get used in our everyday lives. One of the very few times where you will not only get to eat in a science lab, but you also will be encouraged to play with your food!
Shine a Light on Solar Energy Light up your creative side and explore solar energy with a bright learning opportunity and hands-on experience. Learn the basics from a Solar Designer, then design and build your own small project that uses solar energy. No previous solar/electrical knowledge is required.