About this event
TECH SATURDAY
Agenda
11:00am - 11:15am - Welcome by Folasade Babalola
11:20am - 11:50am - Azure and Command-Line tools by Oluwatosin Anishere
11:55am - 12:25pm - Making Sense of the New Microsoft Certification Paths 2021 by Kazeem Adegboyega
12:30pm - 1:00pm - Intro to Building Apps for HoloLens 2 using Mixed Reality Toolkit by Zaid Zaim
1:00pm - 1:30pm - Azure AI in Power BI by Peter Shand
1:35pm - 2:00pm - Break (Light refreshment)
2:00pm - 2:30pm - Azure and Open Source by Shannon Kuehn
2:35pm - 3:05pm - Analytics with Excel & Power BI by Michael Olafusi
3:10pm - 3:40pm - Re-Discovering Your Career Passion by Labrina Loving
3:45pm - 4:15pm - Python as a Programming Language by Salawudeen Quadri
4:15pm - 4:30pm - Swags & Networking
Get involved with LASU CBT 18 Community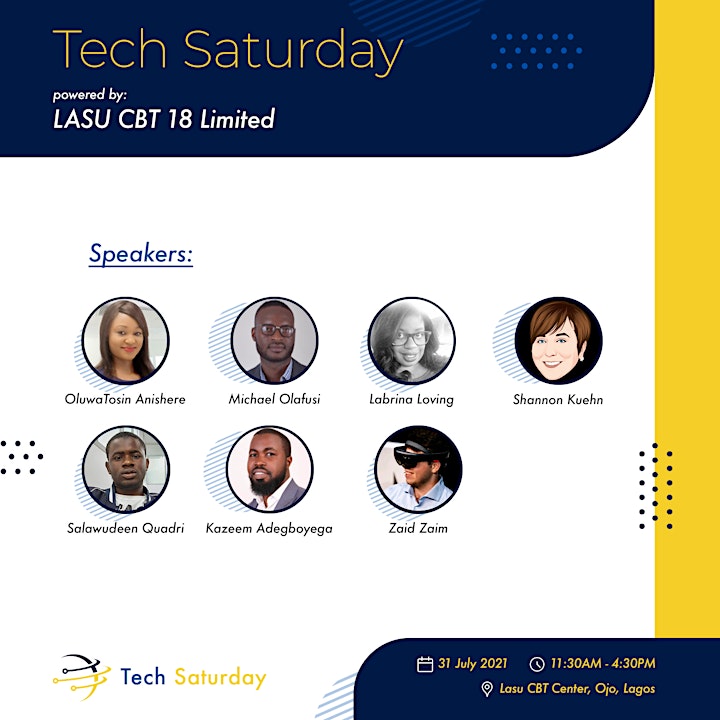 Organizer of TECH SATURDAY
Kazeem is an experienced IT professional, technical trainer and a leader with a high degree of energy, integrity and creativity as well as analytical, and organizational skills.
Kazeem is self driven and loves getting jobs DONE!
Kazeem has a strong passion helping people grow. I'm determined to not just be good but to be excellent in my role.
You can reach Kazeem on +2348059821442 or Follow Kazeem on Twitter at http://www.twitter.com/kazeemcanteach