TECH SATURDAY 2.0 Unveiling the Blockchain club, LASU
About this event
TECH SATURDAY
Imagine a permissionless Ledger where the records of a digital asset are distributed in pieces to thousands of computer nodes across the globe. To authenticate another transaction, the pieces are collected back to make a whole.
This means that no central entity has access or control over the records of such asset.
The Blockchain Technology is that technology that facilitates Decentralization in record keeping.
On this edition of #TechSaturday, we focus on Blockchain Technology and to unveil the the Blockchain Club, LASU
We have great sessions & speakers lined up for you. There's so much to learn + FREE giveaways....
Agenda
11:00am - 11:15am - Welcome by Kazeem Adegboyega
11:20am - 11:50am – Blockchain - What you need to know to get started by Adnan Hendricks
11:55am - 12:25pm - Establishing a Career in the 21st Century by Sam Erskine
12:30pm - 1:00pm - The Blockchain Lawyer Pros and Cons - Faith Obafemi
1:00pm - 1:30pm - Blockchain Technology as a catalyst for a newly Emerging Africa economy by Armand Gaetan
1:35pm - 2:00pm - Break (Light refreshment)
2:00pm - 2:30pm - Crypto Trader: Analysis, Tools, Pros and Cons - Tola Joseph Fadugbagbe
2:35pm - 3:05pm - Bitzlato platform presentation (Sponsor)
3:10pm - 3:40pm - The Community Manager by Chuta Chimezie
3:45pm - 4:15pm - Blockchain Development and Engineering by Ayodeji Awosika
4:15pm - 4:500pm - Unveiling "Blockchain club - LASU"
5:00pm - 5:30pm - The 21st Century Public Speaker - Holly lehman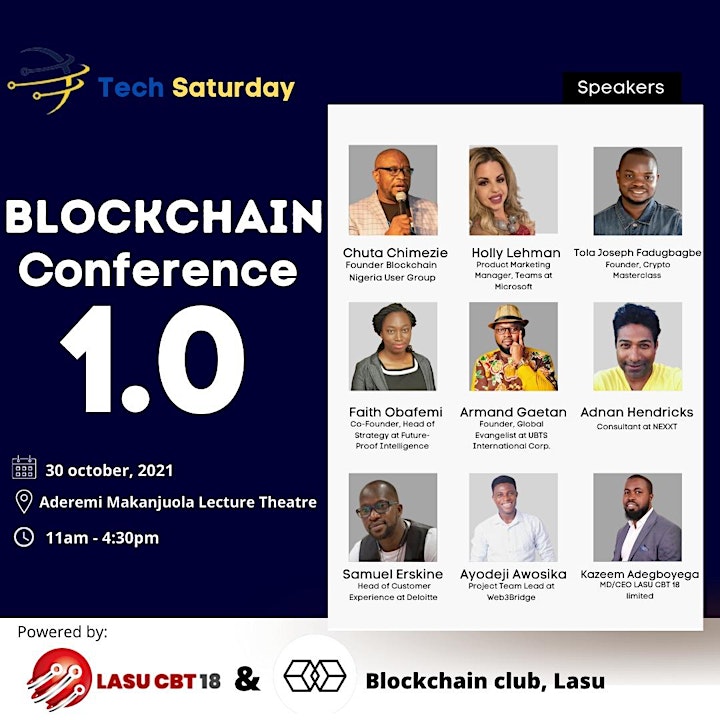 Organizer of TECH SATURDAY 2.0
Kazeem is an experienced IT professional, technical trainer and a leader with a high degree of energy, integrity and creativity as well as analytical, and organizational skills.
Kazeem is self driven and loves getting jobs DONE!
Kazeem has a strong passion helping people grow. I'm determined to not just be good but to be excellent in my role.
You can reach Kazeem on +2348059821442 or Follow Kazeem on Twitter at http://www.twitter.com/kazeemcanteach