Event Information
Location
Upload SF
1535 Mission St
San Francisco, CA 94111
Description
We thank Upload VR for hosting this event at their spacious office.
FEATURED SPEAKERS: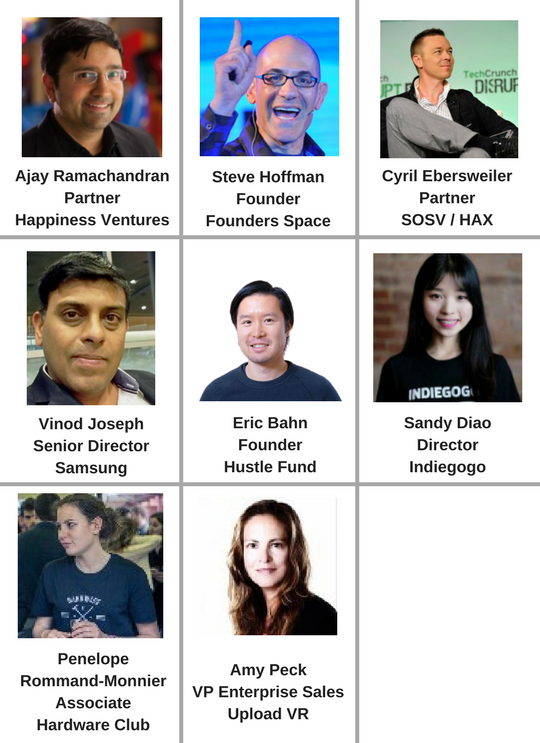 ▶ Gain insight on consumer trends, compelling apps, and new technologies driving engagement
▶ Learn from tech influencers and media players shaping business and consumer markets
▶ Understand how to raise funding from angels and VCs for early and mid-stage startups and ventures.
▶ Discuss the role of technology in shaping lifestyle choices including Internet of Things and AI/Robotics

Some of the questions we address include:
What are hot trends from this show? What did you like, what impressed you, what do you think is not likely to succeed?

What are

challenges facing traditional business models for new markets?

What is the interplay between hardware and software?

How do we i

dentify emerging revenue streams for new technologies?

What type of business ventures should investments be seeking for 2018?

What markets are now saturated?

How can you raise funding for hardware startups?
For this event, Angel Launch is pleased to partner with FoundersSpace and offer two separate programs. You can buy a separate ticket to each session for $15; or $25 for both programs. The evening program includes a venture pitch, demo showcase, free dinner and drinks.

The venture pitch takes place in the Angel Launch program at 4:30 PM and demo tables take place after the evening program ends at 6:30 pm.

MORE INFO: Zahava Stroud 650 226-3490 Info@Angellaunch.com
_____________________________________________________
SCHEDULE:
FOUNDERS SPACE PROGRAM 2:00-4:30pm:
Perfecting Your Pitch – Secrets of Raising Capital from Angels, VCs & Corporates.
Steve Hoffman (Captain Hoff) is an angel investor, partner at FOUNDERS.VC, Eminence Ventures (China), LP in August Capital, serial entrepreneur, and author of the book Make Elephants Fly. Hoffman is also the Captain & CEO of Founders Space, one of the world's leading incubators and accelerators, with over 50 partners in 22 countries.
Are you an entrepreneur?
Are you raising venture capital?
Are you interested in improving your pitch?
Or do you simply want to learn something new?
This is the perfect event for you. We'll go deep on exactly how to perfect your startup pitch.
What are investors looking for?
What business models do VCs like?
Where are the best investors hiding?
What to avoid saying to investors?
How do you value your startup?
How can you raise capital with no traction?
How do you pick the right investors?
How do you negotiate the best deal?

And much more!
ANGEL LAUNCH PROGRAM 4:30 to 8:00pm
4:00-4:30 Networking and registration

4:30-5:00 When Elephants Fly featuring Steve Hoffman, Author and Angel

5:00-5:30 AR/VR Opporutnities for Enterprise, Amy Peck, VP Enterprise Strategies, Upload VR

5:30-6:45 Tech Trends and Startup Pitch
FEATURED INVESTORS:

Vinod Joseph, Senior Director, Samsung

Penelope Romand-Monnier, Associate, Hardware Club

Ajay Ramachandran, Founding Partner, Happiness Ventures

Sandy Diao, Director of Strategic Programs, IndieGogo

Eric Bahn, Founder, Hustle Fund

Duncan Turner, General Partner, SOSV - Managing Director, HAX Accelerator


Amy Peck, VP Enterprise Strategies, Upload VR

Steve Hoffman, Founder, Founders Space
6:30-8:00 Networking, Dinner, Drinks, Demo tables
________________________________________________
Here are some of the trends we will discuss:
Artificial Intelligence/Machine Learning

Autonomous Cars

Connected Cars

Drones and Unmanned systems

E-commerce, retail and mobile payments

Entertainment and streaming content

Family tech products

Health, wellness, quantified self

Home automation and Smart home

Hottest Gadgets You Cant wait to own

Internet of Things

Making devices even smarter

Mobile devices and apps

Music devices, audio TV, headsets

Robotics

Smartphone and devices

Sportstech and fitness

TV and video

Virtual reality, Oculus Rift, and augmented reality

Weirdest Gadgets that might just be Gimmicks
---
HOW YOU CAN PARTICIPATE

HOST A DEMO EXHIBITOR TABLE OR SPONSOR
Host a demo table during networking to meet investors; customers, and partners. Includes Wifi and electrical outlet Purchase on links above. Demo tables offered during networking dinner
STARTUPS CAN PITCH TO AUDIENCE OR GIVE A DEMO FROM 1 to 5 MINUTES
Startups can register DIRECTLY ON OUR WEBSITE to pitch for 3 or 5 minutes followed by 2 minutes of comments or questions from judges. You do not need to be selected, just register yourself. The judges evaluate the pitches and investment prospects for the company.

WHO SHOULD ATTEND:

Consumer Electronics

Manufacturers

Software developers

Hardware designers

Advertising and brands

Web and mobile


Broadcast and production

Mobile apps

Device makers

Service providers

Media and broadcast

Engineers

FInance and investing

Licensing

Chip makers and semiconductors
Refund Policy: We do not issue refunds, but tickets may be used by others or used as credit for the amount you paid to a future event.
_______________________________________________________
SPEAKER BIOS
Duncan Turner, General Partner, SOSV - Managing Director, HAX Accelerator


Duncan Turner is General Partner at SOSV and Managing Director of the HAX Accelerator and HAX China programs in Shenzhen, China, where he has been a mentor since its inception. A designer and expert in China manufacturing, he is particularly interested in investing in and mentoring startups who have an emphasis on hardware. To date, five of Duncan's portfolio companies have raised a combined $4.26 million on Kickstarter.
Duncan has a diverse background in human factors research, industrial design, product development, manufacturing and business. He brings deep experience with business growth in China, having spent many years building both small and large companies' manufacturing capabilities. Duncan's entrepreneurial background has seen him take numerous hardware products to market from first concepts through research, funding, design, development, manufacturing and assembly to final sales of the product under brands that he created. Before becoming Lead of Product Design & Engineering at IDEO Shanghai, Duncan co-founded Cliq, a hardware company which shipped hundreds of thousands of units of a dozen different designs, achieving millions in revenue.
Prior to co-founding his own business, he worked for two years as a Human Factors Research Associate at the Helen Hamlyn Research Centre, part of the Royal College of Art (RCA) in the UK. He obtained his Masters from Royal College of Art and his design work is part of the permanent collection at The Museum of Modern Art.
_______________________________________________________
Steve Hoffman (Captain Hoff) is an angel investor, partner at FOUNDERS.VC, LP in August Capital, serial entrepreneur, and author of the book Make Elephants Fly. Hoffman is also the Captain & CEO of Founders Space, one of the world's leading incubators and accelerators, with over 50 partners in 22 countries.

Always innovating on his life, Captain Hoff has tried more professions than cats have lives, including serial entrepreneur, venture capitalist, angel investor, studio head, computer engineer, filmmaker, Hollywood TV exec, published author, coder, game designer, manga rewriter, animator and voice actor.

Hoffman was the Founder and Chairman of the Producers Guild Silicon Valley Chapter, Board of Governors of the New Media Council, and founding member of the Academy of Television's Interactive Media Group.

While in Hollywood, Hoffman worked as a TV development executive at Fries Entertainment, known for producing over a hundred TV shows (acquired by MGM). He went on to pioneer interactive television with his venture-funded startup Spiderdance, which produced interactive TV shows with NBC, MTV, Turner, Warner Brothers, History Channel, Game Show Network and others.

In Silicon Valley, Hoffman founded two more venture-backed startups in the areas of games and entertainment, and worked as Mobile Studio Head for Infospace, with such hit mobile games as Tetris, Wheel of Fortune, Tomb Raider, Thief, Hitman, Skee-Ball and X-Files.
Hoffman went on to launch Founders Space, with the mission to educate and accelerate entrepreneurs. Founders Space has become one of the top startup accelerators in the world. Hoffman has trained hundreds of startup founders and corporate executives in the art of innovation and routinely works with the world's largest global corporations and venture funds.

Hoffman has a BS from the University of California in Computer Engineering and an MFA from the University of Southern California in Cinema Television. He currently resides in San Francisco but spends most of his time in the air, visiting startups, investors and innovators all over the world.
_______________________________________________________
Vinod Cherian Joseph is a Technology Evangelist at Samsung Research Americas

Vinod Cherian Joseph is a Technology Evangelist at Samsung Research Americas, Silicon Valley. He has about sixteen years of software and research experiences with ETRI, Samsung in Korea, Samsung India, Startups in Australia and India and more recently Samsung Research Americas where he is responsible for Technology Strategy and Sourcing.

He holds B.Tech. from Bangalore Institute of Technology; M.E. from Wollongong University, NSW; and has studied Management of Technology at SKKU. He is a recipient of several awards for distinguished contributions in the fields of 'Technology Management' and 'Mobile Communication', respectively. He has authored 20+ IEEE Journal and Conference papers and holds 7 US Patents.

He led the Industry's first LTE chipset development and release on Android Mobile/Tablet and was active in 3GPP, IETF Standards bodies. He was involved in the early OI activities at DMC R&D, setting up CTO Office at SRI-B and led many critical projects for Samsung across Korea, India and Middle East regions before his tenure in the Americas region.

Vinod has also been in the technical program committees of various international conferences including current leadership roles at IEEE WOCN, Mobcon and others. His recent focus of work includes Wireless and Mobile Health partnerships, Wearable/Robotics/Connected Car ecosystem and new technology incubation for Mobile BU of Samsung Electronics.Eric Bahn, Partner, Hustle Fund
Ex-Venture Partner at 500 Startups. Ex-Facebook. Founder of Beat The GMAT (acquired 2012). Founder of Hustle Con. Stanford BA 2004. Stanford MA 2005.
_____________________________________________________
Sandy Diao, Director of Strategic Programs, Indiegogo
Sandy is a Director at Indiegogo, where she's helped startups formulate their go-to-market strategies to raise over $25 million through crowdfunding in the past year alone. Previously, she built and led growth at a music tech startup based in SF and Beijing. Sandy started her career at Pinterest, where she helped to incubate a native ads platform from scratch. She has a degree from UC Berkeley Haas.
_________________________________________________
Ajay Ramachandran, Founding Partner, Happiness Ventures
Ajay is a former serial entrepreneur and angel investor, now turned VC as a Founding Partner at Happiness Ventures - a venture fund that invests in technology companies lead by entrepreneurs who have a passion and mission to make the world a happier place. With $480mm under management, the fund group concentrates on both early stage (Seed and Series A) start-ups and growth stage companies. Happiness Ventures invests with a long-term view and supports our startups throughout their entire lifecycle. Prior to Happiness Ventures, Ajay also co-founded a successful international incubator called SourceN based in Bangalore, India and has been a co-founder/executive in 10 start-ups with 6 acquisitions and 2 IPOs.
___________________________________________________
ABOUT OUR SPONSOR: EUROPEAN AMERICAN ENTERPRISE COUNCIL (EAEC)
For the 3rd year at CES, we are pleased to partner with EAEC, a private member-driven social enterprise and Network (eight US and EU chapters) providing Transatlantic Acceleration Services and Programs. EAEC is also part of the European Commission's Enterprise Europe Network (EEN: 600+ organizations in Europe, and a worldwide presence), and aims at promoting collaboration, trade and investment between European and North-American companies, institutions and economic regions while fostering Innovation and Entrepreneurship.

Date and time
Location
Upload SF
1535 Mission St
San Francisco, CA 94111