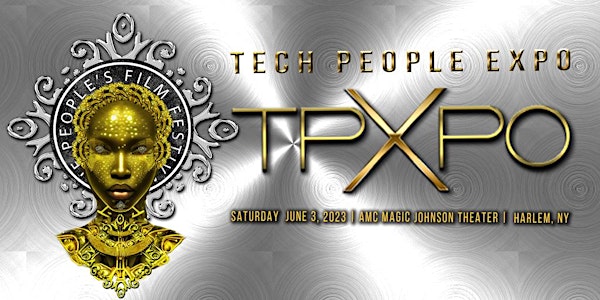 TECH PEOPLE EXPO + ART PEOPLE - SAT. JUNE 3RD 2023 @ TPFF 2023 - HARLEM
"Experience the future of technology at the free TPXPO exhibition! Enjoy cutting-edge demos - 360 video, VR,AI, AR, Gaming & more!
By THE PEOPLE'S FILM FESTIVAL
Date and time
Saturday, June 3 · 12 - 4pm EDT
Location
AMC Magic Johnson Harlem 9 2309 Frederick Douglass Boulevard New York, NY 10027
About this event
THE PEOPLE'S FILM FESTIVAL presents the TECH PEOPLE EXPO @ THE 12TH THE PEOPLES FILM FESTIVAL
FOR TPFF2023 FILM & OPENING NIGHT TICKETS GO HERE or
FOR FILM & FESTIVAL INFORMATION GO TO WWW. THEPEOPLESFILMFESTIVAL.COM
TPXPO 2023 X HARLEM
The free to attend TECH PEOPLE EXPO (TPXPO) - is an exhibition of new technology from some of the most innovative creators in the world. Attendees have the opportunity to engage in 360 Video & Virtual Reality at The TPFF VR LOUNGE , Augmented Reality experiences, immersive storytelling and gaming. In addition, alongside of the exhibitors, attendees can watch live art being created at ARTPEOPLE.
These events take place during the 12th Annual People's Film Festival June 1st - June 4th 2023 in Harlem
OPENING NIGHT FILMS + THE PEOPLE'S "AND YOU DON'T STOP" HIP HOP AWARDS THURSDAY JUNE 1ST , 2023 @ AMC MAGIC JOHNSON THEATER 6pm-10pm
FILMS: FRIDAY JUNE 2 , SATURDAY JUNE 3RD & SUNDAY JUNE 4TH @ MAYSLES CINEMA
SATURDAY JUNE 3RD, 2023 TECH PEOPLE EXPO 2023 @ THE PEOPLE'S FILM FESTIVAL HARLEM - VENUE - AMC MAGIC JOHNSON THEATER 11A-4P
FOR FESTIVAL, FILM AND TICKETS GO TO WWW.THEPEOPLESFILMFESTIVAL.COM
About the organizer
The People's Film Festival is an initiative of The People's Media, Music & Arts Foundation (TPMMAF)—which is a non-profit corporation whose purpose is to promote awareness in independent music, media, and art across the globe while encouraging those—particularly in the Harlem New York area, to develop a greater appreciation and understanding for cultural diversity in film.